The Foundry District is due for a well-deserved surge in popularity and foot traffic. Fort Worth's only theater dedicated to independent and art films (The Grand Berry Theater) calls the area home. Blackland Distillery snagged readers' choice for Best Distillery in our Best Of 2020 awards, and Trinity Coffee House took over Craftwork Coffee Co.'s space just months ago. The new coffeeshop's owner, Jennifer Demel, said Trinity Coffee House will soon offer canned beers and wine in addition to finely roasted java options.
Districts and developments often refer to establishments that offer broad hours and wide appeal as "anchor" businesses. The Foundry District's anchor is newcomer Maple Branch Craft Brewery, and the draw here is lots and lots of delicious beer. For the biergarten unwashed, the outdoor patio offers the most authentic German drinking experience you'll find in the 817. A large, black metal gate sets the mood for the fantasy world within — something akin to a Disney World for beer drinkers.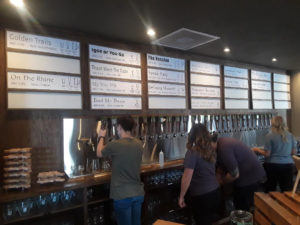 A large maple tree, water fountain, and dozens of tables strewn across a gravel patio make the brewery ideal for socially distanced sipping. The length of the brewery's outdoor wall is covered with leafy vines. The indoor beer hall offers long tables for communal drinking, and the beer offerings at Maple Branch Brewery are plentiful. Co-owner and head brewer Stuart Maples (who runs the brewery with wife Allyssa Maples) has probably lost count of the number of homebrew competitions he won prior to opening Maple Branch Craft Brewery.
I sprung for the Those Were the Daze (hazy IPA), Fool Me Twice (double IPA), Island Time (gose), and Speak Easy (porter). The flight, which set me back only $12, came on a maple leaf-shaped tray that was surprisingly easy to hold with one hand — a real benefit if you're grasping a jumbo hot dog with your other hand, as I was that evening. The brewery offers a small but hard-hitting menu: chopped brisket sandwich, hot dog, Bavarian pretzel (with mustard and beer cheese), and a few rotating items.
The hazy IPA would be a great pale ale for folks who tend to stray from bitter beers. The golden-hued ale had a pleasant floral scent, mild bitterness, and hints of grapefruit and lemon rind. The double IPA had a heavier body, boozier profile, pine-y aroma, and none of the dankness that typically accompanies heavy IPAs. The gose was tart and tasted like apple. The porter was roasty, dry, light-bodied, and delicious.
Maple Branch Brewing complements the local brew scene without rehashing anything local beer fans are used to. Fresh beer, great service, and a beautiful biergarten top the reasons I'll return to this Foundry District gem soon.