Even us grown folks feel time flow differently in the summer. Maybe it's the longer days. Maybe it's the blue skies. Maybe it's childhood memories of vacations. Maybe it's the heat.
Yes, it's definitely the heat. Oh, my God, it is already so hot, and it's literally hotter every year. How are we going to make it through another summer, with threats of a failing power grid at that?
I don't have all the answers, but I do have a suggestion. A $2 suggestion.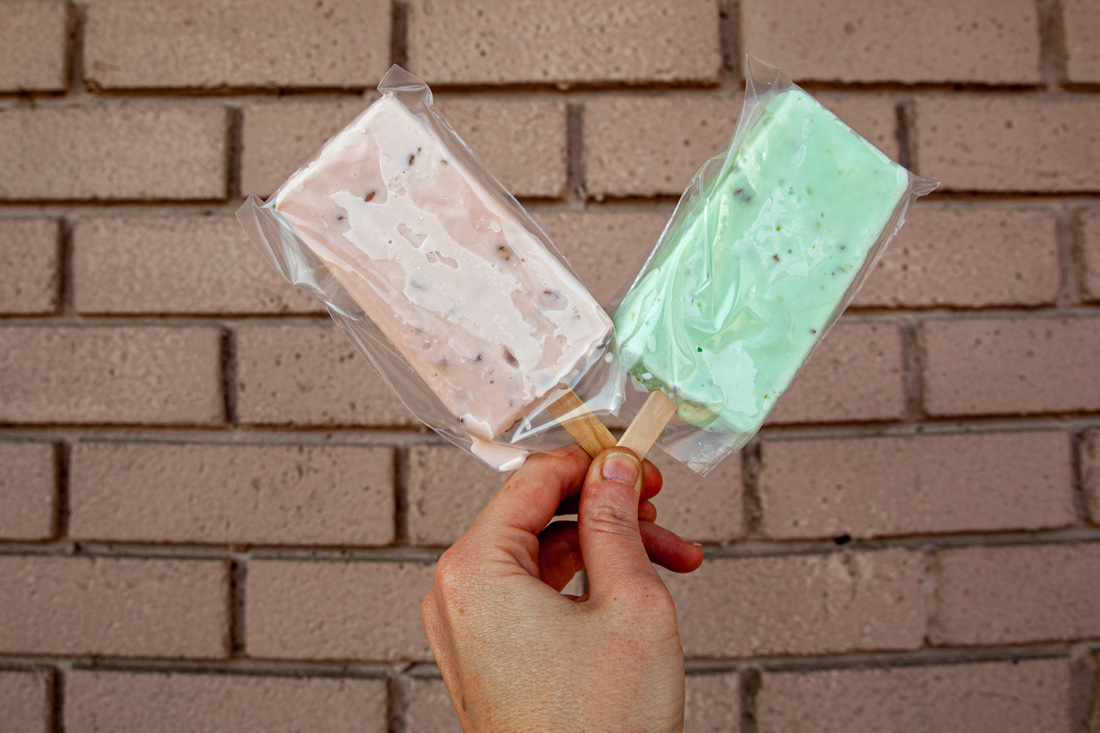 Paletas.
A paleta is a popsicle, except every popsicle I've ever had is uninspired and every paleta I have had is its own small work of art.
The treat originated in Mexico and is made from a dizzying array of ingredients. If you can imagine it, the paleta exists. Traditionally, they are fruit-based and mixed with either water or cream.
A quick Google search yields about 20 paleterias in Fort Worth proper alone, and that's not including the surrounding 'burbs. For the sake of research, I sampled two different shops. I ventured out alone, bravely choosing to test the upper limits of my stomach's capacity for adventurous sweets.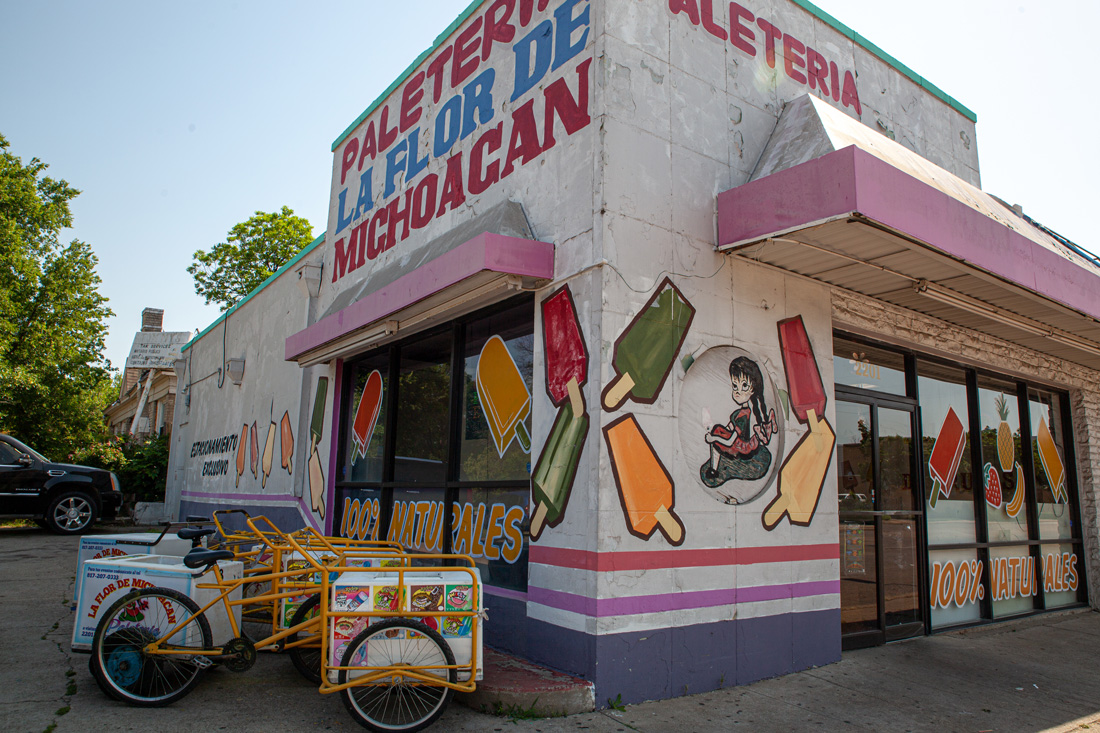 My first stop was Paleteria la Flor de Michoacan. The little shop on West Berry Street is hard to miss. The paintings of larger-than-life paletas and bright purple, pink, and teal trim on the otherwise unassuming building hint at the joy that lies within.
This particular paleteria deals mostly in wholesale, though they will gladly sell them to walk-in customers. Just bring cash.
Already sweating from my brief exposure to the midday sun, I walked into a room lined with deep freezers. From where I stood, I could see two women in the back at work filling popsicle molds. Though I wanted to run around the room peering into each chest (some child-like impulses just don't fade), I restrained myself, mostly because one of the women had come to help me by holding up the surprisingly heavy freezer lid while I ducked inside.
For $2.50, I secured two paletas.
Outside the shop, I examined my purchases. I had a mango and chamoy paleta and a strawberry paleta robed in a thin layer of chocolate and coconut flakes labelled "Eskimo." I started with this one. The chewy flakes and crispy shell gave way to soft ice cream. The center did not taste as much like strawberries as it did the concept of the color pink. Delightful.
After a few bites, I turned my attention to the other. Mango with chamoy is a classic paleta flavor. That inexplicable chamoy flavor (sweet, salty, sour, hot, all at once) cut giddily through the summer-sweet mango. This paleta served not only as a treat but also as a source of invigoration. I felt refreshed despite the 99-degree heat destroying my poor paletas faster than I could eat them.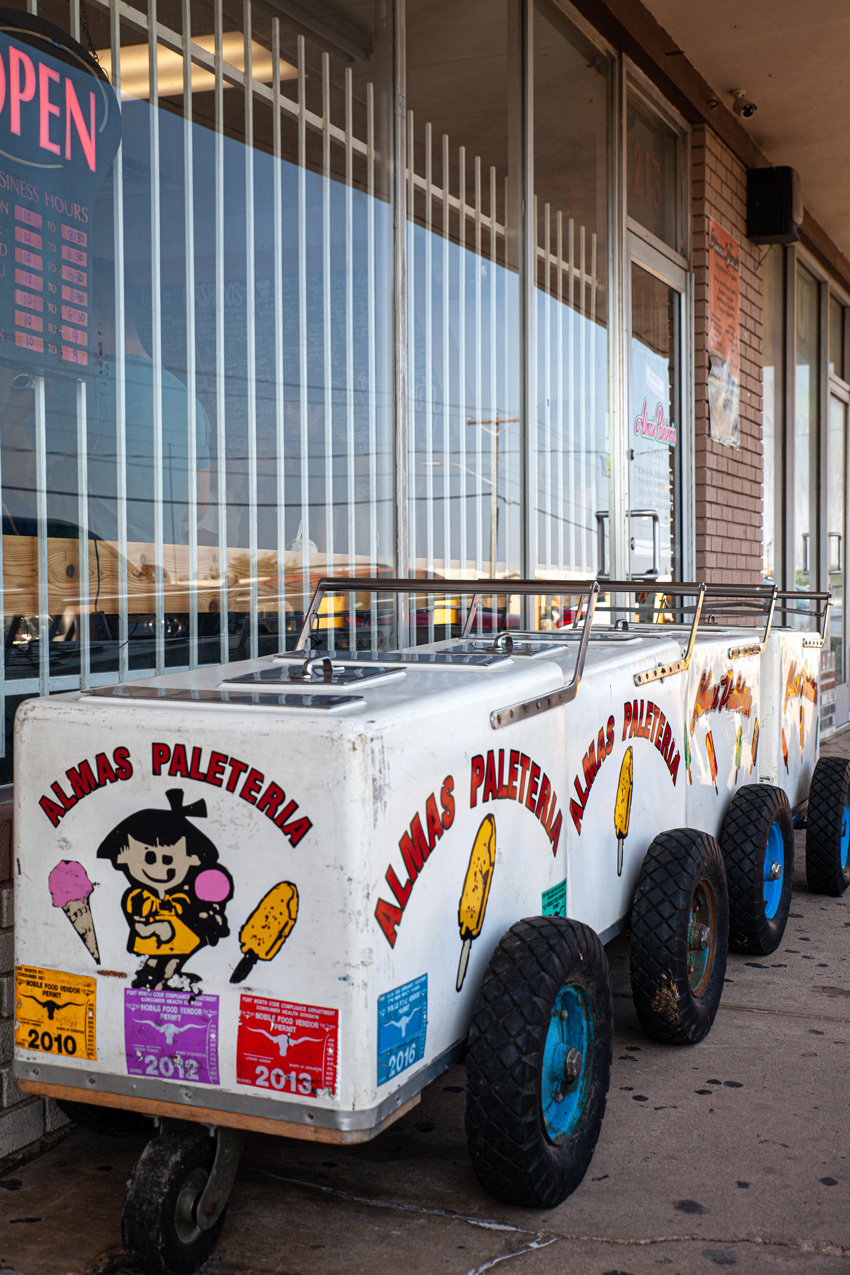 Thus fortified, I headed to my next stop. Alma's Paleteria on East Seminary Drive has received critical acclaim from Texas Monthly and — more important to my purposes — was on my way home. The shop is small, sweet, and deeply beloved if the 5 p.m. crowd was any indication.
Between my fellow customers and the number of selections, I panicked. When I walked out, I had a pistachio paleta, which I had intended to order, and a pecan paleta, which I had not. Lucky for me, I like pecans.
These paletas came from a standard ice-cream cooler and thus were more vulnerable to the sun. They began to melt as soon as I stepped out the door. A race against time ensued as I attempted to photograph my prizes, holding them up to the sky and against the wall, desperate for the right angle.
As melted paleta made its way down my wrist, I gave up and set to eating.
What these treats lacked in durability they made up for in flavor. They were creamy and rich and studded with generous amounts of chopped nuts. They tasted, well, luxurious and were a bargain at $4.
Sitting in my car with those melting paletas, single-mindedly focused on my task, I experienced a few true moments of bliss. I did not care that I was sweaty and sticky and had thrown melted paleta all over my car. I did not care how many people just trying to get an afternoon snack had been subjected to the sight of me wrestling my camera in one hand and two ice creams in the other, trying desperately to take a photo. I only cared about racing the melt.
And that makes paletas the perfect treat. They demand you stop whatever else you are doing (talking, photographing, preserving your dignity) and turn your full attention to sweet, cold indulgence.
Just think, you could purchase your own little bit of nirvana for one to two dollars a pop. So grab your cash, pull up Google maps, and get to treating yourself proper.
Read about more summer eats and drinks ideas in Summer Provisions and Last Call: Patio Season Regardless in #SummerEdition2022.