Improvisation has been at the core of jazz since it sprang out of the heart of the Mississippi Delta nearly 100 years ago. From the Tin Pan Alley arrangements made famous by Louis Armstrong to the modal freestyle of John Coltrane and Miles Davis (pushed even further by the avant-garde free jazz of Ornette Coleman and Cecil Taylor), extemporaneous playing has been the ever-pumping heart of the genre. Though decades removed from free jazz's experimental peak, there are still players who continue the tradition of performing "non-written" music.
Fort Worth is home to one such group. On Friday, the improvisational fusion collective Rage Out Arkestra will release Rage Out Arkestra II, their second album, this one documenting their celebrated set last April at the now-defunct Near Southside venue MASS. Despite taking the listener on a two-hour journey of myriad melodic themes and twisting, frolicking dynamics, this set — like every other one — was wholly improvised, not a single note or drum strike predetermined.
The group "has never even had a single rehearsal," beamed Eddie Dunlap, Rage Out's drummer and bandleader with more than a hint of pride in his voice. "Not one."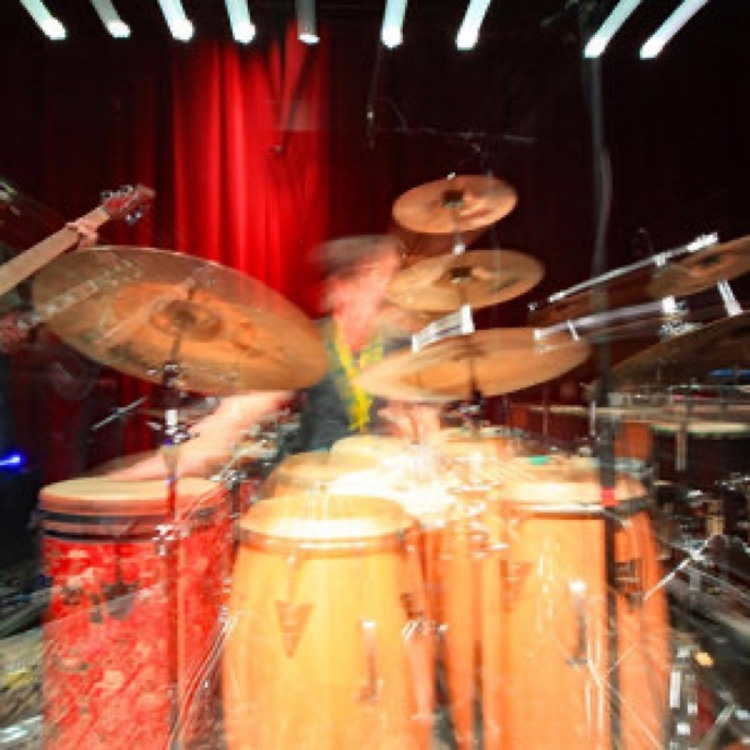 The word "Arkestra" is an obvious nod to the Sun Ra Arkestra, the collective led by the legendary Sun Ra and a vital source of inspiration for Rage Out. Fort Worth's Arkestra consists of a revolving cast of some of North Texas' top instrumentalists. Along with Dunlap, at any given time, the band includes fellow percussionists Parker Anderson and Die Samudio, keyboardist Joe Rogers, guitarist Darren Kobetich, bassist Canyon Kafer, and a selection of wind instrumentalists like Jerry Smith, Dave Williams, and Chris White. All of them have been featured players in many different local music scenes for decades and collectively add to the compelling musical melting pot that is the Arkestra.
"We don't play that often," Dunlap said, "but when we do, it tends to take on a different form and shape each time, even with the same players. We don't really expound on what we've played before. As it evolves, things change all the time. The players are constantly playing outside of this endeavor, and when they come back to this format, they bring whatever it is they do [outside] back with them."
Since Dunlap organized the group nearly nine years ago, the players have convened just a handful of times a year to perform thrilling, psyched-out sets of their signature unpredictable fusion. Their shows are among the most anticipated and talked about in town.
"It just comes from friends and [a lot of] experience," Dunlap said. "The goal is to have a really comfortable setting where we're able to listen to each other and make things happen spontaneously. The biggest challenge is just to be able to reel it all in, for everybody to realize that listening is the key to really develop something — a real idea — that can happen [in the moment]. To be so bold, it's a bit like that simple Miles Davis adage of 'Just listen and play.' "
To capture the raging, producer/engineer and popular folk singer-songwriter Clint Niosi — along with help from MASS's former resident live sound engineer, Mark Randall — brought in some high-quality microphones and then pulled the audio directly from the house board. Niosi then mixed and mastered the spontaneous arrangements (named simply "Phases I-VII" on the album's track listings) at his local studio, Orange Otter Audio.
Dunlap, in pure player fashion, confesses that he had little to do with the technical aspects of capturing the Arkestra's performance.
"Nah, I don't really know anything about all that," he said. "I'm just trying to play the drums, man."
To mark the release of Rage Out Arkestra II, the group will be making one of their infrequent appearances Friday at Lola's Fort Worth. The evening will also include a celebration of a new album by local art-rock singer-songwriter Daniel Katsük.