Now that spring is here, we can emerge from the darkness of winter's grip and watch the light of day linger longer. The young-hearted among us may find ourselves frolicking on patios as various scents of nature blossom and whiffs of outdoor cooking intermingle with the unfortunate accompaniment of G.D. allergies. Once March hits, we hit — appropriately between Fat Tuesday and St. Paddy's Day — peak crawfish season, which goes through May before retreating until the following winter.
Last year, we offered our inaugural list of local crawfish joints where they cook 'em right so you don't need to trek to the bayou. This season, we scoured plenty of local spots to bring you, our hungry reader, another three spots worth diving into. As always, please check their social media for details about availability and pricing as both tend to fluctuate with seasonal supply and demand.
Bayou Cat
(2505 E Arkansas Ln, Ste 131, Arlington, 817-274-4100)
For over a decade, Louisiana natives the Nguyens have brought a massive amount of Cajun, Creole, and Gulf Coast recipes — some traditional, others family — to the corner of a dated strip mall in South Arlington. Unable to locate the food they'd grown accustomed to across the East Texas border, Mr. Nguyen decided to bring his own touch to this suburb bracketed by two major cities plagued with corporate Louisiana rip-offs. Near the bottom of the boiled menu, one notch above pig's feet, is where you'll locate the crawfish option, anchored below other items such as shrimp, crab legs, and a Cajun egg.
The flavor of Acadia resonates well here. Bayou Cat doesn't offer one item as a crutch. Rather, it's a gauntlet of Big Easy cuisine. Overstuffed po' boys, fried food baskets (yes, there's a frog leg option), red beans and rice, and meat pies keep it leveled year-round. Common in the Gulf Coast Vietnamese community is an Asian seasoned boil-in-a-bag style, but for the Nguyens' boils, they stay true to traditional Louisiana roots. Bayou Cat also might be the only joint around to offer New Orleans' Big Shot soda and Elmer's CheeWees curds.
Flying Fish
(2913 Montgomery St, FW, 817-989-2277)
Owner Shannon Wynne (Flying Saucer, Rodeo Goat) modeled Flying Fish after East Texas fish camps and his affinity for that particular region, plus his conservation efforts at Caddo Lake. Like Bayou Cat, Flying Fish tends to cover the entire spectrum of Cajun, Creole, and fried seafood, including "Every Wednesday All-U-Can-Eat fried catfish fillets," but when crawfish season rolls around, the celebration is always welcomed.
Though it's customary for Flying Fish to season a catch after it's pulled from the pots, you can 86 that notion and order without as the boil is flavorful enough. Crack open a cold bottle, order a cup of seafood gumbo, and enjoy sucking, pinching, and pulling a few pounds of Flying Fish's cray while gazing upon the antique gear and tackle and fading mounted fish.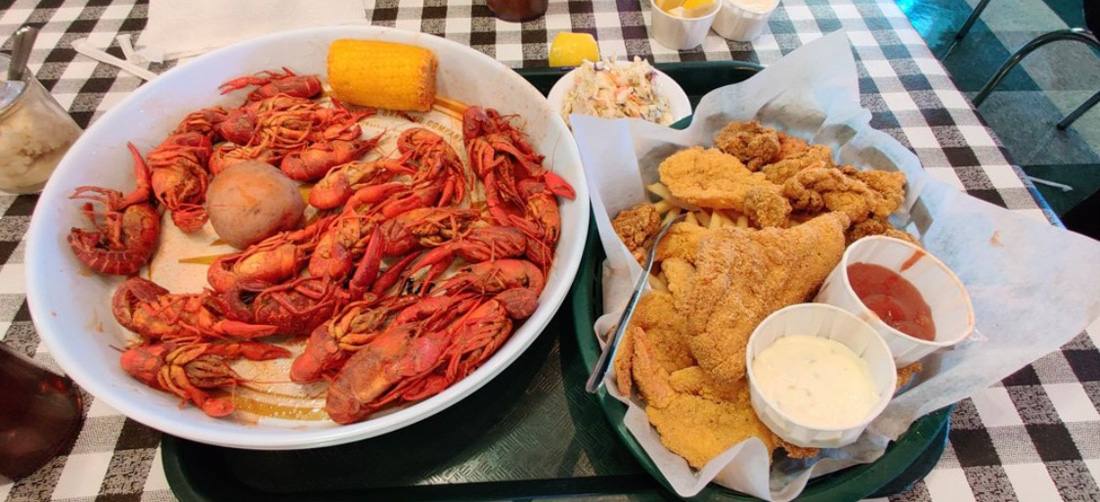 The Cajun Market at Bourbon Street Bar & Grill
(1833 Airport Fwy, Bedford, 817-527-5640)
When owner and Louisiana-savant Phil Tullis took to Facebook at the end of 2022 to announce the closure of The Cajun Market in Colleyville, I will unabashedly admit my Southern-fried heart hurt. His brick-and-mortar was the one spot around the Fort that reminded me of the markets scattered in the small towns around Cajun country and the Gulf Coast, but I prematurely rushed to conclusions only to discover (through his often lengthy posts) that he would join forces with suburban newcomer Bourbon Street Bar & Grill to oversee their culinary operations. Not only would this keep him and his staff gainfully employed, it would also expand his footprint.
I worried how this joint venture would translate when it came to quality, and though I visited the new location only once for this article, I noticed considerable differences. Recalling subtle teases of mild flavor with every meaty bite, I was a little let down by the lack of a full-bodied balance of spice and seasoning from last year, but this isn't a doom-and-gloom situation that would keep me from returning.
Unfortunately, only corn was delivered with my bugs, and I had to request potatoes despite the menu's assertion that both are served with every 3-pound order. Making matters worse, it seems that the corn and the potato had missed the boil altogether, leaving me with a rather generic taste.
This is unlike anything I experienced at the original location of the Market, but knowing Tullis and his eye for quality, I know next time will be better.