Mia Moss owns Black Coffee (1417 Vaughn Blvd, 817-782-9867), and Patrice Angwenyi owns HustleBlendz (1201 Evans Av, 817-875-6663) with her husband Tweety. As it happens, their shops are about 2 miles from each other. Moss is a native of Polytechnic Heights and chose to open her fledgling coffeehouse in Poly because, as she's previously said, people on the East Side deserve everything that people on the Near Southside or downtown have. That includes walkable streets, parks, and locally owned businesses offering a spectrum of services. Angwenyi is Historic South Side-born and raised and feels the same way about her neighborhood.
Now, as sometimes transpires when two successful women are doing similar things in the same arena, folks in the Fort have attempted to pit their businesses against each other. It's tempting to compare the two business owners: They're both mothers of two, running shops that primarily sell coffee in areas of town where access to healthy food and grocery stores are almost nonexistent. No doubt both have battled both racism and sexism, but there's no East Coast/West Coast — or, more accurately, Poly/South Side — beef here.
"People feel like they have to choose, and it's not necessary," Moss said. "We don't do that to large corporations."
It's true –– while you may have a preference for, say, Walmart over Target or vice-versa, you won't necessarily go out of your way if there's something you want or need.
Angwenyi agrees. "Coffee lovers are agnostic," she said. "If it's good coffee, I'll go!"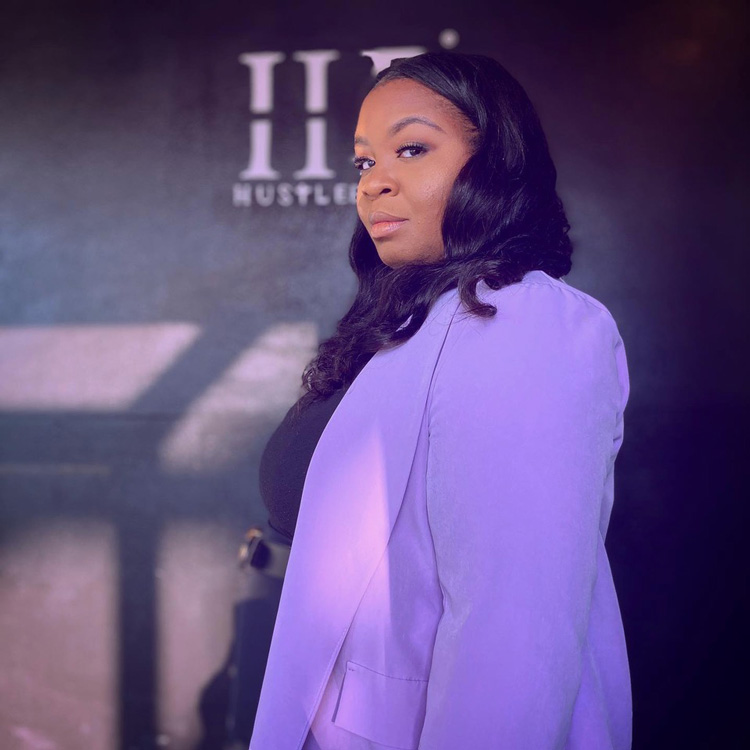 The irony may be that people who actually live or work in either neighborhood really don't have much choice. As of this writing, Black Coffee is still the only shop of its kind between the Rosedale Street exit off Hwy. 287 and far-south Arlington and the sole non-chain establishment east until you hit Central Arlington. HustleBlendz is the singular place you can find cold brew (or any brew) on the Historic South Side. You have to cross under I-35 and drive onto Rosedale and then over to Main Street or traverse to Magnolia Avenue on the Near Southside before you find your caffeine fix.
Moss and Angwenyi took to the stage last month in Dallas to talk about their shared experiences as Black women entrepreneurs for Loud Women Lead, a storytelling event by WFAA journalist Tashara Parker. The theme, Moss said, was unity and support. Parker is an Emmy-award winning local celebrity who's best known for her bubbly personality in the early morning timeslot on her news station. She's also the CEO of Loud Women Lead, a charity spawned in the middle of the lockdown, when apparently a bunch of folks had ample time to watch television and comment on Parker's non-straightened, curly, traditional Afro hair style. On her social media, Parker routinely features TikTok reels where she's happy-dancing to an overlay of people's comments about her hair. Spoiler alert: She doesn't care what you think about her Afro, braids, or buns.
Moss and Angwenyi have a lot in common with Parker, and it has very little to do with hair. These women have done their homework, their research, and all of their math.
Moss has a track record of supporting other businesses in her industry.
"My dream about coffee is having community," Moss said. "I make sure I support others."
She has teamed with four other female coffee shop owners –– and one who owns a tea shop –– for the Cat Crawl, a twice-yearly event where supporters can purchase cards good for free drinks at each location. Moss supported Angwenyi's fledgling enterprise when it opened in 2022.
"For there to be only two Black-owned coffee shops in our city, there's been a lot of attempts to divide us," Angwenyi added. "We want to destroy the narrative that we're against each other."
Angwenyi maintains that the real narrative is the sea change needed to increase the number of local businesses owned by people of color in Fort Worth. Perhaps to erase the painfully blatant history of redlining (refusing loans or insurance to people whose businesses or homes are in areas deemed financially unappealing), some local banks have begun offering workshops to local small businesses to increase their success in applying for loans. Frost and Chase have hosted these workshops in concert with the City of Fort Worth, and Black Coffee played host to one of them.
"Banks are courting entrepreneurs," Moss said. "There's so much opportunity for growth."
Moss gets credit for being the first entrepreneur to open a coffee shop in Poly, across from Texas Wesleyan University and up the street from Polytechnic High School. Moss worked a job at America's Best Coffee when she was younger and fell in love with everything about the coffee business.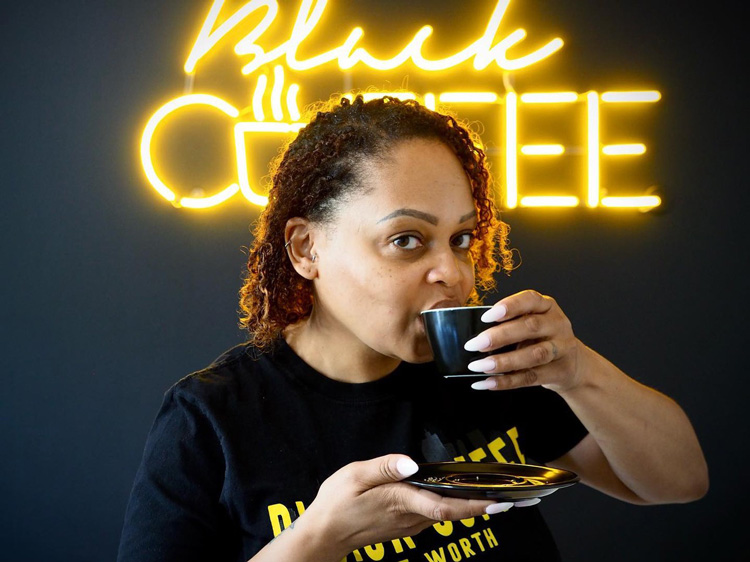 "The person who goes through the wall first is the bloodiest," Angwenyi said, and that's been true. Moss had a vision for her coffeeshop when she opened in late 2019, but the road has definitely not been cleanly paved.
Moss rehabbed an old building in her neighborhood and sold her bespoke roasted beans –– The Eastsider Blend is a smooth combo of Kenyan and Honduran beans, while the Poly Blend is darker and richer courtesy of a Sumatran and Ethiopian blend. She created elixirs and seasonal flavors, including pumpkin, lavender, and rose. She'd begun to host community gatherings and evening events with music when COVID hit. She did a brisk takeout business, but the bulk of the customers she hoped to attract –– students from Texas Wesleyan and teachers from the local schools –– disappeared overnight.
Moss had an existing business account with Prosperity Bank because she's passionate about doing business locally. In 2020, Moss qualified as a minority, woman-owned business for a federal loan via the Paycheck Protection Program (PPP) through Prosperity — rightly or wrongly, the feds put the money into the hands of institutions to disburse. Even though she had established credit with the bank, Moss said that instead of the abbreviated Small Business Administration paperwork for the PPP (which was essentially a slam dunk for short-term funds), Prosperity handed her a loan application. Then, she alleged, they denied her funding. It's been well-documented that much of that funding didn't make it into the hands of small, minority-owned businesses.
Moss ultimately obtained the PPP funds needed to keep Black Coffee pouring and blending from Square, the mobile payment company she used to process the store's transactions. In perhaps the bitterest, burnt coffee irony, Moss said the bank asked her for a product donation not long after declining her that PPP money.
HustleBlendz opened in 2018 as a coffee roastery. Angwenyi says that "the experiment" in her garage was kickstarted by her husband, a native Kenyan with family ties to that country's large and respected coffee and tea industries. Modifying the ventilation in their home, the pair began roasting, packaging, and shipping coffee. Then they developed a cold brew concentrate, and during COVID, they offered a subscription service. In 2022, HustleBlendz opened a storefront in Connex Fort Worth, a 5-year-old development featuring storefronts in brightly colored shipping containers.
"We're not aiding and abetting the hustle culture," Angwenyi said.
"Hustle" stands for "Help Us See The Light Everywhere." The Angwenyi's cold brew bar serves their craft cold brew, frappes, Kenyan "Dirty Chai," and Kenyan-inspired mandazi (beignets). Because she's serious about her coffee, they also sell cold brew-spiked brownies and cinnamon rolls.
Since the Angwenyis' fledgling enterprise was e-commerce with limited overhead, they avoided the disappointment of the PPP loan failure. Angwenyi remains a firm believer in the power of small business –– whether it be coffee, food, or retail –– and hopes for an entrepreneurial revival in the neighborhood.
"There are no other coffeeshops until the South Main area," she said. "This is the shock and the charm of us."
Right now, Moss has more to worry about than any alleged friction with HustleBlendz or any other coffee entrepreneur. She picked her spot on Vaughn Avenue with care, but it's an old building. Black Coffee, like most of the businesses on Vaughn, is imperiled (perhaps temporarily) by Atmos Energy's current project in upgrading power capacity, which has cratered much of the sidewalk. The ripped pavement makes it difficult for customers to access the shops. Worse, the daily noise is absolutely distracting, even inside Black Coffee, where the vibe is definitely meant to be soothing. Moss said she's concerned that any repairs made will be imperfect at best.
Atmos, she said, "have no respect for the businesses. They're not leaving us the way they found us."
What's also worrisome: If Fort Worth has the will to offer favorable tax benefits or credits to entrepreneurs willing to build on the East Side and the South Side[.]? It's not unprecedented — lots of deals were floating around two decades ago in the early years of Sundance Square's redevelopment and the revision of West 7th Street. There's an apocryphal story that a large retail store was wooed with incentives and tax breaks into adding a grocery section. If Fort Worth is willing to offer financial incentives to mega-retail chains, why won't they extend the breaks to local business, especially in neighborhoods where there is so much need? And after all the workshops about how to better your chances of landing a loan, will local banks back entrepreneurs of color?
Moss and Angwenyi joined Dr. Opal Lee and host Parker last month at Loud and Clear to tell the story about coffee, community, and collaboration in Fort Worth. The hope, they say, is that maybe this time two years from now, other entrepreneurs with big ideas will join them.
"We have a heart to see the small business community here take off," Angwenyi said.