Josh Hamilton at the Movies
Posted June 22, 2012 by Kristian Lin in
Blotch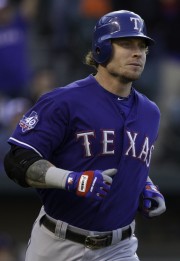 His life story: Coming to a theater near you?
Attention Texas Rangers fans: The news has just dropped this afternoon that Josh Hamilton's life story of overcoming addiction is garnering interest from Hollywood. Casey Affleck (the brother of Ben and the director of the Joaquin Phoenix prank documentary I'm Still Here) is out in Tinseltown seeking financing for this project, which he would write and direct.
This is potentially bigger Rangers-related movie news than Ron Washington turning up as a character in Moneyball. Here's an interesting question, Rangers fans and movie fans: Which young actor should portray Josh Hamilton? Casey Affleck is an actor himself, but he's the wrong type to play the Rangers slugger. So who do we like for the lead role, readers? Taylor Kitsch? Garrett Hedlund? One of the Hemsworths? Let's hear your suggestions.