Music Awards Winners!
Posted July 8, 2013 by ANTHONY MARIANI in
Blotch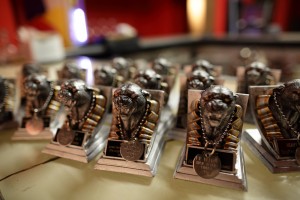 The Panthys await their owners.
Queen City Music Hall seats about 900 comfortably, and for last night's Panthy Awards, the newly opened downtown venue was about 75 percent full with nominees in the Weekly's 16th Annual Music Awards and guests. We received in excess of 125,000 votes over the course of about a month this year, and the big winners were Quaker City Night Hawks, taking home Artist of the Year honors as well as Best Band, Rock Album of the Year (Honcho), Rock Song of the Year ("Fox in the Hen House"), Best Live Band, Best Guitarist (David Matsler), and Best Drummer (Matt Mabe). The Hanna Barbarians also won a couple Panthys, for Best Rock Band and for EP of the Year (Spaceway Sessions, Vol. 1), Scott Copeland took home honors for Best Singer-Songwriter and Texas Music, and perennial favorite Josh Weathers won every category he was nominated in: Best Blues/Soul, Best Male Vocalist, Song of the Year ("Big Night in the City"), and Album of the Year (Big Night in the City). Below are the rest of the winners, with some awesome photos from staff photog Vishal "The Hindu Hammer" Malhotra. 'Til next year.
New Artist
We'reWolves
Americana/Roots Rock
Whiskey Folk Ramblers
Hard Rock
The Phuss
Hardcore
Cadillac to Mexico
Heavy Metal
Southern Train Gypsy
C&W
The Paychecks
Avant Garde/Experimental
Slumberbuzz
Pop
Lindby
Punk
War Party
R&B/Rap
Rivercrest Yacht Club
Jazz
Gunga Galunga
Acoustic/Folk
Tripp Mathis
Semi-Local Band
Whiskey Folk Ramblers
Cover/Tribute Band
Big Mike's Box of Rock
Female Vocalist
Sam Wuehrmann (Animal Spirit)
Bassist
Jeremy Hull (Holy Moly, Mills & Co.)
Record Label
Dreamy Soundz Records
Booking Agency
Blackbox Presents
Venue
Lola's Saloon
Producer
Jordan Richardson and Steve Steward
Indie-Rock Album of the Year
Skeleton Coast by Skeleton Coast
Hall of Fame
Casey James
Ken Shimamoto