Big Time Crush
Posted October 16, 2013 by BIG TICKET in
Calendar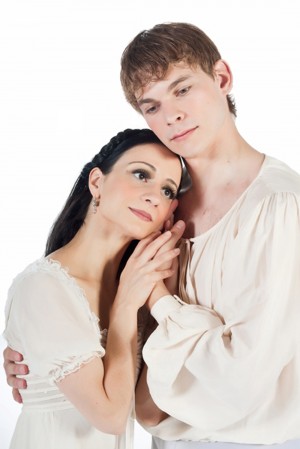 Leticia Oliveira and Carl Coomer dance the title roles in TBT's Romeo and Juliet.
Surprisingly, it wasn't until 1935 that Shakespeare's Romeo and Juliet made its way onto the dance stage, in Moscow's Bolshoi Theater. Prokofiev's sumptuous score and Adrian Piotrovsky's workable libretto made it possible, and since then a number of choreographers have set the piece, including Texas Ballet Theater's artistic director Ben Stevenson, whose version opens the company's season this weekend in Bass Performance Hall.
Fort Worth, Dallas, and Houston are the only Texas cities whose major ballet companies put on a full-length Romeo and Juliet, and just a couple are regularly produced nationwide.
Lucas Priolo has danced Romeo before, but this will be his last time. The dancer has announced his retirement at the end of the season. His Juliet will be the attractive Carolyn Judson, who has also danced the role here before.
Another couple performing the ill-fated lovers this week is Carl Coomer and Leticia Oliveira, whose real-life relationship reads like a fairy tale. When the curtain came down on their 2010 performance of Romeo and Juliet in Dallas' Winspear Opera House, Coomer — on stage — dropped to one knee and proposed to her. They married and last February welcomed their first child, son Tiago. –– Leonard Eureka
Texas Ballet Theater's Romeo and Juliet runs Fri-Sun at Bass Performance Hall, 555 Commerce St, FW. Tickets are $15-165. Call 877-828-9200.