Most Weekly readers surely know that Texas art is no longer confined to cowboys and bucolic landscapes. Still, most art in local galleries is derived from either European or Mexican traditions. North Texans who want to see art from outside those cultures usually have to visit one of Fort Worth's major museums, like the Kimbell, which last year held an exhibit of Islamic art. That's about to change with Arlington Museum of Art's new show Platform. While a few of the 15 artists in the small museum's show are native-born of Anglo or Mexican descent, the great majority of them are from South Asia or the Middle East.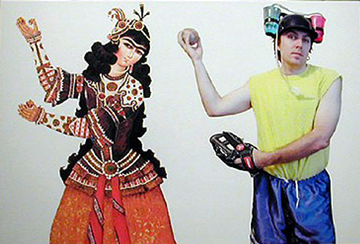 Dallas artists such as Ali Akbar and Aqsa Shakil (the former born in Bangladesh, the latter in Pakistan) incorporate images from the countries of their birth into work that is firmly in keeping with modern Western traditions. Amita Bhatt and Robert Boland both draw on Buddhist elements for their art, while Sara Cardona gleans inspiration not only from her Mexican-American roots but also from her travels to India and Bangladesh. Iranian-American artist Max Kazemzadeh's digital print seen above is a perfect example of this show's nexus between East and West, ancient and contemporary. These artists take the message to heart about thinking globally and acting locally.
Platform runs Jul 15-Sep 16 at Arlington Museum of Art, 201 W Main St, Arlington. Admission is free. Call 817-275-4600.