There's a group of young go-getters in town, and they're trying really hard to make Fort Worth more livable, friendly, and civilized though no less fun. (Actually, probably more fun.) They need help, and if you have a decent bone in your body, you'll do what you can to contribute.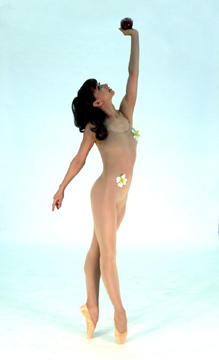 You've likely heard of the Metrognome Collective, either in our newspaper or on the scene. For the past year or so, they've been headquartering at 1518 E Lancaster Av, on the South Side. The group has just extended its lease through February. Having started with a portion of the building, the group now occupies the entire structure. They're installing air conditioning and running water. Within a few months, the collective plans to be a full-service art incubator, with studio and rehearsal spaces available for rent. Deposits are being accepted now, and there's a lot of space available. To volunteer or secure a spot, send a message at MySpace.com/metrognomecollective.
While local musicians and artists slave over their art, the good folks behind the Metrognome don't plan on just sitting back and waiting to respond to maintenance emergencies. Led by James Watkins, Aaron Bartz, Kate MacDougall, and Karolina Phillips, the 'Gnome will also initiate non-partisan grassroots outreach programs. One is an art workshop for homeless people, the output of which will be auctioned off at year's end. The money will go directly to the artists. Other offerings are a monthly art exhibit and children's workshops. Music performances will continue.
For Gallery Night (Sat), the Metrognome plans to offer one of the more interesting shows around. Consisting of numerous "Polaroid-inspired" pieces, Instant features Christopher Blay, James Lassen, Dylan O'Riley, Paul Leicht, and many other contributors. The krautrock will be provided by Lazër. Visit Metrognome's MySpace page for more info. — Anthony Mariani
Creationism
If anyone doubted that Metropolitan Classical Ballet could mount a credible full-length Russian ballet other than The Nutcracker, the idea was laid to rest last week by The Creation of the World. Sumptuous scenery, dazzling costumes, and, most importantly, world-class dancing made the Soviet-era extravaganza a welcome revival in Bass Performance Hall.
More entertainment than art, the ballet translates the Book of Genesis into human comedy. God is a well-meaning, bumbling old man, the devil's all bluster but not very evil, and Adam and Eve are a young couple in love. All of which opens the door for high-flying horseplay in the grand Bolshoi tradition, with breathtaking leaps, lifts, and rapid-fire turns. Russian dancers letting loose is MCB's forte.
Certainly ballerina Olga Pavlova and dancer Anatoly Emelianov, the evening's Adam and Eve, are in a league of their own. The two use their dramatic skills to personalize their dancing, expertly drawing the viewer into the performance. Emelianov was all innocence and wonder during his character's creation, awkwardly flexing his limbs, stretching and grabbing his toes, and rolling around on his back. Pavlova was at her best as the young lover in their rapturous final duet. As a mature, compelling artist, she has no equal in this part of the world.
Her real-life husband, Yevgeni Anfinogenov, played God, and he had a lot of superfluous jumping around to do in the role. But he broke your heart, as his own seemed to crack, at the expulsion of his favorite creations from the Garden of Eden.
Trading in his usual role as the handsome cavalier, Andrei Prikhodko danced the devil here, with good-natured menace and remarkable presence, showing another facet of his personality. He was joined by Mariya Kudyakova, as the "devilesse," according to the program, and she did a wonderful job as a nice girl trying to look bad.
Andrei Petrov, well known in Russia for his film scores and show tunes, provided the ballet music, combining symphony orchestra with electronic sounds (some of it deafening) and chorus. The piece is so complex, it was danced to tape rather than live music.
The production was staged by company co-director Alexander Vetrov, who danced both God and the devil in his younger days. The piece typically demands a huge corps of angels, demons, and whatnot, which can put pressure on a small troupe. Guest dancers and students were pressed into service, and the opening angels' ensemble was a bit ragtag. Amazingly, however, with more than 20 dancers on stage during the finale, it all held together. The audience responded with an impressively long ovation. No one seemed to want to leave. Chalk up another success for MCB. — Leonard Eureka
Red Star
Local comedian Chinaman is a lot smarter than he's often given credit for.
Yes, a lot of his shtick revolves around the culture of heavy metal, a way of life whose adherers harbor great disdain for cleanliness and frown upon polysyllabic word usage. And, yes, Chinaman is not above bathroom humor. (But who is. Seriously.) Still, the way he expertly shapes his performances betrays a man with enough intelligence to know his audiences better than they know themselves. A toss-away line early in a show will appear later at just the right time, and his cagey improv skills are so good, you may think they're rehearsed. As for moments of awkward silence, the comic lives for 'em. A shame that the self-deprecating manner in which he often handles uncomfortable stoppages can bewilder some audience members. They end up sweating for him long after he's already nonchalantly, non-sweatily moved on to the next joke.
Chinaman is a busy dude. He has just finalized a deal with BigVin Records, the label run by former Pantera/Damageplan drummer Vinnie Paul. The c.d./DVD That Ninja's Crazy is expected to be released soon. The comedian's next performance will be his first in the 817 in nearly a year (not counting his hosting the Fort Worth Weekly Music Awards presentation party not too long ago, a private event — he killed, IMHO). The show is at Hot Rods N' Hoggs, where Paul and other headbangers extraordinaire gather weekly for jams under the moniker "Gasoline." Chinaman performs Thursday Sept 14th at 706 N Watson Rd, Arlington (817-649-5220). Tickets are $12.50-15. Visit www.mesofunny.com.
Contact Kultur at kultur@fwweekly.com.