Ah, October in North Texas: Ferris wheels, livestock, and an "if you fry it, we'll try it" attitude toward grub is much on the minds of your friends and neighbors, and Tolbert's, located in Grapevine's historic Main Street district, offers a number of fatty, Fair-ish munchables, including Frito pie, chili dogs, and, of course, Donkey Tails.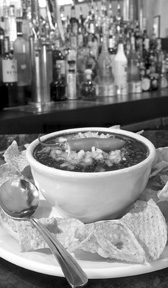 A Texas State Fair staple, Donkey Tails were probably created expressly to be stuck on sticks and carried down the Fair Park midway. The delight is a 100 percent beef hot dog wrapped inside a flour tortilla and submerged in a sea of lovely boiling oil. Tolbert's sells 'em two per order, offers two different dipping sauces (thick, tangy mustard with pickle bits or beef chili), and makes 'em supremely decadent. To these taste buds, the mustard proved to be the more appealing accompaniment to the hot beef flavor.
The chili is a big deal at Tolbert's, or at least it's touted as such. It will likely polarize diners at a single table depending on their tolerance for grease (of which there is a considerable amount in these bowls o' red) and precisely how chunky they like it. The beef used in this recipe is unusually finely ground, making the stuff almost more like a sauce than what many people consider traditional chili. It actually worked better as the main ingredient in Frank's Frito Chili Pie, with those famously smelly curly corn chips and savory diced onions. The slight hot-pepper kick does a lot to make the chili tasty, but sufferers of acid reflux had better load up on the Zantac before taking a spoonful or avoid the stuff altogether. It paid a couple of unexpected return visits a few hours later.
One unqualified success was the Paris (Texas) Fried Catfish. The pieces were closer to strips than filets and breaded with an almost crunchy cornmeal coating that had a lightly zesty seasoning to it. All lovers of this bewhiskered bottom-feeder will be heartened to know that Tolbert's uses top-quality, ultra-tender stuff. The sides consisted of bland, French-cut green beans and a cup of steaming, nicely soupy pinto beans.
Tolbert's first opened in Dallas in 1976 and relocated to Grapevine this past spring. While the place doesn't always hit the mark, you can tell that long-time patrons have favorites on the menu. As for Donkey Tails, if you like 'em big, juicy, and tasty, there's only one place to go, and it ain't Fair Park. l