Hitting the gym three days a week puts a snap in Olive Pemberton's step. She knows about staying fit, having danced on Broadway and made Look magazine's "Beautiful Girls From Texas" list in 1939. The ensuing years haven't quelled a desire to look her tip-top best. While sitting for the photo on this week's cover, Pemberton asked to be photographed from the left — her good side: "I know you probably can't tell the difference between the right side of my face and the left side, but I can," she said.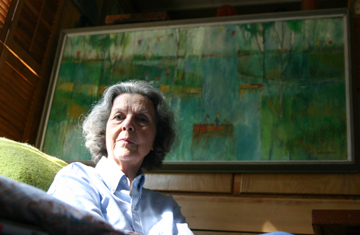 She posed with a self-portrait done 40 years ago, one that depicts her with a scarf around her head, a distant look, and … hmmm … her right side. Why had she painted her bad side?
Oh, but she hadn't: "I was looking in the mirror when I did it."
When the paint was still fresh on that long-ago portrait, Pemberton was a housewife and mother just gaining recognition on the local art scene. She and her talented sister Jan Holmes spent much of the 1950s painting canvases in Jan's garage studio. At the time, a group of artists and friends known as the Fort Worth Circle was jolting the city's artistic sensibilities by experimenting with cubism, surrealism, and other modern techniques and often blending them with the realistic and primitive elements of early Texas art. Locals who liked bluebonnet scenes and picture-perfect landscapes weren't always impressed, but outsiders took note. New York curators and art critics lobbed rare kudos to Cowtown.
The Circle was composed of McKie Trotter, Blanche McVeigh, Bror Utter, Dickson Reeder, Flora Blanc Reeder, Cynthia Brants, Bill Bomar, Kelly Fearing, and others who socialized and painted together and influenced one another. Most have died in the intervening decades, although Bomar and Fearing continue painting (in New York and Austin respectively). Of course, they weren't the only artists in town. Contemporaries floating around but not necessarily "in" the Circle included Pemberton, Emily Guthrie Smith, George Grammer, David Brownlow, Marjorie Johnson, and numerous others. Together, they made up what is known as the Fort Worth School of artists, and their influence reached across North Texas as they taught in schools, galleries, private studios, and at the Woman's Club of Fort Worth.
The 1990s sparked a budding interest in pre-1960s Texas art. Investment principles were at work — buy low, while elderly artists were still alive and maybe even churning out product, and sell high after time, death, and the law of supply and demand created opportunity for returns. But there's also an emotional investment. Talk to any collector — they're fascinated with the artists, whom they studied with, the conditions they worked under, the exact location of whatever's being painted. They love how cityscapes remain frozen in impressionistic bubbles long after the actual buildings have succumbed to development, decay, or demolition. They view art like a virtual-reality Willy Wonka trip to the past.
The fever for paintings from these early artists remains strong. Collectors are scrambling to auctions. The net is widening. Some near-forgotten artists from the Circle's fringes are turning into hot commodities.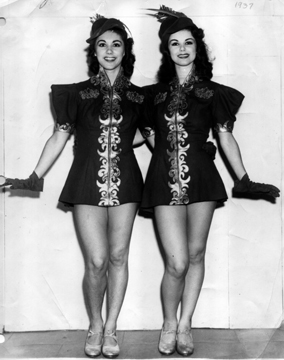 One in particular who has seen a renaissance of attention — though not much financial windfall — is the still-lovely woman who was putting her best side forward for a newspaper photographer a few days ago, while simultaneously dreading the idea of baring her soul. When asked which life lesson stands out most after 86 years, she replied without hesitation, "To not tell all of your business to a nosy reporter."
But Olive Pemberton's a good sport. Over the course of several visits, she revealed the pages of her years, a life that can't help but intrigue collectors fascinated with colorful resumés.
As Dallas art collector Bill Cheek said, "You won't find a more interesting background."
Morris Matson discovered Pemberton and Holmes about 10 years ago when he saw their paintings hanging at the Rosebud Café. Later, the art collector and former Fort Worth city official noticed their art selling at auctions. He sought out both sisters and bought paintings directly from them to hang in his home.
"I can think of at least four of Olive's paintings that I have, and I have at least three Jan Holmes paintings," he said.
Then he mentioned something that always makes Pemberton cringe a little — the chorus girl tag. When collectors gather at shows or galleries and see a Pemberton or Holmes painting, they inevitably mention the dancing years. Chorus girls on Broadway in the 1930s and 1940s were a chaste bunch compared to today's stereotypical showgirls. Little Olive and Jan Nicolson were "just two girls from Texas" who never drank or smoked and were chaperoned by a watchful mother while in New York, she said.
Pemberton isn't ashamed of her dancing. She'd simply prefer that her art be accepted or rejected on its own merit. But, like it or not, the chorus girl asterisk is part of her lore, and it gives her work added cachet.
Pemberton was born in 1920 and grew up in southeast Fort Worth's Stop Six neighborhood. Her sister, Jan, had arrived a year earlier. The family lived in a small house just south of Highway 80, back when pastures and trees vastly outnumbered houses and buildings. The girls had a pony and room to roam, although the city was beginning its inevitable move toward development and sprawl.
"The interurban [train] ran past us at night, and you'd hear it going to Dallas," Pemberton recalled.
Their mother nudged them toward dance lessons, and the girls were happy to oblige. "A lot of people didn't do that because it cost money and this was during the Depression, but Mother said she didn't want us falling and hurting ourselves and that dancing would keep us limber," Pemberton said "She used to make our little tutu skirts."
Pemberton and her longtime husband, Clyde, still live next door to where she grew up, although her parents' home was razed a few years ago. The neighborhood hardly resembles the idyllic setting of her youth. It has evolved from rural to middle class to decidedly blue collar. "The neighborhood is getting bad, but where are you going to move to?" she said. "Everything is so high."
---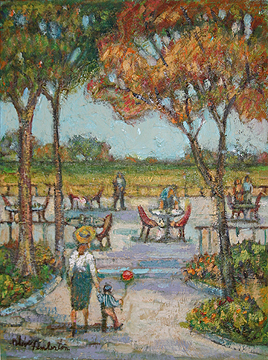 In some ways, the neighborhood has come full circle, back to its rural origins. During Fort Worth Weekly's first visit to Pemberton's house, a neighbor's burro escaped its backyard and was running loose on the street, chased by a laughing man. The sound of chickens squawking and goats bleating was heard coming from backyards eaten down to the dirt.
Pemberton minds her own business. And keeps her doors locked.
On a recent afternoon she poured lemonade in glasses and sat down at her kitchen table to sift through two neat scrapbooks. Vintage photos of Pemberton and Holmes in their dance costumes provide indisputable testament to their extraordinary good looks.
When Fort Worth was gearing up for the 1936 Texas Centennial celebration, the city enlisted celebrated Broadway producer Billy Rose to put on a show at the original Casa Mañana, an outdoor dinner theater. Musical revues with chorus lines were the order of the day, and local girls auditioned as dancers. Few got parts, but Pemberton and Holmes were cinches.
The little tyrant named Rose quickly tested the mettle of the young chorus-line girls, rehearsing them for weeks on an outdoor stage in the dead of summer.
"Billy Rose didn't give a squat if we were hot or not," Pemberton said. "Billy Rose scared us. He was small but mighty."
One of Rose's rule for dancers: No sitting down while in costume. "He said, 'You might ruin them.'"
Few girls complained.
"We were lucky to have work; this was during the Depression," Pemberton said. "Everybody wanted their kids to get in the show so they could put some money in the bank."
Later, the show moved to Broadway and then toured the country. A 1939 Look magazine photo layout under the headline "Beautiful Girls From Texas," shows Pemberton alongside Joan Crawford, Linda Darnell, Joan Blondell, and Mary Martin. Her photo caption reads: "Olive Nicolson [her maiden name] is one of the beauties Billy Rose brought to New York from the Casa Mañana show at Fort Worth's celebration of the Texas Centennial. She is now dancing in the Streets of Paris revue."
Also dancing in that show was Carmen Miranda, the Brazilian bombshell known for her fruit-basket hats and banana costumes. A large photograph in the scrapbook is signed "To Olive, Sinceridad, Carmen."
"She didn't speak much English," Pemberton recalled. She had wielded scissors some 60-odd years ago to make the large photo fit the scrapbook. "I shouldn't have cut the picture like that. It might have been worth something today," she said with a chuckle, "but I had to make it fit on the page." Other scrapbook photos show her on stage with Gene Kelly in the Broadway production of Pal Joey and modeling for Parade in 1942.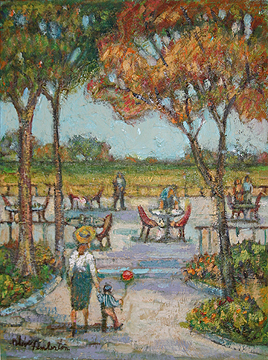 Pemberton married a Broadway stage manager in the early 1940s, but he died a few years later, in a car wreck on a Christmas trip to Fort Worth. Pemberton protects her personal space and didn't want to discuss that long-ago part of her life. She returned home for good after that tragedy.
"She's an extremely artistic woman and a very private person," said A. C. "Ace" Cook, owner of the Bull Ring ice cream parlor and art gallery. "She is always extremely polite and if anything a little bit shy."
Looking back, Pemberton said, dancing was something she fell into and pursued half-heartedly. "I wasn't really interested in show business," she said. "I was always glad to get back to Fort Worth. Painting was what I really liked to do." She had taken drawing lessons at 14 and painted her first oil on canvas at 16. She and Holmes took art classes at The Art Students League of New York on their breaks from dancing, Both showed natural talent.
Her second scrapbook is filled with newspaper clippings of art exhibits, prizes won, and paintings sold. This part of her career gives her the most satisfaction — it's the part she most enjoys talking about.
In the late 1940s, Pemberton and Holmes began taking art classes with McKie Trotter in Fort Worth, learning to divide a canvas, create a center of interest, build frames, stretch canvas, and use turpentine with oil-based paints. The sisters would later study under Bror Utter and learn his watercolor techniques that have influenced so many local artists. Utter hung their paintings in his gallery and treated the sisters like star pupils.
Holmes favored portraits and Mexican-flavored images. Pemberton liked everyday scenes at parks and picnics. Both dabbled with modern styles. Neither was particularly prolific. Pemberton knocked out a couple of hundred paintings, more or less — she can't remember for sure.
"She is a talented and gifted artist," Matson said. "She had some good art education, and she understands the principles of design, color, and composition. She painted in a lot of different styles and could do landscapes, abstracts, impressionistic work."
One of her paintings is included in The Ashton Hotel's Collection of the Fort Worth Circle, and last year Pemberton was one of nine artists featured in a Historic Fort Worth Inc. art show callled Preservation is the Art of the City.
---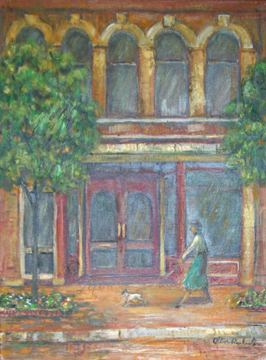 Vincent van Gogh is Pemberton's favorite artist. Elements of his style — thick paint, coarse brushwork, and bright colors — are evident in many of her paintings. She discovered van Gogh in 1941 when Liberty magazine reproduced one of his paintings on its cover. She experimented with his techniques over the years but developed her own style.
"He always used blue and orange, and if you notice, I did blue and orange contrasts," she said. "He was rough acting, and he painted the way he was. Ladies paint kind of daintily. I tried not to, but you can't be somebody you're not."
Olive's father worked at a Lincoln car dealership, and each year the company celebrated the season's new lineup of cars. In 1955, Clyde Pemberton attended the gala. He was a World War II pilot who later settled in Fort Worth and started a business installing air-conditioning systems in autos, which seldom came equipped with cooling units back then. Clyde noticed the car dealer's gorgeous daughter, and she noticed him right back. "I saw him across the room," she said. "He had black hair and dark eyebrows and was so handsome."
Later, as we looked at the art on her walls, Pemberton nodded to a framed black-and-white photo of a man with movie-star looks, chiseled face, wavy black hair, and a rakish grin. "You see why I looked at him across the room that day?" she said, gazing at the picture of her husband.
After painting for more than 50 years, Pemberton laid down her brush for good in 2003. She likes to blame her career's demise on a stray black cat, Ebony. Clyde made a home for the cat in Pemberton's home studio, and the cat took over. He hissed at Pemberton when she entered the room, tended to get in the way, and his litter box sat beside her easel. So Pemberton quit. "I don't bother to paint anymore," she said. "The cat's got my room."
Feline factors aren't the only reasons. Cataracts are coming on, and her eyes aren't as good as they once were. Standing at an easel for hours on end hurts her back. Besides, after 50 years of painting, she had captured most of her ideas.
"You kind of think, 'What, am I going to paint the same thing over and over?'" she said.
The canvas she was working on when Ebony arrived — a flower arrangement — remains unfinished. "I quit and never went back," she said.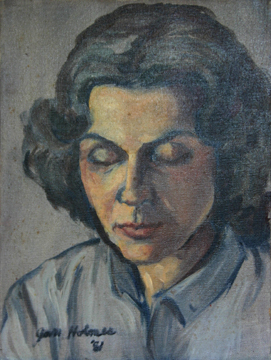 David Dike was in his Dallas art gallery 10 years ago when collector Russell Tether walked in carrying a painting he'd bought at a Fort Worth estate sale. The bottom edge was signed "Olive Pemberton," but neither recognized the name. Visiting the gallery at the time was fellow Fort Worth art collector "Ace" Cook.
"They were saying, 'I really like this painting' and 'I wonder if she's still alive' and 'I wonder if it's a Fort Worth artist,'" Cook said. "I told them where she lived and how to find her."
Cook and Clyde Pemberton were both former pilots who had known each other for years. Dike wasted no time calling Pemberton and arranging a viewing of her paintings. She dragged out about 100 pieces stashed away in nooks and crannies around her house. Dike bought a stack, cleaned and restored a few, framed them, and started selling them. Over the next few years, other collectors came knocking on Pemberton's door. She sold most of her paintings for prices similar to what she was getting in the 1960s — anywhere from $50 to a few hundred bucks depending on size and image. She's down to her last 40 paintings, a mixture of portraits, still lifes, and bright scenes at locales such as Fort Worth Boat Club and the Fort Worth Zoo.
"I've owned a lot of her work over the years," Cheek said. "I still own one of Jan's pieces. Both sisters were good artists." Few artists hit home runs every time they take a brush in hand. Over the course of a career, they go through stages of learning and experimentation. Some works are exquisite, some mediocre, some bad. Collectors are interested in everything but understandably are more willing to lay down big bucks for the artists' best stuff.
"Her good paintings hold up as good as anybody's painting; they were extremely good," Cook said.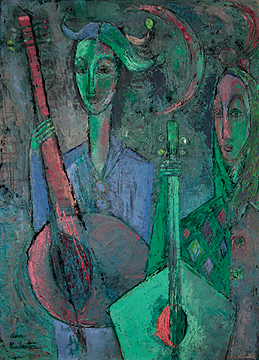 Cheek has bought and sold about a dozen Pembertons. "She painted wonderful garden scenes," he said. "She developed a style with elongated figures that I thought was very attractive … . You quickly grasped what she was trying to convey."
Dike started hosting an annual auction of early Texas art in the mid-1990s. Ten years ago it generated $200,000 in sales. Last year it fetched $1.7 million.. "I've had at least 20 of her paintings in the auctions," Dike said.
Auction records since 1998 show Pemberton's works — two dozen in all — have steadily attracted bidders. The paintings sold for between $600 and $2,400.
"The remarkable thing about her work is everything of hers that has gone to auction has sold except for one, and that's very unusual," Cheek said.
Pemberton is torn. Seeing her paintings rise in value gives her pride. Yet knowing she sold them for much less than they are fetching now is irritating.
The line between collectors and dealers is fuzzy — most are buying, selling, trading, wheeling, and dealing. And most try to turn a profit, although there are no guarantees.
---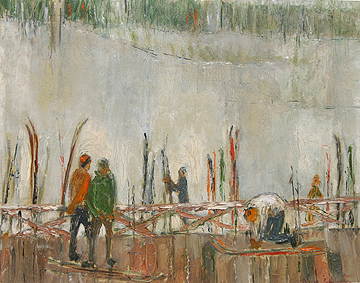 It was boom or bust when dealers converged on early Fort Worth artists in the 1990s. Investments in paintings by obscure artists carry financial risks. There's no guarantee that anyone's works will inspire a new generation of admirers. Like wildcatters searching for the next big play, some collectors struck it rich, others hit dry holes. Works by popular artists tend to change hands more often, and prices can grow higher with each transaction. As values increase, so does an artist's status.
"There is a tradeoff," Cook said. "Maybe she sold her paintings too cheap, but look at the recognition that David Dike and these boys have gotten for her. She'll be remembered for her art long after she's gone."
Embraces these days are slow and delicate, like the brushstrokes relied upon to paint tiny reflections in the eyes of a portrait. "Hello, Deedle," Pemberton says, bending over gently to hug Holmes in her wheelchair. Green Acres is playing on the tv at the Westside nursing home. When the series debuted in 1965, the sisters were both enjoying recognition for their art, appearing in the Fort Worth Star-Telegram, Fort Worth Press, and other publications that covered the local art scene.
It's a brilliant October morning, and Holmes looks radiant. With the help of an assistant, she has dressed herself splendidly and is eager for visitors, at least for a while. She tires quickly these days.
Original paintings by both sisters decorate the walls in her private room. Most depict family members. For instance, a Holmes portrait of Pemberton's daughter is prominently displayed, and a Pemberton portrait of Holmes' daughter also hangs. Among items on a bedside table is a tablet filled with pencil sketches of O.J. Simpson, Johnnie Cochran, Kato Kaelin, Marcia Clark, Judge Lance Ito, and other figures from the notorious trial. Holmes had drawn the portraits while watching the trial on tv in 1995. She would have made a dandy court illustrator. Some of the pages are blank. Since suffering a stroke, she is no longer able to draw. Many of the remaining pages are covered with a grandbaby's messy scribbling.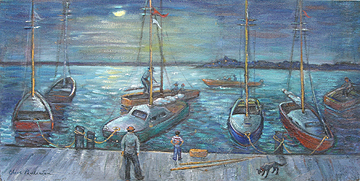 Holmes tells me I have an interesting face and says she would like to draw me, but she can't. A thief stole her talent one evening in 1999. When the stroke hit, Holmes was enjoying dinner with her sister and other relatives at the Greek House Restaurant. Pemberton's daughter, Bonnie, remembers how Holmes had pointed out a bird perched in a tree and noted how pretty it was. Later, Holmes snapped photos at the restaurant and was saying something about the tv show Little House on the Prairie when she suddenly went numb and slumped over. She's had two more strokes since then. "How many can you get?" Holmes says with a laugh. "My gosh!"
The two sisters sit close and recall days when they spent hours on end painting in Holmes' garage studio. Back then, they both talked in rapid-fire sentences. Pemberton still does. Holmes' speech is slow and sometimes tangled. Still, subtle humor pervades her conversation. She gets a gleam in her eye when Pemberton mentions that one of their former art teachers, Emile Guidroz, celebrated his 100th birthday in September.
"That old devil," Holmes says fondly.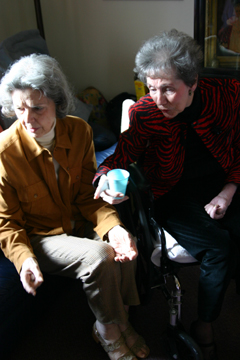 She's doubly pleased that her younger sister's art is being spotlighted in a local newspaper again. That hasn't happened since the reruns flickering across her tv set first graced the airwaves four decades ago.
"I'm glad for Olive," Holmes says. "She earned it."
You can reach Jeff Prince at jeff.prince@fwweekly.com.