By now, Dallas Cowboys wide receiver Terrell Owens has become so overexposed that even the people bashing him have grown tiresome. (Honestly, if Night & Day comes across another Skip Bayless column calling him "Terrible Owens," we're going to turn our computer monitor into powdered glass.) Still, you've got to admit that Number 81 has a diabolical genius for coming up with new ways to get our attention.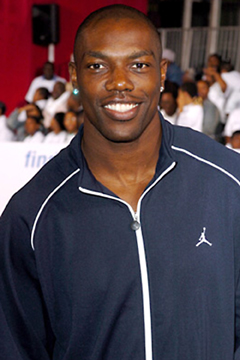 His latest has been to author a children's book. Co-written with Courtney Parker, Little T Learns to Share has been on the shelves since last week. If you think that title runs counter to the public image of a player who's often been painted as selfish, you should know that this is the first of a planned series. Future titles will include Little T Learns What Not to Say (spring 2007) and Little T Learns to Say I'm Sorry (fall 2007).
It goes to show that sometimes life imitates stories in The Onion. The book is aimed at very young children and written in rhyming verse that won't give Dr. Seuss' estate a run for its money. (If you're looking for a better kids' book written by NFL players, check out Tiki and Ronde Barber's Teammates.) Despite its flaws, it depicts Little T's frame of mind pretty well and points out usefully that football is not a one-person game. T.O. has been promoting his work with a book tour of Dallas stores. This week, his tour stops here, as he signs copies of Little T at Grapevine Mills. Not so terrible, huh?
Terrell Owens appears at 7pm Tue at Books-a-Million, Grapevine Mills, 3000 Grapevine Mills Pkwy, Grapevine. Admission is free. Call 205-943-0593.