Americans love the idea of the "self-made man," or of the woman who takes charge of her life and becomes the person she was meant to be.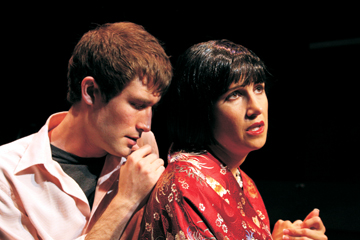 Both concepts get battered in Stage West's problematic but undeniably compelling revival of the '90s New York comedy As Bees In Honey Drown. The central character is one Alexa Vere de Vere (played with graceful bombast by Jody Rudman), an alleged rock music producer and certified bon vivant who has the habit of nicknaming new friends "lamb" as she flutters her exquisitely mani-ed fingers. And everyone Alexa meets is a new friend, especially if they have some spare cash they'd like to be divested of. Her latest target is a torturously insecure young novelist named Evan Wyler (Adam Martin), who has himself engaged in a bit of reinvention. He dropped his Jewish-sounding surname so that people will assume the olive tint to his skin is due to his Welsh extraction. The pair collides in a sequin-covered dazzle of club lights, arch one-liners, multi-layered deceit, and even violence.
As Bees in Honey Drown
Thru Dec 3 at Fort Worth Community Arts Center, 1300 Gendy St, FW. $20-24.
817-STG-WEST.