While the 1950s produced great science-fiction movies such as Invasion of the Body Snatchers, many people associate the decade's sci-fi with the films of Edward Wood — dreadful special effects, hilariously stilted dialogue, and terrible acting. For a different impression of the time, you can drop in on Wednesday's screening of The Day the Earth Stood Still, part of the Lone Star Film Society's monthly Modern Classics series.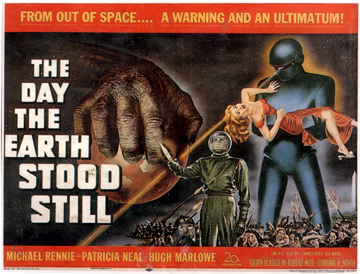 The 1951 film stars Michael Rennie as an alien who lands in Washington, D.C., to warn the human race about its propensity for violence. When a twitchy soldier shoots him, a robot emerges and lays waste to the Army's weaponry. The movie occasionally goes too heavy on its Cold War-era philosophizing, but it's just that element that makes it stand out from the crowd of UFO movies that were being made at the time. While the material could use a few more open ends, it's still handled intelligently by screenwriter Edmund North (who would go on to win an Oscar for his script for Patton) and director Robert Wise (better known as the director of West Side Story and The Sound of Music). Despite the aliens' massive capabilities — which would have resonated with audiences who were just getting used to the idea of a nuclear bomb — the film retains its faith that the human race's innate intelligence and decency can keep global destruction at bay. In a way, this movie is perfect for the holidays: Peace on earth and goodwill to all men, even if it takes a threatening alien to put that sentiment across.
The Day the Earth Stood Still screens at 7pm Wed at Modern Art Museum of Fort Worth, 3200 Darnell St, FW. Tickets are $5.50-7.50. Call 817-738-9215.