Martin McDonagh is a celebrated playwright for works such as The Beauty Queen of Leenane and The Cripple of Inishmaan, but his reputation didn't prevent his play The Pillowman from receiving wildly mixed reviews when it debuted in London's West End in 2003 and on Broadway two years later.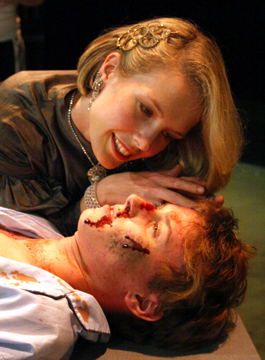 For every reviewer who called it "exceptionally funny" (Times Literary Supplement) or "the best play of the season" (USA Today), there was another who called it "gleefully uneven" (Entertainment Weekly) or "hopelessly disorganized" (The Spectator), and The Guardian even sneered that its real subject was "Why Writers Are Very Important People." This much is not in dispute: The play is about a writer named Katurian Katurian (reference to Kafka and also Krzysztof Kieslowski's film White, whose main character was named Karol Karol) who is interrogated by state police in an unnamed European dictatorship regarding his short stories, which may have inspired a real-life killer. Even though the play has scenes of violence and torture, it also contains some unexpected humorous interludes involving the bumbling cops. Stage West will be putting on this controversial drama — and warns that it's not for children or audience members who are easily offended — so local audiences can judge for themselves.
The Pillowman runs Aug 3-25 at TCC Northwest Campus, 4801 Marine Creek Pkwy, FW. Tickets are $20-24. Call 817-784-9378.