It's strut-your-stuff time for Texas Ballet Theater.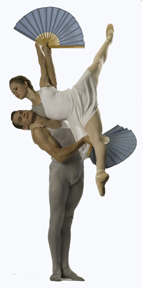 At the Majestic Theater in Dallas this weekend, the company's new blockbuster duo, Leticia Oliveira and Andre Silva, will dance the Don Quixote pas de deux; Enrica Guana Tseng and Lucas Priola will appear in the grand Sylvia duet; and Jayme Autrey Griffith and Lonnie Weeks are scheduled to dance the pas de deux from La Sylphide. Artistic director Ben Stevenson's new ballet, Laila and the Swan, a tribute to longtime TBT board member Laila Gleason, is planned for Carolyn Judson and Carl Coomer.
Also scheduled is L, Stevenson's accolade to Liza Minnelli and created for his former company, Houston Ballet. A change of pace will be offered by choreographer Peter Zweifel's new ballet, Glimpse, an ensemble piece for seven dancers, set to tribal music. The program will be danced in honor of actress Patricia Neal, named this year's Outstanding Performer by TBT. The opening performance, on Friday at 7 p.m., will be followed by a dinner in Neal's honor at the Dallas Petroleum Club, 2200 Ross Ave. Tickets are $100. — Leonard Eureka
Fri-Sun at 1925 Elm St, Dallas. Tickets are $18-74. Call 817-828-9200.