Attention, all non-Middle-Eastern students at the University of Texas at Arlington: A couple of hot, chewy falafels dipped in hummus can soak up as much of your runaway beer buzz as pizza or hot wings.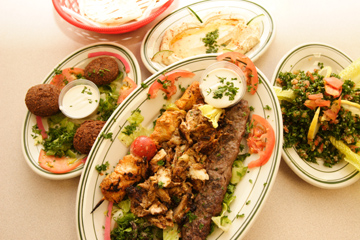 Your Middle-Eastern compadres already know this, which may explain why a recent weekend lunch crowd at Beirut Rock Café, a boxy little eatery a couple of blocks south of the UTA campus, appeared to comprise mostly international students. They may be flocking to the recently opened café to get a taste of what they're missing at home. But locally reared folks ought to give the semi-divey place a try as well — to enjoy some things they're probably not getting at home: creamy, garlicky, chickpea-based hummus; the double spike of parsley and lemon juice in tabbouleh salad; and the juicy shards of marinated chicken or lamb (a.k.a. shawarma) shaved onto the plate.
Beirut Rock Café is clean but divey, in all the right college-haunt ways: They have a drive-through window, though it's currently occupied by a small A.C. unit. A door to the kitchen is off one of its hinges. The bathroom is unisex. The framed maps and illustrations on the walls tell part of the story. Owner-operator Ali Hassan, 27, was born and raised in Lebanon but came to Arlington (on a UTA pal's suggestion) after operating an eatery in Dearborn, Mich., a U.S. haven for Middle-Eastern immigrants. The shawarma competition is, needless to say, pretty intense there. Hassan proudly proclaims that almost all Middle-Eastern cuisine — at least, almost anything an American can claim to know, like falafels, tabbouleh, and baba ghannouj — is of Lebanese origin. He does his hometown of Beirut right with fresh, intricately spiced versions of these and other fare.
Whether you're neophyte or knowledgeable, a good bet is the sampler plate for two. Even at almost $30, it's more than enough grub for the price, and it neatly displays the culinary range and prowess of Beirut Rock. The equivalent of a multi-course meal, the sampler plate offers several standbys. The tabbouleh was a grainy salad full of cracked wheat, scallions, and olive oil. The hummus dip with pools of golden-green olive oil in the middle was particularly tasty and fragrant. The dark brown, deep-fried, fava-bean-chickpea-cilantro pucks known as falafels were heartier and healthier than your average Long John's Silver hush puppy but similar. Shish tawook included yummy, charbroiled chunks of chicken breast strung on a wooden stick between tomato and onion slices, and the shish kafta was a kind of meatloaf made from succulent lamb ground with parsley and green onions.
Lamb reappears in the fried kibbee: four breaded and deep-fried pods in a non-greasy bundle, with yogurt-based dipping sauces. To my Texas-born and -bred taste buds, the kibbee, as well as many other dishes at Beirut Rock Café, relied heavily on cinnamon, cloves, ginger, and nutmeg for their flavor, which made for a meal that was close to a deep inhalation of Nag Champa incense. Almost everything tasted like dessert, and most of it tasted heavenly.
That's the high that all those native-born UTA types are missing.
 Beirut Rock Cafe
Sampler platter for two $27.99
Fried kibbee $4.49
Cheese pies $3.99