Eighth-grade lunch period meant most students were eating in the cafeteria or just chillin' outside.


The hallway was quiet, except for the muffled sound of gut-string guitars drifting from a music room. Bill Gradante pushed open the door and stepped inside, not a bit surprised to find students there, even though class wouldn't begin for 15 minutes. "These are my eccentrics," he said with a sweep of his hand, greeting three eighth-grade boys — Jose Perez, Adrian Cavazos, and Adrian Rodriguez. They meet at J.P. Elder Middle School most mornings, loiter here during lunch, and return after school. They're hooked. Each grabs a guitar, trumpet, or mammoth six-string guitarrôn to make music that originated more than a century ago in Jalisco, Mexico. Mariachi has been spreading its influence across Texas ever since. The three amigos plan to continue performing after they're adults and out of school. "Mariachis make a lot of money," Perez said.
At Elder, about 150 of their schoolmates chose mariachi as an elective class this year, learning and performing a style of music that sounds joyous and uplifting even when the lyrics bemoan lost love and tragedy. For generations, the music has made people sway and dance and lean back their heads and throw out a grito — ai-yai-yai! Most of them are highly assimilated American teens, but Elder's sixth, seventh, and eighth graders are more likely to choose mariachi over the more traditional band, choir, or orchestra. The same is true at North Side High School, for which Elder is a feeder school.
Football-crazed Texans have long embraced marching bands. It's unlikely that the popularity of those precision-stepping stars of a million halftime shows will ever fade in this state, but an evolution is under way. These days, Hispanics make up more than half the students — about 55 percent — in the Fort Worth Independent School District, and their share of the population is higher than that in some parts of Texas, and still growing. For many of those students, memories and traditions don't include football and marching bands. "I'm already used to mariachi; ever since I was little, that's all my mom and dad listened to," Rodriguez said.
Other students interviewed for this story said the same thing — mariachi is part of their upbringing, and it's more fun than regular band class. They might prefer hip-hop or rock 'n' roll after school, but when it comes time to choose a music class these days, José Alfredo Jiménez often trumps John Phillip Sousa. Band geeks know you're nobody unless the University Interscholastic League loves you. The organization governs most of the music, sports, and academic contests in public schools, and its statewide competitions serve as many a kid's primary proving ground. Success there instills self-confidence and, back home, support from teachers, parents, and communities. Until now, school-sponsored mariachi bands have competed in a UIL catch-all category, as opposed to the specific competitions for "regular" band and choir. But that may change this month at the annual meeting of the UIL Legislative Council in Austin. "We are looking at creating a specific mariachi category," said UIL Music Department Director Richard Floyd. "There is the notion in many people's minds that if you create a specific UIL event, you are giving it a level of credibility that you wouldn't have otherwise."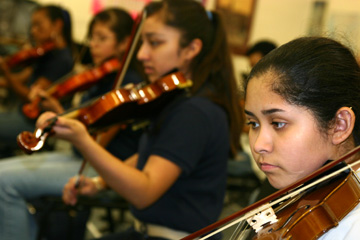 Such recognition could eventually push mariachi into the same popular sphere enjoyed by traditional school music programs. The Mexican American School Board Members Association made the request after parents complained that children who travel to mariachi competitions sometimes receive unexcused absences because mariachi isn't UIL-approved. "Students who are participants in this program are getting punished," said association president Joe Munoz. "In the summer of 2006 we asked UIL to consider it being a [recognized] event much like choir and marching band. They were very receptive." A UIL subcommittee looked around the state and noted how many students were drawn to the Mexican music that features guitar, a popular instrument among Texas teens but one that's often overlooked in band class. A kid who's already shredding White Stripes licks might be inclined to stick with guitar and learn new styles and techniques. Besides, mariachi can be lucrative — musicians sometimes earn $100 an hour or more at house parties, restaurants, weddings, funerals, and quinceañeras and can use the music as a springboard to higher education. Numerous colleges across the Southwest offer mariachi scholarships, and about 500 public schools in Texas have some sort of mariachi band in place.
The UIL seal of approval provides valuable cachet, Munoz said. "I compare this to high school girls' softball. The teams were scattered throughout the state, but once UIL sanctioned it, girls' softball was at almost every high school." Floyd predicted the UIL council will create a category for mariachi at its meeting this month. "If we put this in place and it flourishes and grows, then we'll look at it again and see if we need to do anything else," he said. "We feel like this is a first step." Official status could lead to the creation of all-state mariachi competitions so common among marching bands and orchestras. School districts in South Texas have featured mariachi since the 1970s and hosted competitions with other schools. The University of Texas at Austin is just one of the colleges that offer a mariachi program as part of a music degree. North Texas schools have been slower to embrace the music. Gradante is the local pioneer who founded a mariachi program at Elder and North Side almost 30 years ago, but he still operates on a wing and a prayer. His students sell candy, play gigs, and rely on parental support to come up with the money for charro outfits whose price tags can easily top $500 — sombrero, frilly tie, waist-length jacket, tight pants, and boots. Instruments can cost even more. "All the instruments for the first 10 years were out of my pocket, and they're still here," Gradante said. "We keep repairing them."
Another hurdle is finding teachers. Gradante is classically trained, reads music, and has his teacher certification. He's a guitarist in a mariachi band that plays in local restaurants, and he's fluent in Spanish. He's a rarity. Several years ago, the Fort Worth school district dubbed Gradante an instructional specialist and encouraged him to travel to other schools and help the band directors in teaching mariachi. Some directors weren't enthusiastic. Some saw it as competing for the time and energy typically funneled into band. Some saw the music as lowbrow. "Band guys look down their noses at mariachi guys," Gradante said, recalling a director's shock upon learning that mariachis used sheet music and weren't jamming by ear. Other band directors were open-minded but wanted Gradante, already spread thin, to do most of the work. Statewide, only two universities offer mariachi certification for teachers — Texas State and UT-Pan American. "The kids want to do it, but the teachers are not there," he said. "I have students who would normally go to a different school, but they come here [Elder and North Side] because we have mariachi."
---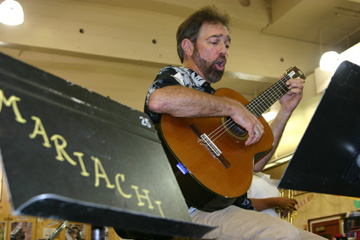 Arlington's Sam Houston High School initiated an after-school program about three years ago after assistant band director Marta Ocampo agreed to teach a handful of interested students. The mariachi musicians don't receive district funding. Money for makeshift uniforms and instruments comes from gigs or out of Ocampo's pocket. Now she has 22 students, and word is spreading in the community. That means more potential to make money for the group. Four of her former students have gone on to play in the University of North Texas' Mariachis Aguilas [Eagles] band, and two have been offered jobs as professional players. She's heard that the UIL is poised to put its stamp of approval on mariachi, but she isn't interested in pursuing a formal program with classes and UIL competitions. She views mariachi as an offshoot, a sidebar, something fun and musical to do during the downtime between marching band and orchestra seasons. "I'm not personally interested in doing UIL mariachi," she said. "I just want the kids to play well, sound good, and have a good time playing."
Being informal and unofficial means less attention by administrators. Some years, Gradante's mariachi programs have attracted 300 students, yet he seldom gets an assistant. Meanwhile, smaller band programs at other schools warrant full-time assistants and bigger budgets. The district's instrumental music office budgets $5,000 annually for mariachi programs, compared to $125,000 for band. "We are always treated differently because we are mariachi … we're not considered legitimate," he said. Quality instructors, instruments, and uniforms can make a difference in student participation, and all three are in short supply locally. But, the UIL's Floyd said, if demand from students and parents continues to grow, mariachi programs will eventually find their place in schools all over Texas.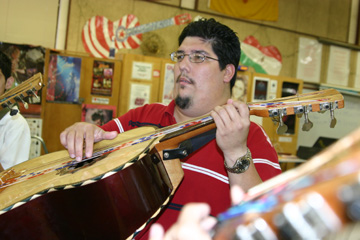 Imagine the pain of listening to 30 fledgling guitar students, all playing ravaged renditions of "Mary Had a Little Lamb" at once. Welcome to Gradante's sixth-grade mariachi guitar class, where most students have no experience at the instrument or in reading music. They're confused, out of tune, out of time, but trying their best — and sometimes trying Gradante's patience. "Who's playing their guitar?" he said, casting a stern look toward boys sitting in the back of class. "When I'm talking, you don't play, you listen." Later, he lightened the mood. "Do you know what the word 'fleece' means?" he asked the class. "Yes," they all said in unison. "What does it mean?" he asked. Stone silence. "Pulga," a boy said, referring to fleas. A few students snickered, and then one said, "Wool?"
Gradante will have these tadpoles reading music, playing various instruments, and making merry Mexican music in the coming years. Mariachi's popularity owes much to the joyous sounds and interesting instrumentation. The wandering minstrels from Mexican restaurants are sometimes mocked in movies and TV satire, but those groups are more often considered Mexican trios. Mariachi bands are large and include multiple violins and trumpets, as well as a guitar, a small vihuela (five-string guitar reminiscent of a mandolin), and the bulky guitarrôn (six-string acoustic bass). Mariachi can refer to a single musician, a group, or the style of music. Themes of love and family make the music popular on Mother's Day, Valentine's Day, and in romantic restaurants. And, although the practice is dated, it's not unheard of for mariachis to be hired to stand underneath someone's window and communicate a message through song. But, like country-and-western music, the themes also embrace heartbreak, tragedy, machismo, and death. These contrasts resonate within the music as well, mixing the sugary strains of violins, the high-pitched clang of vihuela, the deep and resonant guitarrôn, the muted chords on classical guitars, and the bombastic chutzpah of the trumpets. Throw in syncopated rhythms reminiscent of some bluegrass music, and you've got an ideal soundtrack to the Mexican experience. "Mariachi is the soul of Mexican culture," Fort Worth City Council member Sal Espino said. "It's very danceable music. You've got the strings and brass, and the songs are about love and being happy or sad — they are the story of life." Try to listen to "La Bamba" and other classics without dancing or at least tapping a toe — it's barely possible.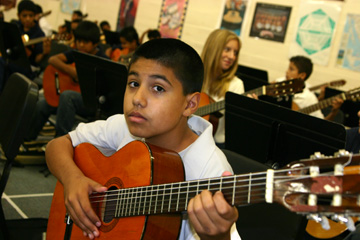 Mariachi has flourished at Elder and North Side in part because of the large number of Hispanics there, but even more because of Gradante's passion and persistence. He founded the mariachi programs there in 1980, making do at North Side with a tiny rehearsal room (more accurately, a large converted janitor's closet) and no funding. He bonded with the kids, who dubbed him "Dr. G," a nickname that has stuck. Despite the district-wide responsibilities he took on in 2001, he's continued to oversee Elder's Mariachi Estrella Tejana (Texas Star Mariachi) and help out with North Side's Mariachi Espuelas de Plata (Silver Spurs). Both groups are in demand at area functions and celebrations, and students have also performed in California, Arizona, New Mexico, and as far away as Canada, Mexico, and even Hungary. Gradante arrived in Fort Worth public schools under the auspices of the Texas Commission on the Arts, which paid the bulk of his salary for three years while he introduced the district to the traditional Mexican music. The Northside community embraced the program, and the Fort Worth district incorporated it into its music program in 1983. Over the years, he's developed a reputation as an enthusiastic but tough leader. "He demanded a lot from his students," said Chris Elam, who graduated from North Side in 1997. "If you screwed up, he let you know you screwed up and usually told the whole class about it."
Elam was one of the few white kids at the school and the only one in mariachi class. His reason for joining: He needed an elective class, he already knew how to play guitar, and he wasn't interested in marching band. "Mariachis were cool," he said. "The band, they're nerdy." Learning a different technique took awhile, but once he conquered Mexican music on a gut-string guitar, he was a full-fledged member of the mariachis. He donned black pants, sparkly jacket, and sombrero and played around town, raising eyebrows as a white kid in such a kick-ass cultural band. "The kids were very talented, and most had been in his program since middle school," Elam said. "They'd been working at it for years and years with Gradante as a teacher, and they all knew and liked the guy, and he was a good teacher. He definitely had a great mariachi band." Some people are surprised by Gradante's background. He's an Italian from Hartford, Conn., who grew up listening to rock 'n' roll. His interest in border music came from hearing guitar-slinger Carlos Santana. While attending UT- Austin in 1977, he discovered and fell in love with the music that he is still so involved with today.
During summers, students accompany him to conferences and workshops with some of the world's best players and singers, from Mariachi Vargas de Tecalitlan and Mariachi Sol de Mexico to Linda Ronstadt and Tish Hinojosa. Gradante's mariachis enjoy a strong reputation statewide, despite originating in an area where marching bands rule. Gradante sees the two programs as distinct. Marching bands are loud, visually stimulating, and perfect entertainment in large venues like football games. Mariachi bands works in smaller venues. Generally, trumpet is the only instrument common to both. Jose Perez, one of the "eccentrics" who spends most of his spare time in Gradante's class, said the music is in his blood. His mother, Lilly Segovia, attended Gradante's classes and still sings. Three generations — Perez, his mom, and grandpa — perform together on weekends. He thinks his kind of music and regular marching bands should get the same financial support from the school.
---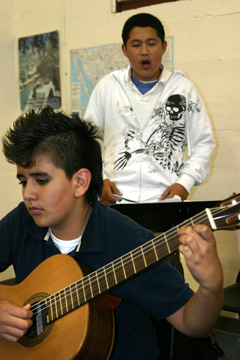 His mother goes a step further. She thinks that because mariachi draws more students at North Side, it should get more funding. She joined Gradante's class in sixth grade and was so good at guitar she was soon sitting in with the high school group during performances. The history captivated her as much as the music, and she learned about early Mexican singer-songwriters like José Alfredo Jiménez and Vicente Fernández. "It wasn't just about songs. Dr. G taught us about history and where mariachi came from, the Diez y Seis de Septiembre, Cinco de Mayo, and why we celebrate certain things," she said. "He didn't want us to just get up and play a song, he wanted us to love what we were doing." In ninth grade, Segovia and Gradante clashed after she arrived late to class one day. "He started yelling at me, and I started yelling at him," she recalled. "I was a little mouthy back then."
She quit the program but has long since buried the hatchet with Dr. G — they often run into each other and have pleasant exchanges. She's thrilled that her son is carrying on the tradition — and getting his butt off the couch. "He's gone from playing video games all day long, if he could, to playing guitar all day long," she said. "He and his friend, Adrian Rodriguez, were working with kids in church and teaching them to play guitar. They are wanting to start a children's choir, and he is using what he learned in mariachi class." The program helps keep kids off the streets and out of trouble. But the uniforms worn by Perez and friends are the same ones Segovia wore 15 years earlier. Parents struggle to buy instruments and accessories. "Maybe the parents need to get together and speak up" to convince the school to provide more support, she said. "That's a problem in the Hispanic community — they don't speak out. If they don't speak up for the mariachi, it might go away. Dr. G isn't going to be there forever."
The trend toward mariachi music in some schools hasn't gone unnoticed by local Hispanic leaders. Schools trustee Juan Rangel called it an "interesting phenomenon" that should be supported by schools and administrators. "Studies show that children learn better when they are involved with the arts," he said. "If you want to start a German polka band, I'll support it."
Still, there's never enough funding for any of the district's music programs — no voice lessons for choir students, not enough money for marching-band tubas. The general rule is to allow individual schools the freedom to spend the scant dollars on programs they choose. But student input should be considered, Rangel said, and if they want mariachi, the opportunity should be provided. "You always will have evolution and change," he said. The hardest part can be finding suitable teachers. John Olmos grew up on the North Side and was one of the first students to join Gradante's class at Elder. He'd played cello up until then but became infatuated with guitar and mariachi. Before long, he was in a band with his cousins — Mariachi Olmos — and working regularly. "It was a good part-time job," he said. "We were still in school, so we mostly played weekends."
In 1990 he became bassist for longtime Fort Worth band Latin Express, a job he still holds. Eleven years ago he built a mariachi program at Grand Prairie High School and taught the class until last year, when he had to step down because he wasn't state-certified. He is now finishing a college degree and seeking certification and hopes to return to teaching mariachi in Grand Prairie. In the meantime, he stops by Gradante's class when he has free time and passes along his expertise to those players. He, too, thinks mariachi programs should get a little bigger slice of the school money pie.
Olmos is also set to teach a continuing education class at Tarrant County College beginning this month. When colleges begin offering classes routinely, interest will build even more in middle and high schools, he predicted. Lico Reyes, an Arlington activist with the League of United Latin American Citizens, said mariachi's roots are specifically in Mexico, and so it's a style that doesn't resonate with all Latinos. Marching band and orchestra are more generic to all races, he said, and marching bands are part of the Texas way of life. He thinks mariachi should be encouraged as an alternative but not a replacement for traditional programs. "This is America," he said. "This isn't mariachi land, this is marching-band land. I'm old-fashioned. But maybe one day I'll be old and sitting at a football game and going, 'Boy I was wrong, these mariachi bands are really something.'"
You can reach Jeff Prince at jeff.prince@fwweekly.com.