Fort Worth native and accomplished tenor saxophonist Rachella Parks never considered herself a jazz musician per se.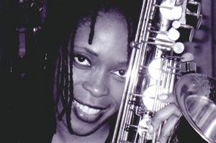 Even if her deep tones reflect past jazz greats like Gene Ammons and John Coltrane, Parks has always sought out her own voice. Preoccupied with the deeper meaning of music, the Polytechnic High School graduate listens mainly for truth. "If it's there, you know it," she said. "You can always hear the truth." As a young woman with a degree from the University of North Texas (but not in jazz), Parks lived an adventurous life as a freelance saxophone player. When not lending her big, emotive sound to traveling groups like The Drifters, she worked as a substitute teacher for the Fort Worth school district. But Parks' career soon took an unforeseeable and tragic turn in 2001, when she began suffering from a painful stiff neck. She went to the doctor, and after much difficulty in ascertaining a diagnosis, she was told that she suffered from sarcoidosis, a rare and poorly understood immune disorder without a cure. Too sick for the saxophone, she adjusted to life under different terms until her friend, Fort Worth pianist Thomas Reese, demanded that she pick up her neglected horn and accompany him on a short car ride. The pair soon ended up at the Fort Worth home of an internationally renowned jazz legend, drummer Ronald Shannon Jackson, with whom she had been collaborating off and on since she appeared on his 1996 album, Shannon's House.
By not playing and waiting for the worst of the sickness to pass, she said, she had "lost confidence" and the will to play — but Jackson helped her regain that. After the diagnosis, Parks joined Jackson's band, The Decoding Society, for a world tour. "He saw something in my playing that I didn't know I had," she said. "He encouraged me — I'd never been challenged like that. "My approach is to play from the inside out," she continued. "I play the truth in whatever I'm playing … not to impress others. Music can touch you, so you don't want to just play notes." Parks has always played in church, where she learned to improvise, and she continues to play as often as the symptoms of sarcoidosis allow. As her disease and life experiences transform her, Parks now sees a different side of music, "the healing element." "I try to be responsible musically," she said. "I give people hope through my music, and people need to hear that. Do people want to hear about hanging themselves or holding on and keeping faith?"
Parks' current songwriting project, which she calls "Meditative Inspiration," combines Bible verses with her compositions on both piano and saxophone. One of her scores brings to life a favorite passage, Peter 5:7. Her emotionally wrought saxophone speaks as loudly as the verse — "Cast your cares upon him, for he cares for you." The music does help her cope, she said, but it's not a cure. "It's been a roller coaster for me, with good days and bad," she said. Medical professionals often refer to sarcoidosis as a "snowflake disease," nodding to the fact that no two patients display the same symptoms. Sufferers include comedian-actor Bernie Mac and recently deceased football player Reggie White. The understanding of sarcoidosis is limited at best, but what is known is that granules of inflamed cells block normal organ functions. "It's really hard to leave the doctor's office and feel like you're on your own," Parks said.
Before she can begin to affect the ways in which sarcoidosis is diagnosed and treated, she is working on raising awareness. Parks, her husband David Washington, and her sister Laronda Parks started the Sarcoidosis Foundation of Texas, a nonprofit organization that provides information and resources to people afflicted by the disease. For the third consecutive year, the foundation will host Songs in the Key of Hope, a public awareness event. For Saturday's gathering at the Botanic Garden, Parks' old friend, actress Irma P. Hall, will be joined by a host of jazz stalwarts. The saxophonist will play, health permitting, as always to "bless, not impress." Eight months ago, Parks underwent hip replacement surgery, and the complications left her too weak to perform, though she was still brimming with creativity. "Even in the midst of this, I'm seeing how to use my music," she said.
Before the surgery, she had composed several complete works of meditative inspiration. Songs such as "It's Going to be Alright," "Hold On," and "Keep the Faith" became part of her recuperation. After the surgery she began scoring Bible passages. With enough material for an album, Parks is also working on a collection of thoughts and poems, Overcoming and Becoming. Being a musician has always taken a backseat to being a good person for her. To aspiring players, she says, "What makes a great musician is finding yourself in the context of music. You've got to be brave and trust in the gift." Music, as Parks will attest, often plays a much larger role in life than a mere few notes might suggest. "I'm the same kind of musician I've always been," she said. "I like inspiration."
 Songs in the Key of Hope 2007
Sat w/actress Irma P. Hall and musicians Chuck Smith, Majik Touch, Arlington Jones, Katrena Armstead, Lawrence Robinson, Rachella Parks, and more. 6-9:30pm. Botanic Garden Center Lecture Hall, 3220 Botanic Garden Blvd, FW. $25. For more information on sarcoidosis, visit www.sfotexas.org.