First things first: the pronunciation of Mariusz Kwiecien's name.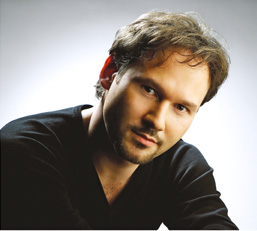 Here goes: MA-ree-oosh KVYEH-chen, and if you can manage it, pronounce that final "n" like the "ñ" in Spanish. Now that we've got that out of the way, who is he? He's the handsome 35-year-old native of Krakow, Poland, who's currently mesmerizing opera crowds all over the world. His baritone voice offers a compelling mix of oaken beauty and ringing power, and his fiery, sensual stage presence has inspired all kinds of hormonal rushes in audience members (especially the female ones) in roles such as Don Giovanni, Dr. Malatesta in Don Pasquale, and Enrico in Lucia di Lammermoor, which he sang on the opening night of the Metropolitan Opera's season this year.
This Thursday he's at the Kimbell Art Museum, performing an eclectic vocal recital. The cornerstones of the program are Schumann's brooding Dichterliebe ("A Poet's Love," consisting of 16 Heinrich Heine poems set to music) and Ravel's Basque-inflected three-part suite Don Quichotte à Dulcinée. Filling out the program are assorted songs by Tchaikovsky — including the famous "None but the lonely heart" — and by Mieczyslaw Karlowicz, the Late Romantic Polish composer who was killed in an avalanche at the age of 33. We'll be hearing Kwiecien in French, German, Russian, and his native tongue, but he also sings in excellent English, so one or more of his encores might well be something in our language.
Mariusz Kwiecien sings at 7:30pm Thu at 3333 Camp Bowie Blvd, FW. Tickets are $15-35. Call 817-332-8451.