Before Brian Forella bought it last year, 6th Street Live (formerly 6th Street Bar & Grill) was a warm but glorified hole-in-the-wall with a patio, hosting shows by local and touring bluesmen and classic-rock cover bands.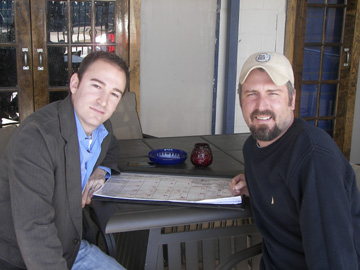 For months after Forella took over, he made only small changes to the 3,500-square-foot place. He started having rock shows and taking on new regulars, but he didn't do much to change the look. Though he was desperate to begin transforming the 6th into something other than what it was, he was hamstrung by The Wreck Room, his legendary rock club nearby that was slated for demolition to make room for high-end development. After the Wreck closed in September, Forella was able to focus solely on 6th Street. He tore out the ribbed tin siding behind the bar, trashed the neon beer signs all around, and got rid of the trashy furniture. He put up baroque-saloon paneling and details, installed flat-screen TVs, and replaced the picnic benches on the patio with sturdy, classy outdoor furniture, expanding the club's maximum occupancy from 250 to 300.
To book shows capable of filling the additional space and also to help realize his vision of bringing a cool, hip, mature indie club to Fort Worth, Forella hired Lance Yocom, president of local production company Spune, who also puts on the Wall of Sound music festival every year. Known for his exquisite taste in indie music (local and national), Yocom also books The Cavern in Dallas, Hailey's in Denton, and The Mohawk in Austin, and recently began booking rock shows at The Modern Art Museum of Fort Worth. "Nobody else is doing what [Yocom] does around here," Forella said. Yocum added: "People I've talked to are surprised that tours are coming to Fort Worth [via 6th Street] rather than Dallas or Denton." Marquee indie bands and performers slated to play the club over the next couple of months include The Sword (Jan. 25), Trampled By Turtles (Jan. 26), and Wayne Hancock (Feb. 9), among others, plus regional stalwarts like The Drams, Mingofishtrap, and Fort Worth's Black Tie Dynasty. The club will celebrate its official grand opening on Jan. 23 and will be rechristened as Lola's.
Forella stressed that he's not trying to re-live the past. "What I'm trying to do is take the best hospitality elements from the previous places I've done," including Embargo in SoDo, The Torch up the street, and – right around the corner – the Bronx Zoo Sports Café, "and put them in here," he said. "The Wreck was a good run, but it's time to move on." Lola's neighborhood, in the Cultural District's West Seventh Street corridor, is in flux. Almost as soon as an old building is razed, a new foundation is poured, and existing vacant structures are being rezoned and revitalized into mixed-use developments, with retail and housing all in one place. Forella expects that other than Fred's Texas Café, a veritable Fort Worth institution nearby on Currie Street, Lola's will be one of the last vestiges of underground culture in the area – though not necessarily a grungy one. "I'm older," the 37-year-old said. "I want a nice, clean, safe place where everyone can come and enjoy seeing good music. … I want everyone to say, 'Let's go [to Lola's].'"
Business at Lola's has doubled since the Wreck's closing, he said. And there haven't been any fights. "Guys have told me, 'Bri, I don't know how to say this, but I like this place better than the Wreck.'" The Wreck was always a charmingly seedy joint, but several months before it closed it had fallen into severe disrepair. "I knew it was going, so I didn't want to put any more money into it," Forella said. Lola's, he said, will incorporate only the Wreck's best attributes: the loyal veteran employees and the emphasis on service and excellent acoustics. Graffiti, after-hours partying, dirty restrooms, servers with bad attitudes, and cliquish behavior will not be tolerated. "I don't want another Wreck situation," Forella said. "I don't want [business neighbors] pointing at us. I don't want to be a target. I'd rather people come in here and think the place is cool."
Bands, he noted, fall into the category of "people": "I want bands to say, 'I might not make as much money [at Lola's], but I was treated right and the sound was good, so hopefully we'll get more fans.' "
The club, Forella said, will be finished for the grand opening, but there's more he wants to do, such as installing a humidor, patio bar, and hardwood flooring; creating a martini menu; getting murals painted; and putting 15 beers on tap. The weekly evening shows – singer-songwriter Carey Wolff on Wednesdays, Scott Copeland on Thursdays, and jamming jazzbos on Sundays – will continue in some form or another. Lola's has the potential to be a "prestigious" place, Yocom said. "It's similar to [Dallas'] Gypsy Tea Room – it started out small, then got to a point when bands and regulars said, 'Let's go there' no matter who was playing."
Lola's
Whiskey Folk Ramblers and Telegraph Canyon (Fri), Dove Hunter, The Cush, Proud Warrior, and Quo (Sat) at 2736 W 6th St, FW. 817-877-0669.