About two years ago, psyche-folkic singer-songwriter Daniel Katsuk left Fort Worth for the wild environs of Central Colorado, a more fitting setting, on the surface, for his brand of tripped-out, organic vibe but, apparently, a sort of empty one.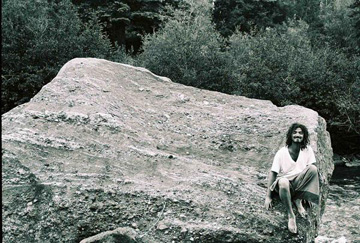 "I love Colorado, and I'll miss the mountains," he said. "But the scene was not what I expected." Unlike here, the Denver-Boulder scene, Katsuk said, is littered with local and regional musicians trying to be heard over the noise from large venues that are seemingly bright every night with shows by gi-normous national touring bands. Plus, a lot of big groups that pass through, he said, are jam band-y, a close approximation of Katsuk's style but hardly a complete assessment.
The odd environment is part of the reason why Katsuk has packed up his belongings and moved back home to Fort Worth. Another is that "Fort Worth has the best music scene in the world!" he said, only half-jokingly. "I'm always pretty nomadic," he said. "No move is permanent. But I'm getting back and reconnecting with the wonderful people who enjoy my music and go to shows." Even before deciding to move back here, Katsuk was always dropping by, playing gigs around town and doing some piecemeal recording sessions for his new album, Out in the Wind, mostly at a friend's Westside home studio.
The 17-track CD, also partially recorded at Dallas' Sound Lab and Denver's Sonoma, comprises new tunes and ones from his previous solo project, A-Hummin' Acoustical Acupuncture. "They're songs from throughout my history that I thought went well together," said Katsuk, whose project now is simply called KatsüK. His forthcoming Lola's show will feature a sparse arrangement: only him on guitar and flute plus multi-instrumentalist Orion and percussionist Jonathan Irwin. But the album, Katsuk said, will have a little bit of everything, especially rock, funk, reggae, and Americana. "I enjoy that sound," he said, referring to the hodgepodge. "I think the music I write calls for epic elements." – Anthony Mariani
Fri at Lola's, 2736 W 6th St, FW. 817-877-0669.