Usually when I assemble the picks for my year-end list of the best movies, there's a lot of flux among the choices as I get closer to deadline.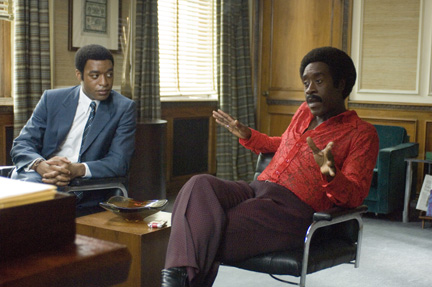 Not this year, though. The top nine have remained pretty solid for the last three weeks. All in all, a lot of intriguing stuff came out in 2007, but my Top 10 is restricted to movies that left me sitting there thinking, "Whoa, that was awesome!" Yes, Mom and Dad, after all the years I spent studying film and honing my critical faculties, that's what my picks come down to. As in years past, an asterisk denotes a movie that hasn't been released locally yet.
1) Talk to Me Kasi Lemmons' biography of 1960s radio DJ Petey Greene hums with rambunctious humor and hot-blooded political activism. While the DELETE raises provocative questions about the place of African-American entertainers, the tone switches between comedy and tragedy with jaw-dropping ease, and the skills of Don Cheadle and Chiwetel Ejiofor make this a potent human drama.
2) Hot Fuzz The best Hollywood action movie this year didn't come from Hollywood. Edgar Wright's manic mash-up of cozy British rural comedies and loud American urban thrillers not only overflows with endless comic invention but also showcases action sequences on a par with the ones in The Bourne Ultimatum. As Nick Frost's PC Butterman would say, it's very unridiculous how good this movie is.
3) Juno If only our teenage selves could have handled an unplanned pregnancy with Juno MacGuff's style and grace! The character's poise under pressure is just one remarkable achievement of Jason Reitman's fiercely funny and unexpectedly moving comedy. Diablo Cody's sharp-tongued DELETE provides a welcome female note in a year of male-dominated comedies.
4) The Host A mind-blowing Korean mix of social satire, dysfunctional family comedy, and a giant amphibious monster that eats people. Bong Joon-ho's category-defying movie sets you up to laugh and scream with equal skill and without ever clueing you in to what's coming next. Who says movies have no stories left to tell?
---
5) Paprika Mood-altering drugs seem hopelessly dull next to Satoshi Kon's anime fantasy. This sci-fi thriller explores the nature of dreams and moviemaking and pushes the world to the brink of the apocalypse. Instead of four horsemen, we get a hypnotic parade of dolls, robots, and instrument-tootling frogs. Only a Japanese filmmaker could envision the end of the world as so terrifying and yet so cute.
6) The Savages A hilarious and heartwarming comedy about child abuse, senility, and the inexorable march toward death. Philip Seymour Hoffman and Laura Linney are stellar as the damaged kids of a bad dad who's dying slowly and wretchedly, but it's writer-director Tamara Jenkins who somehow keeps this balanced between the terror of death and life-affirming laughter.
7) Once Musicals aren't supposed to be possible on a low budget, but nobody told the makers of this shimmering little gem from Ireland. The platonic romance between Glen Hansard's busker and Markéta Irglová's Czech pianist plays like Before Sunrise but with beautiful and angry songs instead of long conversations. This simple movie made Bob Dylan into a fan, and it'll probably do the same for you.
8) 4 Months, 3 Weeks, and 2 Days* Call this the anti-Juno. Cristian Mungiu won the top prize at Cannes with this riveting, horrible, pitiless drama about two women who pay a higher price than they could possibly imagine for one's illegal abortion during the Ceausescu regime. This journey into hell is just the latest masterpiece from Romania, the newest force in world cinema.
9) Sweeney Todd: The Demon Barber of Fleet Street Hollywood has finally figured out how to do something other than action-thrillers, and it's musicals. In a year that gave us the joys of Hairspray, Enchanted, and Walk Hard, Tim Burton's jet-black rendering of Stephen Sondheim's revenge opera brings the music to a satisfying and blood-drenched coda.
10) Michael Clayton In a year filled with terrific no-nonsense American thrillers, this one stands for the rest as well as any other. Amid the twists and turns of this old-fashioned hand-crafted legal drama, the glimmers of humanity that peek through the facades of Tony Gilroy's flawed characters not only make them interesting but determine their fates in satisfying fashion.
Honorable mention: Billy Ray's whip-smart real-life spy thriller Breach, Brad Bird's wise and tasty Ratatouille, Scott Frank's sparse and eccentric bank-robbery film The Lookout, David Fincher's emotionally draining whodunit Zodiac, Wisit Sasanatieng's outrageously colored Thai musical western Tears of the Black Tiger, Jafar Panahi's ode to outlaw female Muslim soccer fans Offside, Sidney Lumet's old-school family tragedy Before the Devil Knows You're Dead, David Cronenberg's high-brow pulp piece Eastern Promises, the Coen brothers' ruthless Western noir No Country for Old Men, Joe Menendez' burbling caper flick Ladrón que roba a ladrón, Adam Shankman's candy-coated retro musical Hairspray, Seth Gordon's geeked-up gaming documentary The King of Kong: A Fistful of Quarters, Charles Ferguson's devastating Iraq brief No End in Sight, and Florian Henckel von Donnersmarck's disillusioned but hopeful The Lives of Others.
Great performances: Amy Adams' Disney princess out of water in Enchanted … Javier Bardem's stone-cold, weird-haired killer in No Country for Old Men … Chris Cooper's pious traitor in Breach … Marion Cotillard's Edith Piaf in La Vie en Rose … Johnny Depp's haunted and despairing Sweeney Todd: The Demon Barber of Fleet Street … Irrfan Khan's sensitive dad in The Namesake and hard-bitten cop in A Mighty Heart … Ulrich Mühe's conscience-ridden government spy in The Lives of Others … John C. Reilly, singing about beating off (all of his demons) in Walk Hard: The Dewey Cox Story … Amy Ryan's supremely awful mom in Gone Baby Gone … Tilda Swinton's panic-stricken corporate suit in Michael Clayton … Amber Tamblyn's mentally disintegrating accused baby-killer in Stephanie Daley … Tang Wei's double (triple?) agent with an unhealthy sex life in Lust, Caution.
Great performances (pairs category): Michael Cera and Jonah Hill's loving buddies in Superbad … Don Cheadle and Chiwetel Ejiofor's differing types of black entertainers in Talk to Me … Russell Crowe's charismatic outlaw and Ben Foster's psychologically dependent sidekick in 3:10 to Yuma … Richard Gere and Alfred Molina's partners in con artistry in The Hoax … Joseph Gordon-Levitt and Jeff Daniels' handicapped guys relying on each other in The Lookout … Philip Seymour Hoffman and Laura Linney's battling but loving siblings in The Savages … Nicole Kidman and Jennifer Jason Leigh's battling and hateful siblings in Margot at the Wedding … Simon Pegg and Nick Frost's small-town crime-fighters in Hot Fuzz … Gordon Pinsent's helpless husband and Julie Christie's Alzheimer's-afflicted wife in Away From Her … Paul Rudd and Leslie Mann's couple in crisis in Knocked Up.
Making the leap: Ben Affleck (director), Gone Baby Gone; J.A. Bayona, The Orphanage*; Zoe Bell, Grindhouse; Nikki Blonsky, Hairspray; Julie Gavras, Blame It on Fidel!; Scott Glosserman and Nathan Baesel, Behind the Mask: The Rise of Leslie Vernon; Carice van Houten, Black Book; Christopher Mintz-Plasse, Superbad; Sarah Polley (writer-director), Away From Her; Corneliu Porumboiu, 12:08 East of Bucharest; Seth Rogen, Knocked Up and Superbad; Saoirse Ronan, Atonement; Julian Schnabel, The Diving Bell and the Butterfly; Christopher Smith, Severance; Thomas Turgoose, This Is England; Andrew Walker, Starting Out in the Evening.
Misunderstood: The Kingdom, Vacancy, Stardust, Georgia Rule, I Think I Love My Wife, Death Sentence.
Overrated: There Will Be Blood, Atonement, Knocked Up, Persepolis*, I'm Not There, 28 Weeks Later, Into the Wild.
Misunderstood and overrated: 300, Black Snake Moan, Across the Universe, The Darjeeling Limited, Southland Tales.
Brilliant fragments: Quentin Tarantino's segment of Grindhouse ("Death Proof"), Alexander Payne's segment of Paris, je t'aime ("14° Arrondissement"), the opening segment of The Ten ("Thou shalt have no other gods before me"), the music video from Music and Lyrics ("Pop! Goes My Heart").