Usually when I assemble the picks for my year-end list of the best movies, there's a lot of flux among the choices as I get closer to deadline.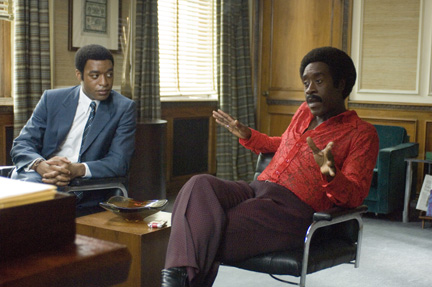 Not this year, though. The top nine have remained pretty solid for the last three weeks. All in all, a lot of intriguing stuff came out in 2007, but my Top 10 is restricted to movies that left me sitting there thinking, "Whoa, that was awesome!" Yes, Mom and Dad, after all the years I spent studying film and honing my critical faculties, that's what my picks come down to. As in years past, an asterisk denotes a movie that hasn't been released locally yet.
1) Talk to Me Kasi Lemmons' biography of 1960s radio DJ Petey Greene hums with rambunctious humor and hot-blooded political activism. While the DELETE raises provocative questions about the place of African-American entertainers, the tone switches between comedy and tragedy with jaw-dropping ease, and the skills of Don Cheadle and Chiwetel Ejiofor make this a potent human drama.
2) Hot Fuzz The best Hollywood action movie this year didn't come from Hollywood. Edgar Wright's manic mash-up of cozy British rural comedies and loud American urban thrillers not only overflows with endless comic invention but also showcases action sequences on a par with the ones in The Bourne Ultimatum. As Nick Frost's PC Butterman would say, it's very unridiculous how good this movie is.