Surely Fort Worth offers more than any other city in the region when it comes to classical guitar music.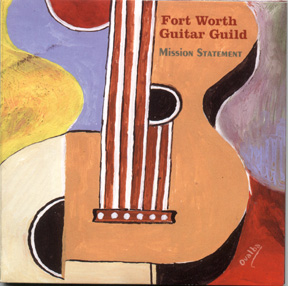 While Fort Worth Classic Guitar Society brings to town the best artists on this instrument, the Fort Worth Guitar Guild has carved out a niche by cultivating local talent – if the next Segovia is here, he or she will get a hearing. Now that the guild has put out its first CD, the chances of that are better than ever.
The first thing that newcomers should know is that the sonic capabilities of a single acoustic guitar can't match a solo piano or even a cello for sheer volume, so the music written for the instrument tends to sacrifice emotional outbursts in favor of lyricism and intimacy. The buttoned-down tenor of the CD won't be to everyone's tastes, but fans of the guitar guild will surely want to hear founder Mitch Weverka play Mauro Giuliani's Le Rossiniane, a series of six pieces by an early 19th-century Italian virtuoso based on arias from Rossini's operas. The works go on too long, but there's no denying Weverka's dexterous fingerwork.
Elsewhere, the non-Latin works stand out from the rest. David R. Tercero's performance of Johann Kaspar Mertz' Fantasie Hongroise (Hungarian Fantasy) is no more than a pleasing diversion, but Bryan Burns shows great aptitude for the courtly medieval English feel of John Dowland's Frog Galliard. The most fascinating items on this CD come last, with Oscar Valdez playing four of his own pieces influenced by Bolivian charrango music. These steely, rough-hewn works create a sonic world wholly different from the rest of the record and give an excellent taste of what the guild has to offer. One other thing: For the next CD that the guild puts out, liner notes would be a good idea.-Kristian Lin
Mission Statement
(Self-released)