Stumble into Pearl's Dancehall & Saloon some night to catch a show by Randy Brown, the Insiders, or Tommy Alverson, and you'll experience the sound and feel of a gin-yoo-wine Fort Worth honkytonk.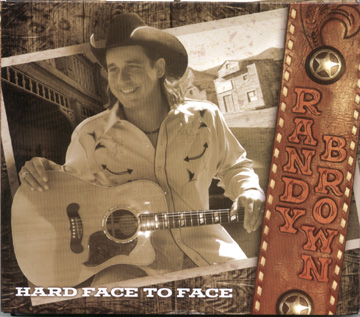 Brown's sophomore album drips with Cowtown character, his strong voice meshing nicely with the solid musicianship provided by the Rueffer brothers – bassist Chad and fiddler Reggie, both of the Insiders – and various members of Alverson's band. Brown can drop his voice down about as deep as Ernest Tubb, but his Fort Worth-style honkytonkin' is lightly seasoned with strains of blues, rock, jazz, and pop, and runs hotter than your standard fare. Still, it's as country as a salt lick all the while.
Hard Face includes forgotten gems such as Shel Silverstein's "This Guitar Is for Sale" and Ed Bruce's "Tell 'Em I've Gone Crazy," and includes a couple of sterling tunes by Jamie Hartford (son of the late, great John Hartford). And what a delight to hear somebody do justice to the Johnny Bush classic, "Warmth of the Wine." Brown, a Fort Worth homeboy, penned a few as well, including the title song about a hungover musician on a rugged morning: "The mirror ain't looking any better," he croons. "And it's a hard face to face."
Despite the high quality of playing, production, and packaging, a few decisions can be second-guessed. Adding canned applause and audience singalongs rarely works on studio projects (Bobby Bare has tried it and failed many times), and the tail end of Brown's title song suffers from this approach. Also, these typically adventurous pickers wimped out on a remake of The Band's "Ophelia." The Band was the greatest-ever Americana group, and "Ophelia" was one of their most free-spirited romps, but Brown's bunch tiptoes through it with an eye toward honkytonk tradition, thereby missing the jazzy exuberance of the original. One final complaint – CDs with three-section foldouts are a pain in the ass to deal with while driving down the road and trying to load a CD into the stereo. But these are small gripes about a big album. Fourteen songs performed by one of Cowtown's most tonsil-talented native sons will make any honkytonk hero want to polish a few belt buckles and chug a tray full of Lone Star longnecks.- Jeff Prince
Fri at Pearl's Dancehall and Saloon, 302 W Exchange Av, FW. 817-625-7333.
Hard Face to Face
(Self-released)