There are a couple of things missing from the tiny, family-operated Thai Thippawan restaurant in a Hurst strip mall.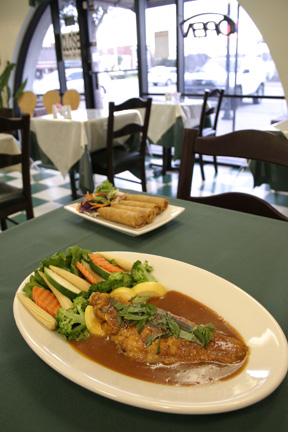 The first is noise: There are no saccharine Asian pop tunes piped over a sound system, and there's a blessed respite from chattering, flat-screen TV broadcasts of international news. The other no-show is decoration. There's a fake plant here and there and maybe a framed wall image of swimming schools of fish, but otherwise the ambiance consists of you, your dining companion, the conversation, and the generous, steaming plates of fresh-made Thai entrées placed before you by the earnest but perpetually frazzled servers.
Recently opened by chef-owner Thippawan Phasavat, Thai Thippawan has the feel of an ultra-casual café, with unusually flavorful and varied fare, most of it coming from recipes straight from Thippawan's family kitchen in Thailand. The bowl of tom kua chicken soup was as soothing as a mama-made flu remedy, especially once you let the tongue-scorching temperature simmer down a bit. The broth was coconut milk-based, piquantly sour and silky, with a jumble of squiggly shiitake mushrooms, bright-green scallion stalks, onion shards, flecks of prickly cilantro, and chunks of chewy chicken breast.
The two noodle dishes we sampled satisfied both ends of the meal spectrum: mid-day-lunch light and rib-sticking-dinner heavy. Yum woon sew was technically a salad, as it rested on a huge curve of romaine lettuce and was mixed with a cool, tangy, sweetish vinaigrette, but the base ingredient was a big haystack of glass noodles, clear and thread-thin, tinged with cilantro and parsley and studded with firm shrimp. It would make for an excellent summer dish. The pad kee mow was pure indulgence: thick, wide, brown-tinted flat noodles that had the creamy, firm texture of dumplings, mixed with crisp broccoli florets, medium-hot jalapeño slices, onions, and twisty shreds of salty pork.
Vegetarians should know they have a haven in Thai Thippawan. Tofu is an option on most of the dishes here, and the flesh-free item we ordered, pad prik king, might've been the most flavorful of the entire lunch. Long, crunchy green beans were stir-fried with crispy tofu squares in a reddish chili paste that, though it was medium spicy, proved a wonderful Pavlovian trigger when mixed with the mounds of long-grain white rice. Be advised on your first visit that Chef Phasavat loves improvising and cooking to individual tastes, so order according to your spice tolerance. Just don't get too cocky. What you consider extra hot might be just mild to a native Thai.
461 W Harwood Rd, Hurst. 817-285-7298. Mon-Sat 11am-3pm, 5-9pm. Closed Sun. All major credit cards accepted.