Martha Peters may have one of the most enviable offices in Fort Worth.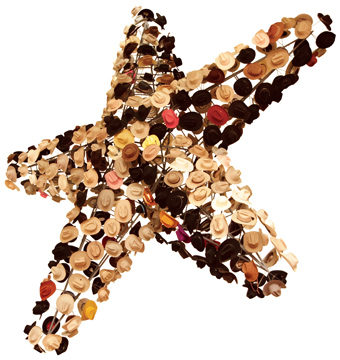 Not because of the furniture (standard government issue) or the lighting (artificial) or the size (small) or the location (the second floor of the Fort Worth Community Arts Center). It's because of the stuff she has lying around: a conference table covered with artists' and architects' renderings, pieces of plate glass, and a thin, three-foot-tall column of stacked stainless-steel plates, tapered in the middle and blooming slightly on top. By later this year, six almost 40-foot-tall versions of the column, each lit from within, will line the median of West Lancaster Avenue downtown. At night, as the accompanying renderings show, the sculptures will glow a ghostly white. During the day, Peters said, "They'll have a mirage quality." The resulting "Avenue of Light" will be part of the redevelopment of the Lancaster corridor in front of the stately Texas & Pacific Passenger Terminal.
The playland spread across Peters' conference table represents more than three dozen public art projects planned for the city, all part of the Fort Worth Public Art program. Established in 2001 and directed by Peters, the program is funded with city bond money. In various phases of development now are Hula-Hooping radio towers, an immense concrete orb that gurgles water, Bunyonesque spurs and cowboy belt buckles, a parking garage that does a little song and dance, several murals, and dozens of others, designed by a mix of local and national artists and partially shaped by residents' input.
Public art, or art in public view, has always been part of the Fort Worth cityscape. Think of the Water Gardens, the "zipper" mural, the soaring yet inert "Man With Briefcase" sculpture, the Modern Art Museum of Fort Worth's "Vortex." But up until recently the city had never committed to a broad program of publicly funded art, one that supporters believe has the potential to make a real connection with citizens and the city's sense of itself.
Greg Mansur, an instructor in the department of radio-TV-film at Texas Christian University, sees public art as a replacement for the concept of the town square and other shared experiences that used to bring communities together. "There are no more public commons," he said. "We get all of our information separately now, mainly from TV. Public art needs to create a discourse about a community and where it's headed. Not just pretty. No just abstract. It needs to have a story that people can talk about. "Great art," he said, "allows the viewer to enter it and make it part of the larger culture."
Fort Worth City Council member Kathleen Hicks said public art "can bring pride to a community and engage some folks in a way they've never been before. You don't just put it in a community. They own it."
Fort Worth made the commitment to public art, when the council passed an ordinance requiring that 2 percent of all capital-improvement spending be set aside for public art projects. The program is managed by the Arts Council of Fort Worth and Tarrant County, a nonprofit group that provides support to several dozen local art groups via grants from corporations, foundations, individuals, and governments. Peters was hired in 2003, after 12 years as the director of public art for Austin, where she oversaw nearly 100 projects.
The first infusion of bond money came in 2004, when voters passed a record $273.5 million bond package, to pay for about five years' worth of work on streets, parks, libraries, fire stations, water lines, and the like. The 2 percent set-aside produced about $5 million for the design, fabrication, and installation of new art, plus some maintenance on existing installations and a small fund to create a financial bedrock for future projects. In most cases, the art set-aside must be spent in the areas where capital improvement work is being undertaken; the art money connected with Water Department projects, however, can be spent anywhere in town.
Some early fruits of the program are just now reaching what Peters calls the "ta-da!" stage, and they're going in all over town, including in poor neighborhoods. "I'm proud of the Cultural District," said Hicks, who represents much of east and southeast Fort Worth. But that Westside museum complex might as well be on Mars for many of her constituents, she said. "They don't have any access to it, and they don't feel comfortable there. So it's important that art is spread throughout Fort Worth. It's what can make Fort Worth Fort Worth."
To advise the city on public art, the council appointed several leaders of the visual arts community to the Fort Worth Art Commission, created in 2001 along with the public art program. Members include chair Kirk Millican, senior vice-president and principal of HOK Architects; Randall Gideon, founding principal of Gideon Toal architects; and Rebecca Lawton, curator of painting and sculpture at the Amon Carter Museum. The commission also helps maintain a database of artists – most have extensive public art experience or are otherwise well established. Of the 200 artists on the list, 80 are Texas-based, including more than 50 from Fort Worth.
A couple of projects created under the program are already in place: Sculptor Rebecca Low's "Molly," the illuminated Longhorn head above city council chambers, installed in 2005; Eric McGehearty's bronze memorial, "United We Stand," at Fire Station No. 8 on Rosedale Street, put in about a year ago; and two pieces placed at the Fort Worth Convention Center – Vernon Fisher's two-part painting "Early Texas/Modern Texas," and Donald Lipski's kinetic sculpture, "Intimate Apparel & Pearl Earrings" – in 2005.
On May 10, Fort Worthians will vote on another bond package that, if passed, stands to generate an additional $3 million for public art. Council member Chuck Silcox, who represents much of southwest Fort Worth, lobbied unsuccessfully to have the art money listed as a separate line item, which would have meant that voters could approve everything else and turn down the arts spending. When he raised the same objection in 2004, other council members and arts supporters noted that the arts funding was allotted by city ordinance, not conditional on a particular bond vote.
---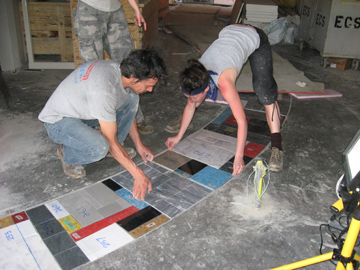 Council colleague Sal Espino, who represents the largely Hispanic North Side, said in essence that public art is as vital as filling potholes and building libraries. Democracy needs art, he said – it "provokes thought and challenges your perspective. … Visual art has a visceral impact." Of all of the intriguing objets d'art on Peters' table, the most inconspicuous might also be the most significant: small squares of colored glass, samples of the material that will be used on the Fort Worth Convention Center's new parking garage, designed by artist and jazz musician Christopher Janney and the architectural firm Jacobs Facilities, Inc. The facade and corners of the garage will be dressed in illuminated glass, and atmospheric music will pipe through strategically placed speakers, helping orient customers. Capable of holding about 1,000 vehicles, the 11-story facility is scheduled to be finished by the end of this year.
The garage project may be an indicator that city officials are realizing that public art should be a consideration on almost any project. For "Parking in Color," Peters said, the city for the first time eagerly sought the advice of the Fort Worth Art Commission and expert services (but not funding) from the public art program. "There was a lot of interest on the part of the council for the garage not to look like a garage," she said, noting that the structure's conspicuous location by the new Omni hotel demanded a non-utilitarian, stylish look. "Because the city has so many [development projects] going on, the city invites us" to lend creative ideas, she said. "The city is aware that they have to enhance."
The coming months and years will see more aesthetically charged elements integrated into the city's infrastructure, including: citywide design enhancements of playscapes and parks by University of Texas at Arlington art professor Benito Huerta; mosaics on the Northeast 28th Street bridge over a small channel north of the Stockyards by Leticia Huerta (no relation to Benito Huerta); integral art and design of the Trinity Uptown and central-city bridges by environmental artist Ned Kahn; enhancements of the East First Street Bridge over the Trinity by artist Ken Bernstein; and integral art and design of the Precinct Line Road bridge over Walker's Branch Creek by an artist yet to be determined.
The public art program is also hip- deep in the city's "urban village" redevelopment program that targets neighborhoods that are prime for renewal efforts. The areas were identified a few years ago by city planners working in conjunction with neighborhood groups, developers, and urban design experts. Public art projects are planned for five of the 16 locations. Peters' team also is involved with a "Welcome to Fort Worth" artwork along I-30 as it enters Fort Worth from the east. Money for the Texas Department of Transportation project would come from $265,000 awarded to the city's Environmental Management Department last year by the governor's office for the city's exemplary grassroots environmental program. The award money is to be used for landscaping along state-maintained highways. "The Art Commission is now a vehicle for this type of development to come forward," Peters said.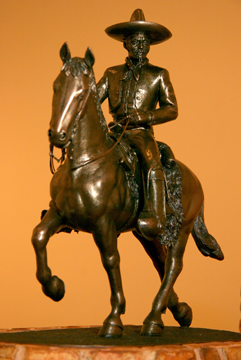 On Fort Worth's West Side, an informal inventory of Lake Como's contents recently revealed, besides the usual plants, deadwood, and a flock of chatty geese, an urban collage of a less desirable sort: a tire, a TV set, an oil barrel, and a case of empty beer cans, amid a matrix of candy-bar wrappers and fast-food trash. Downtown by the T&P Terminal, a gaping sea of deserted concrete and asphalt is dotted with an armada of orange traffic cones, with cars and trucks whizzing by seemingly non-stop.
And on the South Side, the Evans Avenue business district is a ghost town. Except for the historic Mt. Zion Baptist Church, everything there seems to be shuttered – the Marquette "beauty bar," Mattie's Eat Shop, a computer school, a former office of the NAACP, the Federated Women's Club Home, and two other churches. On a recent afternoon, a pack of stray dogs led by a couple of pit bulls ambled unchallenged down the sidewalk. Like Lake Como and downtown's West Lancaster section, Evans/Rosedale once thrived. Today, their renaissance is being helped along by public art projects. The Stockyards, Polytechnic Heights, and the southwest neighborhood known as Bomber Heights are other places where the public art wave will leave its mark.
On Evans, the roof and exterior of the new home of the Ella Mae Shamblee library branch is almost finished. All that remains to be done are the interiors and landscaping. The project is expected to be completed this summer. Not long ago at the construction site, beyond the temporary fencing and amid the scattered piles of debris, a couple of workers putzed around with a piece of faulty equipment. Neither of them admitted to speaking any English. More helpful was the foreman, who could have been Methuselah's uncle. "This what you mean?" he asked, and hoisted up a warped square of protective plywood, one of several snaking across the smooth concrete surface by the entrance. Beneath was a colorful mosaic.
" 'The River,' " the foreman said confidently. "They haven't started on the mural yet." "The River," by local artist Letitia Huckaby, is a mosaic tile walkway. Huckaby also has designed a multimedia mural for the exterior of the Shamblee, featuring reproductions of photos of famous residents from the area, mostly professionals such as groundbreaking African-American doctors, educators, and lawyers. Both artworks are funded by the 2 percent initiative. "There hasn't been a new building at [Evans/Rosedale] for years," said Hicks, the council member. "I grew up here and saw the decline. The city's response has always been, 'Let's tear it down.' It's nice to see the city not just tearing anything down or building another building but saying, 'This is a historic area. We're going to put a lot of money into this and show it as a historic area. We mean business.' "
Como is still considered a city within a city, though with certain exceptions the predominantly African-American Westside neighborhood has been in a state of disrepair for decades. At the turn of the 20th century, Lake Como was the site of a small resort known as the Pavilion, with concession stands, a movie house, a roller coaster, swimming amenities, and, two centerpieces – a boardwalk and dance pavilion. The area between the neighborhood and downtown was largely wooded.
Visitors arrived by a streetcar that ran along the northern side of the lake. In 1907, a group of Baptist ministers bought several waterfront lots. Eventually, the pavilion was removed, and Como became an almost exclusively African-American community. Up until the late 1940s, when the neighborhood was home to about 500 families, Como functioned without paved streets, adequate medical care, public transportation, or city water. By 1964, there were two schools, 27 churches, 13 grocery stores, four gas stations, three washaterias, two clothes cleaners, five mechanics' garages, four liquor stores, and 10 restaurants, all within one square mile of Westside real estate.
---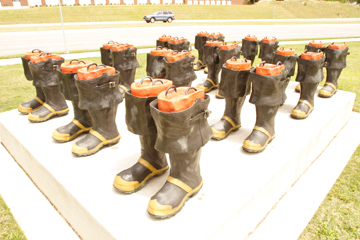 The neighborhood's halcyon days lasted from the 1960s until the late 1980s, when the crime wave that afflicted many African-American communities around the country effectively crippled Como. In 2006, several neighborhood leaders, inspired by the Evans/Rosedale redevelopment project, approached the Fort Worth Public Art program, seeking help in commemorating their community's history.
Seven artists selected by the program spent three days talking about the challenge. On the Fourth of July, when the neighborhood holds its annual celebration at the lake, the artists set up a booth and invited passersby to share their opinions about the area's future. By the next day, the team had come up with a proposal for several improvements, including a hiking trail, a small amphitheater, and a rebuilt boardwalk. Now planners from the city and the art program are working on details of a master plan for redeveloping the lakeside.
"Right now, the lake is cut off from the rest of the city," Peters said. "We want to have the lake open to people not from Como." The project, she said, "is a great example of what artists can do to improve the city." In the Poly neighborhood, the Nashville Avenue police station is in desperate need of a makeover. It resembles a decrepit set piece from a '70s-era sci-fi B-movie Enter sculptors Ralph Helmick and Stuart Schechter. Their "Blue Line" is a "lantern" of seven metal rings that will enhance the existing two-story lighted section of the building known as the "Beacon of Safety." The rings will contain overlapping silhouettes of Poly's residents, with men and women equally represented. Each level will incorporate a specific age group, from the elderly ring at the base to infants at the top.
"I think it's great," said the Rev. David Martinez, pastor of El Buen Samaritano United Methodist Church in Poly and a member of the "Blue Line" design committee. "Over the years, our community has changed, from a primarily African-American community to one that's largely Hispanic. 'Blue Line' notes all of the different flavors." To acquaint local citizens and church members with contemporary art, Martinez has arranged field trips to the Cultural District. "There's art all over the city and all over other places," he said. "Poly deserves the opportunity to receive it, too. "When we bring art into the community, we want to be able to honor and respect it," he continued. "Kids can get inspired to have great ideas to change our community and to impact the entire city economically. They'll want to invest in the community we have."
Hicks and other city leaders hope the art program will kick-start that neighborhood investment, as well as inspire pride. "I think the city has a responsibility to go into economically disadvantaged neighborhoods and support them," she said. "They are showing that we support all of Fort Worth, not just certain areas." As a major tourist draw, the Stockyards has captured city attention and funding for years. In a couple of months, a public art project there will begin the work of softening the "canyon" effect between Rodeo Plaza and the Cowtown Coliseum, with the intent, in part, to attract more foot traffic and more retailers to the Rodeo Plaza building. Lubbock artist Steve Teeter has designed semi-functional sculptures of oversized spurs and cowboy belt buckles for the area, and he also will conjure up sleek streetlamps.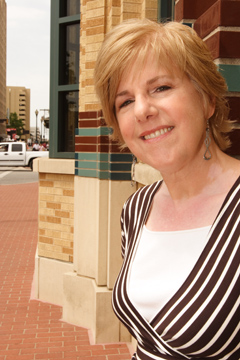 In two areas of the city – Hicks' and Silcox's districts in the south and southwest – the public art program has launched a pilot effort called Community ID: Public Art in Neighborhoods, which allows residents in Districts 3 and 8 to apply for artists' help with small beautification and improvement projects. On jobs like creating tile murals on park benches, small gateway elements for a park, or park benches, the idea is to develop progressive designs in durable materials. If the program is successful, Peters said, it may be offered in other neighborhoods. "We want to allow a community to define itself." Bomber Heights is one District 3 neighborhood benefiting from the 2 percent initiative and also pursuing other funding to beautify the locale, especially potential parkland.
On the edge of the neighborhood lies a creek no wider than a kiddie pool but so overgrown and foreboding it might as well be a wall. On one side of the waterway, facing the Ridglea Country Club south course and its tony neighbors, lies South Z-Boaz Park with new, lovingly maintained amenities: a playground and ball field, trails, picnic benches, and paved parking lots. On the other side of the small but ominous watercourse, facing more modest Bomber Heights, are acres of overgrown fields, few street lights, and no park amenities.
In 2005, a year after the passage of the bond program, Jarrod Roecker formed a neighborhood association there, partially to get residents involved in the changing nature of their neighborhood but mostly to get the city to listen. "We have the worst streets in the city," he said. "Some of them are from the 1940s, when the neighborhood was built. … There are no streetlamps, no sidewalks … and there was a drug house right up the road" whose residents, he said, are currently being evicted. "The old saying is true," he said. "The squeaky wheel gets the oil."
In May 2007, Bomber Heights won a grant from the city to develop their side of the park. With help from the city planning department, Bomber Heights created a five-year master plan that will include cleanup (by volunteers), crushed-granite trails, conspicuous signage, soccer goals, playground equipment, ball fields, and basketball courts. Roecker has no idea when the plan will be presented to the city council. "They told me next month," he said. "But they've been telling me 'next month' for a while now."
Roecker doesn't just want to develop the park. He wants to beautify it, too, which is why his community submitted an application for the Community ID program. He believes Bomber Heights may be the only District 3 entrant. He said an informal meeting on the initiative last year drew only his neighbors and found-object sculptor Low, whose eponymous gallery is on Camp Bowie West, a good distance from Bomber Heights but still in the district. Low (pronounced "lau"), has been a professional artist for several decades. She attended the meeting, she said, to show her support for the public art campaign and to find ways to stay involved. She introduced herself to Roecker, and they realized they were simpatico. "I heard 'bombers,' and my mind just started going," said Low. Wings, propellers, pilot helmets, and other objects associated with flight, she said, will make her conceptualization job easy. However, she won't begin work until she knows whether Bomber Heights has been selected for the project.
---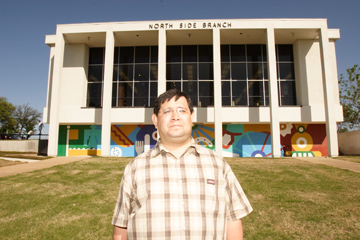 Bomber Heights is also in line for other improvements – and more art. Several streets were identified in the 2004 bond package for repairs, generating $20,000 for public art and design enhancements in the neighborhood. The money "was a pleasant surprise," Roecker said. "I had no idea." Rather than spread the funds throughout the neighborhood, the association decided to focus on one area: the neighborhood's most visible access point, Penrose Street. The group wants a gateway structure that says "Bomber Heights" and that celebrates the neighborhood's unique history: Bomber Heights (formerly known as Ridglea West) was home to many families of people stationed at the former Carswell Air Force Base or working for the huge defense plant next to the base. "Penrose lines up with the runway," Roecker said. "Pilots used to use it to help them land."
In May, the association will choose its favorite artist. The budget for the gateway is $18,000; the remaining $2,000 will be used to design and install street sign toppers. "This project isn't just about art," Roecker said. "It's also helping us break down social barriers." Many Bomber Heights residents speak only Spanish. By offering to translate, several bilingual residents have helped the association expand from about 30 members to 50 (out of about 1,500 households). "We're hoping that when people see the park and the art, they'll take pride in them and begin sprucing up their own yards and houses," said Roecker, 26, who is married and is a father of three. "I want safe neighborhoods, and I want neighbors to be neighbors again. … I want the neighborhood, churches, and schools working together. I want them to know that with a large number of people, we can make things happen."
Another celebration of local history, this one planned for the North Side, didn't receive funding from the public art program but did benefit from the Art Commission's expertise. North Texas artists David Newton and Thomas Bustos have begun fabricating a bronze equestrian sculpture for installation later this year on a North Main Street traffic island near the Stockyards. The vaquero is intended to commemorate Mexican contributions to Fort Worth's cattle industry. "It's important for the Hispanic community and all of Fort Worth," said council member Espino, of the statue. "Public art can tell the story and history of a community and beautifies the landscape. … In all of this asphalt, it's nice to see something majestic."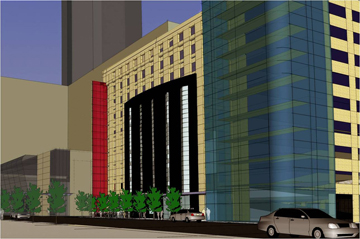 In 2003 – before the public-art program funding was available – Justice of the Peace Manuel Valdez formed the Vaquero Committee and presented the idea of a commemorative equestrian sculpture to the Fort Worth Art Commission. The city provided the site and has helped fund the vaquero's design and construction. The Vaquero Committee was required to pony up half of the estimated $200,000 price tag. Valdez, Espino, and Cathy Hernandez of Artes de la Rosa, a local nonprofit agency dedicated to the Latin arts in Fort Worth, and others began soliciting and accepting donations from local foundations, corporations, and individuals. By January 2008, the commission had raised $111,000, upholding its end of the bargain. Espino believes the project will be completed by summer.
"Art lets you tell the history of a community," Espino said. "In Fort Worth, there's a lot of history being told in the central neighborhoods, but there's no sense of history in other places. You know the old saying, 'If you don't know where you've been, you won't know where you're going.' " The vaquero, he said "will give the people on the North Side a sense of place and of roots. And a sense of pride, that art doesn't belong only to the affluent but to everyone. People will say, 'Wow, this is in my neighborhood.' "
You can reach Anthony Mariani at anthony.mariani@fwweekly.com.