It seems like everybody wants to get outside this weekend, judging by how many open-air festivals are going on.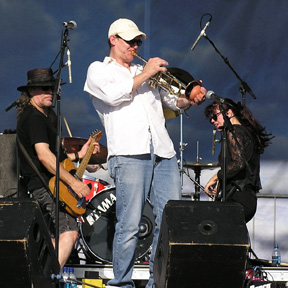 The most unusual entry is DaneFest, a gathering in Keller to raise funds for Great Dane Rescue of North Texas that includes lots of pet supplies for sale, as well as a raffle. Dogs are welcome, but only over a certain size and meeting certain conditions. If your interests aren't so specialized, you can hit Southlake's Art in the Square, with a live music lineup headlined by Carolina Rain. A much more extensive group of musical acts will be at the Denton Arts & Jazz Festival, including the Neville Brothers, Delbert McClinton, and Brave Combo.
Brave Combo will also be appearing at Prairie Fest, the environmentally conscious event going on at Tandy Hills Park off I-30. Besides exhibits on recycling, clean energy, and eco-friendly businesses, the festival also features the premiere of Footprints, a multimedia performance piece that combines music, dance, and poetry. That goes on Saturday, which means that green-minded folks can attend that without missing the 2008 Clean Air Fair on Friday in downtown Fort Worth. That event focuses on air quality and car emissions and will give people a chance to test-drive hybrid cars. If they have one of the noiseless all-electric models from Tesla Motors, we're so there.
Check our Calendar section for dates, times, and locations for these events. All events are free except DaneFest, which is $10 or $30 for families of at least three.