The Cantina Cadillac's rooftop view is brilliant, although getting up there requires climbing a rickety ladder attached to a wall that's 35 feet high, with nothing but pavement to break your fall.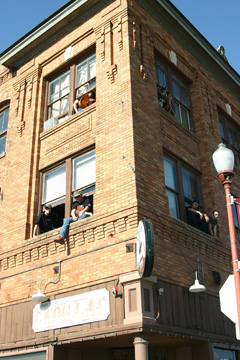 Anyone willing to take the risk is rewarded with a birds-eye view of the Stockyards party scene below. The downtown skyline is gorgeous from this vantage point. In the distance, storm clouds blowing in from the Gulf Coast are visible long before their arrival in Fort Worth. But the part of the vista that transfixes Tim Russell is the cream-colored tower just a block away, the one with the familiar neon sign attached. "That's my dream, to play at Billy Bob's," he said, gazing at the famous nightspot, where the Willies, Garths, and Robert Earls of the music galaxy have soared before packed houses.
Getting to the revered Billy Bob's stage requires paying dues, and, for Russell, that means doing time at this three-story, 106-year-old building near Exchange Avenue and Ellis Street. He's among a dozen itinerant musicians living in small boarding rooms on the second and third floors above The Cadillac.  In the past couple of years they've come here to live on the cheap, play music, and party, and the scene has evolved into a loose-knit recording studio, rehearsal hall, and unofficial flophouse. It's Animal House, Desperate Housewives, and One Flew Over the Cuckoo's Nest all rolled into one, a musical community short on funds and good sense but long on ambition and good times.
"I've never called the landlord to complain about anything or to fix anything," said Jordan Mycoskie, one of the first musicians to take up residence there. "It is what it is, and I'm happy with that." Head-butting has increased as more people enter the fold, and the recording studio may go kaput as so many entrepreneurial adventures do in the Stockyards. But Russell isn't worried. He's fearless. He quit his job as an oilfield worker, went to rehab and got clean from a methamphetamine habit, and moved into the second-floor office previously used by Spencer Taylor, whose West Exchange development project quickly went belly up last year.
Russell is throwing heart, soul, and future into making music with his friends in this creaky old building. They're all hoping for Billy Bob's and beyond, but likely as not they'll take whatever they can get and have fun along the way. "My dream is coming together," he said, straddling the roof like he's king of the world, feeling perfectly at home above a saloon in the rowdiest part of town. "We'll see how long I can hold onto it." It's late afternoon when Nick Drennen walks into Russell's office with sleepy eyes, wrinkled t-shirt, and a serious case of bed head. "Good morning," he mumbles. He'd fallen asleep with an unlit cigarette behind his ear, and it's now tangled in his hair, but he doesn't notice. He scratches his head, and the cigarette falls to the ground. Still, he doesn't notice. "You dropped a cigarette," Russell says, leaning over a digital recorder, preparing to lay down a guitar track for a demo CD.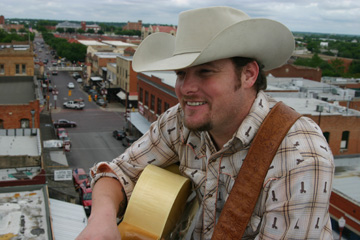 Drennen glances down, sees the cigarette, and stares for a few seconds. "Was that in my hair?" He fishes a lighter from his pocket, picks up the cancer stick, sparks it, and strolls out of the room. Drennen is a sound engineer, bassist, and one of a handful of young guys crashing on the second floor of the Cadillac's building and working at Russell's fledgling recording studio. Nobody gets paid much – or at all – but they're happy to play, write, and record music, as well as paint rooms, clean toilets, and run errands in exchange for room and board in this historic building in the city's most storied section, steeped in cowboy culture and dotted by a colorful cast of characters.
"I'm from Chicago, and when I moved to Texas, I thought it would all look this," said Michael "Gypsy" Maftea, a 23-year-old guitarist who lives in a 200-square-foot room on the third floor and performs around town with Catfish Whiskey. Mycoskie's band is rehearsing down the hall, and the music drifts into Maftea's room. "You know why I love living here? It's that right there," he said, lighting a smoke and letting the music wash over him. Music is a constant here, a common thread connecting tenants. It's also the noisy straw that occasionally breaks the camel's back. The Cadillac's bar manager gets pissed off when upstairs rehearsals and recording sessions disrupt his business hours. And when he's angry, the building's owner, Roberta "Bert" Walters, isn't happy. The Cadillac has paid the bills around here since 1981. These guitar pickers started flocking to the building only recently, after the upstairs was remodeled. Whether they can establish a commercially successful recording studio and rehearsal complex before killing one another is still in question.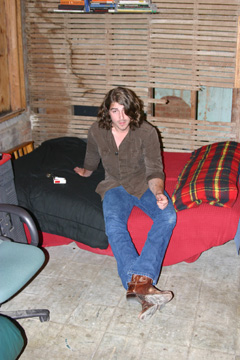 "We're yet to know whether it's going to work out or not," Walters said. "Younger people have some real high hopes, but sometimes they are underfinanced or don't have the structure to make it happen." She earned the nickname Mother Teresa since she generally remains graceful while dealing with the musicians under her roof and the inevitable problems they bring. She hopes they achieve their dreams but understands that a bunch of wild-ass dudes in varying degrees of employment, maturity, and sobriety, lumped together under one roof and sharing community bathrooms and kitchens, is a recipe for drama if not disaster. "I'm real hopeful one day, and the next day I want to paddle them all," she said.
No landlord relishes hearing about somebody urinating out an upstairs window just as the anchor tenant is closing for the night and customers are walking out on the sidewalks; or the petty thefts and "borrowed" toilet paper, cigarettes, toothpaste, beer, and, occasionally, women; or the late-night screaming matches and brawls fueled by booze, ego clashes, lack of sleep, and, of course, women. "Men are always going to be men," Russell said. Despite the close quarters, oddball schedules, and constant bickering, most of the tenants are forgiving, at least when it comes to music. "I have ear plugs," Maftea said. "I would never stop anybody's creative energy, even if it's 4 a.m., because we're all here for the same reason." A few folks aren't as accepting. Singer-songwriter Travis Richmond has been pitching fits ever since Russell leased out the entire second floor in April to start up Diversity Musical Group, his recording studio, rehearsal room, and musical commune.
"Me and [Russell] don't see eye to eye," he said. Richmond, at 30, is one of the older Cadillac cowboys. With his military background, shaved head, intense gaze, and desire to sleep undisturbed, he appears to be outgrowing his surroundings, perhaps not realizing that maturity, personal growth, and need for personal space can be counter-intuitive to this scene.
The Cadillac doesn't close until 2 a.m., so Russell's bunch often waits until after that to record drum tracks. Richmond is just getting home from gigs by then, ready to chill in front of the TV or grab shut-eye. The inevitable thump-thump-thump rattling his walls is a slap in the face.
---
"My life revolves around respect – I was 10 years in the Army," he said on a recent Thursday night, sitting on a bar stool and nursing a drink after playing a gig at a nearby bar, Filthy McNasty's. Three nights later, one of Russell's crew, guitarist Cody Main, was leaving the studio at 3 a.m. to buy hamburgers when he passed Richmond on the sidewalk. "He was drunk as fuck, and he just started screaming at me," Main said. Russell heard the ruckus from his upstairs window, hustled down to the street, and found himself face to face with an enraged Richmond, who was blowing off steam about the late-night noise on the second floor. Richmond ended up on the sidewalk with a bloody nose and Russell was on top of him.
"Last night was volatile and crazy, and Travis was out of his mind," Russell said the next day. "But I love the guy." Johnny Cooper Jr., the former Pimpadelic guitarist who lives on the third floor and casts a formidable shadow among these whippersnappers, ended up separating Russell and Richmond and calming everyone. "If they put a fucking reality TV show down here, they'd make a million," he said. Main, who took the brunt of Richmond's verbal assault, is a newcomer to the scene and was surprised at the reaction. "I thought we were all supposed to be musicians on the North Side, making things happen," he said.
Richmond isn't getting much support on this issue, even from his third-floor buddies. "This was never a 'be-quiet-because-I'm-trying-to-sleep' kind of place," Mycoskie said. Hostility coming from the ex-roughneck Russell, the ex-Army grunt Richmond, or a bunch of 20-year-old kids comes as no surprise. But you know the potential for high drama is ever-present when even Mycoskie, the friendliest, flakiest, and most fun-loving character of the bunch, holds claim to the biggest meltdown of all. The evolution of this musical commune dates to a 2005 conversation between indie rocker Phil Pritchett and his buddy Philip Murrin, whose father, Steve Murrin, is part owner of the Cadillac building.
"He and I saw each other one night, and I told him I was looking for a place to record," Pritchett said. "Those two floors over the Cadillac were empty, and we went up and looked at them, and it was really trashed out. You had the street guys and the bums that had been in there. The windows were broken out. It was knee-deep in garbage. Those two floors didn't have central heat or air." The only tenant at the time was David Allen, an older guy who traded night watchman duties for rent on a third-floor room. The landlords cleaned the second floor, installed a refrigerator, and fixed the communal restroom. Still, it was like putting lipstick on a pig.
"It was going to be a tall order for them to get renters in there," Pritchett said. "It's an old place that didn't have a lot of use, but for someone like myself who was going to be making a lot of noise and recording music, it was great." Pritchett planned to rent a room for a month or two, record an album, and then move on, but he liked the vibe and stayed more than a year. Back then he was performing at the White Elephant Saloon on Mondays with Mycoskie and Kurt South as "The Rat Pack," and they would all head back to Pritchett's after gigs to work on music and videos. Some of those videos are available on YouTube, including footage shot by Mycoskie showing Russell risking life and limb by straddling a concrete owl sculpture at the roof's edge.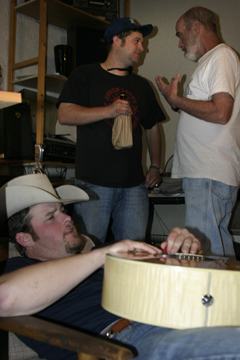 Mycoskie leased a room next, and the late-night parties and jam sessions came alive. "I was more a 9-to-5 guy," Pritchett said, "whereas Jordan and his crew were more 9-at-night-to-5-in-the-morning guys. Any time of day you'd have a lot of people up there writing songs and hanging out." The scene reminded Pritchett of his formative years in Austin, when he hung out at the Austin Rehearsal Complex (ARC), a popular recording facility and jam room. The Cadillac building is "a miniature version of that kind of atmosphere," he said. "It fills a need, having a place in the Stockyards where guys can work, crash, and lay low, all on a musician's income," he said.
Taylor, one of the founders of Billy Bob's, came along in 2007 with his ambitious West Exchange idea, a development that briefly swallowed up much of the property on the Stockyards hill, including the second floor of the Cadillac building. Pritchett decided to move out. Mycoskie relocated to the third floor and kept the party going but soon got married and moved into a house. He kept his third-floor room for rehearsals but spent less time there. The parties slowed temporarily but picked up again in late 2007 after Richmond, Russell, and other musicians took up residence. Maftea came along earlier this year, fell in love with the communal element, and rented a room that could only be described as a fixer-upper. Rather than fix anything, he spent most of his time in Mycoskie's room, raiding his new friend's record collection and listening to the vinyl on an old turntable and crashing on an air mattress. After two weeks, Mycoskie suggested the guitarist get out.
"I was spending more time listening to records than working," Maftea recalled. "He was taking advantage of me," Mycoskie said. A week later, Maftea was still lazily poaching. Word got back to Mycoskie, who is regarded as a cool cat on the scene. But this time he lost control. He showed up early one morning, ready for a showdown. "I was trying to calm myself down and I couldn't," he said. "I ran up there and, without even thinking about it, I kicked the door down and said, 'Get the hell out of here.' " Maftea, groggy from sleep, watched in amazement as Mycoskie then grabbed a mike stand, ran down the hall, and threw it through the glass door of Maftea's room.
"I'm freaking the fuck out," Maftea said. "I'd never seen Mycoskie pissed off. I spent about 15 minutes sitting in a chair, smoking cigarettes. Then I fell asleep, and when I woke up it all felt like a dream." A couple of months later, they're friends again. Mycoskie assuaged his guilt by giving a futon to Maftea and seeing that both their doors were repaired. "It was a blessing in disguise," Maftea said. "I got my door fixed and learned some respect factors." Maftea's room is across the hall from Richmond's, and he watches his neighbor's growing rift with Russell and wonders if the place's special vibe is fading already. "The lease is month to month, so if it ever gets too heavy, I can leave," Maftea said.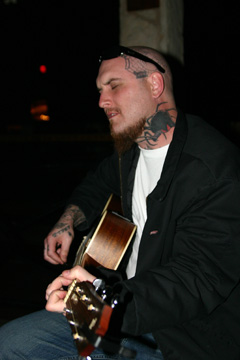 Russell is recording a vocal track when the sounds of a motorcycle – vroom, vrooooom, VROOOOM! – filter through the creaky windows of his office. He understands the challenge in creating a recording studio above a saloon and next to a busy street in a tourist district. Muffling sound won't be easy, but it will probably be crucial in enticing artists to record here. Russell is up for the challenge, and he and a couple of partners ponied up enough money to rent the second floor's 2,200 square feet of space and 16 rooms, buy digital recording equipment, and attract a motley collection of musicians willing to work on the cheap, sleep on the floor, and do whatever needs doing on the path to establishing a successful business. Eventually, Russell will have to attract paying clients to his studio, or the money will run out and the party will be over. He hasn't landed any contracts so far, but he's got some nibbles, and in the meantime he and his buddies are working on their own albums.
"It's scary financially, but everybody is stepping up to the plate," Russell said. His partners include Kord Murphy, another former member of the rap-metal band Pimpadelic, and Brad Armstrong, an on-again off-again bartender in the Stockyards and one of the few non-musicians living above the Cadillac. He plays juice harp, but since that instrument isn't exactly in demand in music these days, he pitches in by promoting the business, helping the musicians find gigs, working on computers, and doing much of the required remodeling.
---
"Musicians are musicians, and not all of them are good at stuff like putting up cabinets," he said.  He has as much of an investment to lose as anyone, but isn't exactly chewing his fingernails to the quick.  "Hopefully this will be a successful business, but if not we'll still have lots of good memories," he said. One of the other non-musicians on the scene lives on the third floor. Cody Deeds can't carry a tune, but he loves music and worships Mycoskie. He helps run sound for some of the artists and serves as a combination manager, gossipmonger, handyman, and comic. For instance, he's the one who fixed the doors that Mycoskie broke down, battles with Russell about this and that, wears a set of shiny metal grills on his teeth just to crack up everyone, and chases women with the ambition of a champion bird-dog at the local bars. He has to get up early each morning to go to his real job, which can be tough when bands have wailed around him all night. "It's painful," he said.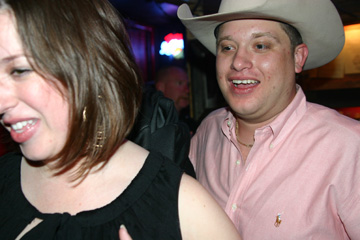 But, like most of the guys around here, he thrives on the activity, appreciates the uniqueness of the setting, and is willing to ride with this wild bunch for as long as it's fun. Nobody has more on the line than Russell, a divorced father of two children, a struggling musician, the primary leaseholder, and a new entrepreneur entering a field at a time when many musicians can afford to buy their own digital recording equipment and make their own albums. He and the others don't expect to get rich. They merely want to live their lives on their own terms. "We're not sure where it's going to go, but you got to start somewhere," he said. "I'll take this life over any fortune any day. It's who I am."
Upstairs, Mycoskie and his band were rehearsing, and a handful of the other tenants crowded into the smoke-filled room to listen and drink beer. Before long, the beer was gone, and Mycoskie asked if somebody could make a beer run. But nobody had any money, and most of them had arrest warrants and didn't want to risk a late-night run to a liquor store, and so they kept jamming. Later, one of them put on a John Lennon album, and the lyrics to "Imagine" provided the perfect soundtrack for this unlikely bunch of misfits.
You may say I'm a dreamer / But I'm not the only one. …
You can reach Jeff Prince at
jeff.prince@fwweekly.com.