Bice's Florist has been selling bouquets and boutonnieres to Cowtown-area customers for the past 34 years. Starting from a small shop purchased by Buddy Bice as a gift for his wife, the business gradually expanded from one store in Hurst to six locations in the Fort Worth area and to a spot on the list of 100 top florists in the country.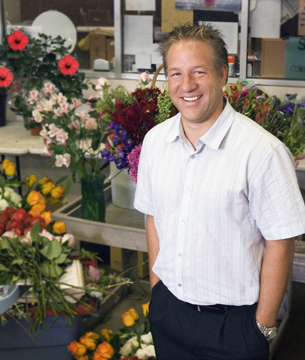 When current owner Keith Riewe entered the picture six years ago, however, in-store sales had begun to diminish. Taking advantage of his own background in technology, Riewe moved his company online. He bought a simple web address and built a full-fledged web site that allowed users to shop from home, providing local-florist services to a new generation of computer-savvy folks who were no longer so willing to get in the car to go buy some blooms for a special occasion. But he knew that he was going to need some help – his business was painfully behind the times. "At the time they had three PCs here that didn't talk to each other and nobody knew how to check the e-mail," he said.
Since he set his aggressive online strategy in motion, Riewe has closed four of the six locations and plans to shut the doors on a fifth later this month. That strategy may seem more suited to struggling businesses, but in Bice's case, it is helping the company flourish like never before. Sales have risen by $1.5 million, or about 38 percent, since he purchased the company. By exchanging brick and mortar for server space and domain names, Riewe has significantly cut expenses while increasing sales. His entire inventory is available online and people from as far away as Ireland have logged on and purchased from him. He is moving all of the operations to the company's 10-acre property in Hurst. Employees from the now-closed stores were offered the chance to move to that location, and many made the transition, he said.
To increase traffic, Riewe thought about how customers looking for flowers online would think. If you're trying to buy a wreath from a florist around Fort Worth, chances are you're plugging "flower" or "florist" and "Fort Worth" into a search engine. That may be bring up, say, fortworthflowers.com, which is owned by Riewe. When you click the link, it redirects you to the store's main web site – bices.com  "You wonder how in the world people in faraway countries ever find us," he said. "It's because they're searching for these terms, because they have relatives in Fort Worth."
Before Riewe could make a nice arrangement of floral-related domain names, however, he had to nab the most important one – bices.com. The company already had a web site at biceflorist.com but it was strictly informational, giving customers no way to actually buy online. He wanted to redevelop the web site and move it to the much simpler bices.com, but someone else already owned that name. Riewe enlisted the help of German-based Sedo, a company that describes itself as "the world's only global domain marketplace."  "We're the eBay for virtual real estate," said Jeremiah Johnston, chief operating officer and general counselor for Sedo. "We're an online trading platform for users to buy and sell domain properties to each other, and we have a selection of other services that support that goal."
After buying bices.com through Sedo, Riewe renovated the web site, adding e-commerce capabilities and a number of incentive programs designed to reward repeat customers. Riewe said that 62 percent of the company's online market is now made up of return customers.
"We feel like it's a way to get customers who are actually buying flowers and are looking for a florist," he said. "We feel like that's good money spent."  Since he began doing business with Sedo, Riewe has bought around 20 domain names that redirect the user to bices.com. Come across eflowershop.com, dfwflowerdelivery.com or dfwblooms.com and you'll soon be gazing at the purple-tinged web site that Riewe worked so hard to build up.
When business owners spend money on non-internet advertisements, Johnston said, there is no accurate way to judge how effective the marketing is. Through Sedo, the owner of a domain can track how many unique visitors a site gets each day, what they search for, and how they got to the site in the first place. Sedo has been instrumental in helping small businesses get online. Johnston said his company has sold some domain names for millions of dollars. However, the vast majority are bought by small business owners, who, like Riewe, are recognizing that continued survival – even for an already successful business – may depend on making the move to cyberspace. Domain names, after all, cost a lot less than opening and operating a new store.
"We sold 'vodka.com' for $3 million; that was one of the highest," Johnston said. "But this is most appropriate for small business owners, as the average price for transactions on our marketplace is just about $2,000."
Large companies like 1-800 Flowers and Pro Flowers have been doing the online floral thing for years. But his experience with Bice's, Riewe said, shows that mom-and-pop shops can claim part of the virtual marketplace, too.