WED ? 15
After starting their season with a home sweep of Cleveland, the Texas Rangers found the shoe on the other foot when they got swept in Detroit. This evening they close out their series against the Baltimore Orioles, whose hot outfield prospect Adam Jones is not to be confused with the former Dallas Cowboys' cornerback. The game starts at 8pm at Rangers Ballpark in Arlington, 1901 Rd to Six Flags, Arlington. Tickets are $3-134. Call 817-273-5100.
THU ▪ 16
Just a couple of weeks after our story about Rahr Brewery, your local theater will be playing Beer Wars, a documentary about two independent brewers facing unfair business practices by the major beer companies. After the film, there'll be a live-by-satellite panel discussion moderated by Ben Stein. It should be truthier than his intelligent-design movie from last year. The film plays at 7pm; check Calendar for locations. Tickets are $15-22. Call 213-639-6166.
FRI ▪ 17
Besides the usual funnel cakes and art on display at Main Street Fort Worth Arts Festival, the spring fest is featuring a series of cultural events called Off Main!, which includes Fort Worth Symphony Orchestra concerts, the Fearless Film Festival, short plays by Firestarter Productions, art at the Central Public Library, and a series of environmental lectures at UTA's Fort Worth Center. The festival is Thu-Sun on Main St between 4th and 9th sts, FW. Admission is free. Call 817-336-2787.
SAT ▪ 18
Filmmakers David Lowery and James Johnston are going to be busy this week. They have short films screening on Wednesday at a Q Cinema shorts program, then the feature St. Nick (written and directed by Lowery and produced by Johnston) will play at Modern 'Til Midnight, a late-night museum shindig that also includes live music. Will they also be at Endeavor Cinema (see Film page)? Stay tuned. Modern 'Til Midnight runs 6pm-midnight at 3200 Darnell St, FW. Tickets are $15. Call 817-7328-9215.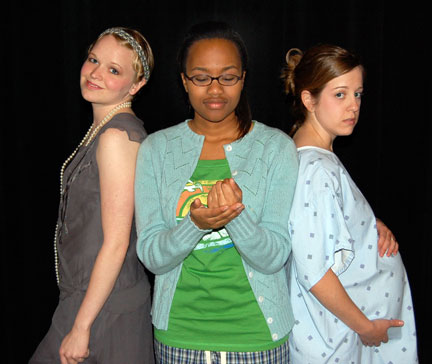 SUN ▪ 19
A homeless woman who wants to live at McDonald's, a baton twirler with religious visions, a woman who covers herself with tattoos to cope with the memories of being raped – these are some of the gallery of obsessives drawn by Jane Martin in her play Talking With…, being put on at TCU this weekend. This collection of dramatic monologues was written in 1982, so let's see how well it's held up over time. The play runs Thu-Sun at 2800 S University Dr, FW. Tickets are $10. Call 817-257-5770.
MON ▪ 20
They're a week late for Easter, but Schola Cantorum's choice of Mozart's Coronation Mass is still pretty apt. Mozart wrote the piece for an Easter Mass in 1779, though the Mass acquired its nickname after being performed for the crowning of an Austrian emperor some 12 years later. Schola will pair the work with Haydn's uncharacteristically stormy Missa in tempore belli at 7:30pm at Broadway Baptist Church, 305 W Broadway Av, FW. Tickets are $22. Call 817-927-2114.
TUE ▪ 21
Texas native Sandy Duncan has visited Fort Worth numerous times to star in theatrical productions – we still remember her Roxie Hart in a 2000 production of Chicago. She returns to Bass Hall this evening to play the title role in Alfred Uhry's Driving Miss Daisy, opposite George Merritt. The play runs Apr 21-26 at 555 Commerce St, FW. Tickets are $30-75. Call 817-332-2272.