Our summer dose of Shakespeare plays arrives in the form of Stolen Shakespeare Guild's Condensed Shakespeare Festival, which runs for two weekends at Fort Worth Community Arts Center. The fourth annual festival presents three plays in two hours (plus intermissions), so you won't be getting the full Bard. However, the evening should offer some compensation in return for Shakespeare's missing text.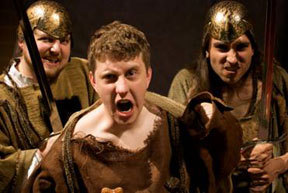 Most obviously, there's the juxtaposition between the two centerpiece plays. Shakespeare's The Taming of the Shrew, cut down to one hour, runs opposite a 40-minute version of Carlo Goldoni's farce The Mistress of the Inn, which was written in 1753, though Stolen Shakespeare's production sets the action in Italy immediately after World War II. The Bard's play about a man who sets out to marry a difficult woman finds a neat foil in the Italian farce about an innkeeper who manipulates three different suitors, all for the sake of teaching a lesson to one of the men, who's a callous misogynist. In both Shakespeare and Goldoni, the action winds up yielding ambiguous results that are wide open to dramatic interpretation. The two shortened plays should leave audiences wondering which work is more in line with our attitudes about men and women.
Capping off the evening is Edward Huntingdon's Instant Macbeth, which reduces the Scottish tragedy to 15 bloody minutes. Try keeping a straight face when Macbeth says, "Tomorrow and tomorrow and tomorrow / Creeps in this petty pace from day to day."
The Condensed Shakespeare Festival runs Jun 19-28 at Fort Worth Community Arts Center, 1300 Gendy St, FW. Tickets are $6-15. Call 214-789-8032.