Surrounded on all sides by fried chicken, hamburger, and pizza chain restaurants, Eliazar Salinas, the owner of Hurst's authentic Mexican cantina and grill Tequila Rain, had to find ways to distinguish his family venture.


The bar contains a small variety of tequila brands to attract aficionados, as well as a merry little reminder sign: "One tequila, two tequila, three tequila … floor." The walls are crawling with multi-hued ornamental frogs, butterflies, and snakes, as if to safely recreate the experience for those who'd rather not bite the worm.
But the shining star of Tequila Rain works mostly unseen in the kitchen: Mama Maria Dejesus Salinas, who whips up pristinely fresh, steaming hot seafood, chicken, and beef plates as well as tacos, enchiladas, tortas, burritos, and a daily pot of menudo.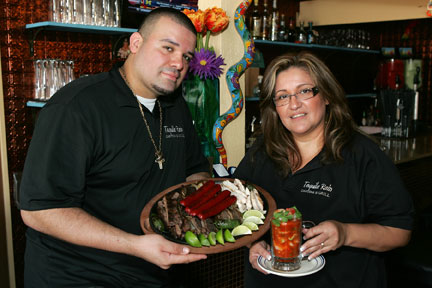 My guest and I started off sharing a coctel de camarones, a Mexican-style shrimp cocktail. The concoction arrived in a cold glass beer mug with little packets of saltine crackers. While the Salinas recipe won't win any awards for innovation, it was outstanding for its crisp swirl of flavors and its smart, simple presentation. The bright red, green, and white colors of pico de gallo were piled into a little triangle atop three shrimps. Plump and fridge-cool, they were full of that comforting crustacean mellowness. The mug alternated layers of fiery pico, medium-sized shrimp, and rich cubed avocado in the smoky-sweet tomato sauce.
Tequila Rain specializes iin parrilladas or marinated meats grilled with a thin sprinkling of salt rubbed over each side and plenty of charcoal flame. The menu offers a combination platter (with fajita-style chicken strips, beef hot links, skirt steak, and tablitas or thin-sliced, bone-in beef ribs) or an all-beef platter. We ordered the beef plate "Chico"-sized, and it proved to be an almost overwhelming assault of hearty, masterfully prepared bovine. The hot links dripped with juice, the skirt steak was ringed with enough fat to keep it tasty and relatively tender, and the fatty beef-rib tablitas were enlivened by the light charcoal singe on their edges. I've always been suspicious of people who boast about the subtle techniques of grilling, but taking cuts of meat this cheap,cooking them so simply, and having them turn out so mouthwateringly good is surely an artistic achievement.
The torta barbacoa was equally splendid, a fat sandwich made with crusty and fluffy telera bread, a mound of beef brisket shredded barbecue-style, thin sliced tomatoes, shredded iceberg lettuce, sliced raw jalapeños, and a thin swipe of guacamole as a condiment across the bread. It arrived with housemade french fries: long, sharply cut, skinless rectangles of spud deep-fried until they glistened lightly and deliciously with grease.
The menu carried a warning about the seafood dish known as camarones endiablados: "If you like your seafood hot, this plate is your ticket to the spicy show." The pulpy tomatillo-based green sauce was medium-hot at best but still a nice savory partner for the generous crowd of large, plump, tail-on shrimps reclining on a mound of long-grain rice that was, for a change, soft and light rather than heavy and sticky.
Tequila Rain features a live band every Friday and Saturday night and, once the NFL season officially starts, is available to cater football parties. The restaurant's sublime parrilladas platters qualify it as a destination for beef lovers in the Mid-Cities and beyond.
Tequila Rain Cantina & Grill
145 W Pipeline Rd, Hurst. 817-282-6400.
Mon-Thu 6am-10pm, Fri 6am-2am, Sat 11am-2am.
All major credit cards accepted