I've painted myself into a corner. A salt-rimmed, tequila-fueled, one-more-and-I'll-be-on-top-of-the-table corner. In a quixotic attempt to find the 817's best margarita (our Best of Fort Worth issue comes out on Wed., Sept. 30, wink-wink!), I've sampled almost every margarita from here to Mineral Wells. But I know I'm treading on some really thin (crushed) ice here because everybody has an opinion. Sometimes people describe tequila like wine. They use words like "fruity nose" and "finishing with subtle hints of agave." I tend not to hang much with those people. I find their snobbery as ridiculous as they likely find my never-ending search for happy-hour specials crude.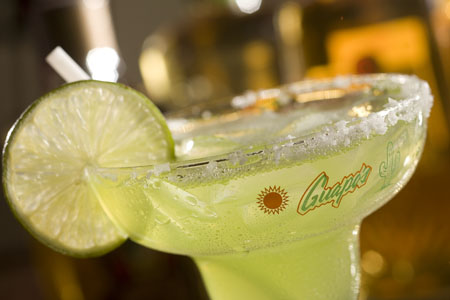 Purists will argue that the lime must be fresh (not from a bottle) and that the tequila must be of either the reposado or añejo varieties. In all, a margarita must contain three, maybe four ingredients max. And I will say that the fresh, three-ingredient variety, specifically Reata Restaurant's, tastes good. The $8.95 Reata Rita on the Rocks is more expensive that what I'd normally spring for, but you pay for quality. And I'm a sucker for cute servers in pearl-snap shirts. Never tried the Billionaire, a 'rita consisting of Don Julio 1924 añejo, Grand Marnier 15th anniversary liqueur, and, of course, fresh lime. I guess I'm waiting for an occasion suitable for a $50 drink.
For some people, it's also about where you're drinking your margarita, and for them there's the legendary 'rita at Joe T. Garcia's. Caution: The place with the fancy reflecting pool, fancy topiary, and fancy patrons is cash-only.
For folks who want to see and be seen (a.k.a. the average Joe T. customer), I like to introduce them to Yucatan Taco Stand Tequila Bar and Grill, a Dallas-y joint that somehow retains a homey, Fort Worth feel. Though the 'ritas are pre-mixed — and though the happy-hour pricing sort of eludes me ($4 on Thursdays after 9 p.m.) — they taste homemade and are especially tasty when mixed with the '80s music spun by Yucatan's regular Thursday DJ. Should you be one of the aforementioned tequila snobs, you might also enjoy Yucatan's tequila flight menu: a collection of mini-shots, from the silver to the añejo, starting at $12 for a grouping of four.
Of course, I've always been a bit of a recessionista when it comes to booze. In Fort Worth, Snookie's Bar & Grill offers $2.50 margaritas all day, every day. The rocks 'rita looks like lemonade, which means the pre-mix isn't full of green dye: a plus. The drink's also pleasantly strong: not knock-you-on-your-ass strong, but it has bite. Based on the price tag, I can comfortably say that fine añejo is not used. However, for a mid-afternoon study break, you can't beat Snookie's take on the Mexican classic.
In Arlington, my neighborhood bar, Bobby V's Sports Gallery Café, also offers $2.50 margaritas all day, every day. Unfortunately, they're frozen, not on the rocks, and you don't really have any choice. (You can get one on the rocks, but it's not on special.) Regardless, the frozens go well with the "Buzz In" televised trivia or any of the sports games visible on any one of the gajillion large-screen televisions there, strategically located so that no matter where you sit, you're in front of a TV, which is helpful when you've had several $2.50 'ritas and can no longer move your lips to "conversate."
I know where I won't be buying a margarita: Cowboys Stadium. My beloved beverage of summer runs $14 — not for five, not four, but uno — and comes in a plastic "souvenir" cup that you can keep forever or until your dishwasher melts it. I tried to play the "I'm from Arlington, I helped pay for this stadium, don't I get a discount?" card. No luck. When you think about it, those souvenir cup 'ritas actually cost more than one really good one at Reata. Between the cost of parking and the cost to get into the stadium in the first place, that's a $200 margarita. Makes you feel like telling stadium management where they can put their fancy cup. — Laurie Barker James
Contact Last Call at lastcall@fwweekly.com.