Thirty years ago, if you were in high school and you had a car, you almost had to have a sticker in your back window swearing fealty to either of two radio stations: KZEW/98-FM The Zoo or KTXQ/102-FM Q102.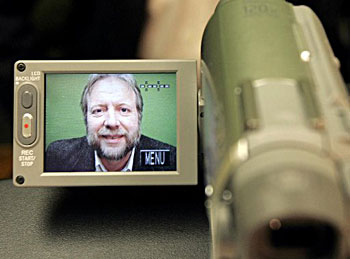 Fights broke out in school cafeterias over which morning show was cooler: Labella and Rody on the Zoo or Bo and Jim on Q102. While the fights are long over, the nostalgia is still there — vintage Zoo window stickers bring big money on eBay, and you can't talk radio in Fort Worth without reflecting fondly on the good ol', pre-iPod, Zoo/Q102 days when everybody seemed to be listening to the same music and people actually had favorite radio stations and favorite jocks. Texas Radio Hall of Famer John Rody, the surviving member of the Labella and Rody duo (Labella was killed in an automobile accident in 2002), is back, this time with a new weekly variety show called The Mambo's Webcast. Webcast in front of an audience from Mambo's Tapas Cantina downtown, the show is part of a nonprofit media-mentoring program run by Rody in which at-risk teens from North Side High School learn video journalism. Dr. George Cravens, who owns Mambo's and the nearby Flatiron Building, where the mentoring program takes place, donated the webcasting space.
"Were doing the show because it supports the media-mentor program, it supports local musicians, and it's a unique feature to Fort Worth," Rody said. "The timing is right. I'm available, and we've gotten the support of a great space. This is something I've always wanted to do."
Rody will be joined by a team of local personalities, including three members of The Good Show (Saturdays from 9 a.m. 'til noon on KTCU/88.7-FM): Tom Urquhart, Jessica Arguijo, and Goodwin frontman Tony Diaz. "John Rody was a personal boyhood hero of mine, and he has been a fan of The Good Show for some time," said Urquhart. "Rody and I have kept in touch, very loosely, over the years, and about a month ago he said, 'Hey, you want to do a show with me?' Well, hell yeah! But what kind of show, exactly?"
The team will be rounded out by Leah Blakely of Totally Twisted Karaoke, a local karaoke company. She will be responsible for overseeing a karaoke segment.
In addition, the show also will feature live music from regional artists. Tentatively slated to perform are Josh Weathers, Waiting For One, Emmeline, and The Junk Brothers. Other segments include: Vox Populi, which will allow audience members to rant on camera; assorted games; and something cryptically called The Wheel of Meat.
Rody is not unaware of the show's potential retro appeal. The stage will be adorned with an old Zoo banner, and reproductions of vintage Zoo window stickers will be given away to audience members. Rody also expects to entertain visits from former local radio personalities. "We need retro, but we are using up our supply of retro faster than we can replenish it," Rody said. "If people want to talk about the Zoo on the show, we will bring out an egg timer. When the timer's up, we move on."
The webcast will be divided up into 10-minute segments that, when finished, will be immediately uploaded to YouTube. The first webcast is Wednesday at 7 p.m. For ticket information, visit www.mambosmedia.com. – Steve Watkins
Back to Bee-sics
Like everyone else, the Fort Worth Symphony got caught in the economic crunch. Plans to complete a three-year Mahler cycle were scuttled in favor of a return to basics: Beethoven, who started the German symphonic tradition 200 years ago. The result was a musically satisfying festival and a box-office bonanza. Friday's and Saturday's performances were sold out. Heard were the Third, Fifth, and Sixth Symphonies, the first two Piano Concertos, and the Violin Concerto.
When he led an all-Beethoven festival eight years ago, conductor Miguel Harth-Bedoya had just taken over the orchestra, and my memory is of youthful, straightforward, not very adventurous performances. Now there is full-blown maturity, a keen ear for tonal color, and a relaxed flow to the music. Youthfulness is still there. Harth-Bedoya scampered through the opening movement of the Third Symphony Friday and missed some of its anguish and torment, but the long second-movement Funeral March that followed was an awesome journey. His exploration of the Sixth Symphony on Saturday, too, was carefully crafted and full of loving detail. Perhaps I was worn out by Sunday, but the familiar Fifth Symphony seemed to chug along on automatic pilot until the last movement, when the orchestra exploded into a rousing finale.
Pianist Adam Golka, a 22-year-old TCU alumnus who has played with the orchestra before, never ceases to amaze with his sophisticated insights, which were evident again in his performances of the two Piano Concertos. The First in particular was a joyous, cleanly articulated romp through the composer's youthful extravagances. Golka is blessed with a mellow, singing sound that turned the slow movement into a soulful reverie.
Young Canadian violinist James Ehnes also gave a memorable performance. His Violin Concerto on Saturday was remarkably personal and intimate, creating the illusion that we were all together in a large living room rather than a concert hall, and coaxing a ravishing sound from his 1715 Stradivarius. Rapturous accompaniment from the orchestra surrounded him, and the audience responded after the final note with a cheering ovation.
An encouraging sight this year was the presence of so many young people: teenagers, pre-teens, and families with children. The sound of them was less encouraging. As Ehnes began his solo entrance, a toddler in the first row started fussing and was silenced only when an usher intervened. Another toddler was removed in the second movement by his family. The ruckus must have affected Harth-Bedoya. At one point, he lost his grip on his baton and sent it sailing into the string section. (The device was returned to him between movements.) Ultimately, nothing could distract you from the fact that Fort Worth now has a major orchestra and a gifted conductor finer than most cities in the country.
– Leonard Eureka
Black-and-White Type
A reader suggested that last week's story on outgoing Van Cliburn Foundation president Richard Rodzinski ("Take the Keys," Aug. 19, 2009) ignored the efforts of previous foundation presidents. The story, however, was not about the foundation itself but the contributions that Rodzinski made during his 23-year tenure, including building upon the contributions of previous presidents, going all the way back to the first competition in 1962. In recognizing a need for concert exposure for the winner, Van Cliburn talked his then-concert manager, Sol Hurok, into booking several concerts for the first gold medalist, Ralph Votapek. In the 1980s, another president, Anthony Phillips, dramatically increased the number and quality of the engagements. Andrew Raeburn continued the expansion when he came on board in the 1990s, creating two years of limited engagements for the top three winners. Under Rodzinski's banner, the program expanded to include all six finalists in up to 60 concerts each for three years. He also strengthened and expanded the imported musical programs sponsored by the Cliburn Foundation at Bass Performance Hall, the Kimbell Art Museum, and the Modern Art Museum of Fort Worth. – L.E.