First things first: Chef/owner Tim Love's distinctive recipe for the Love Sauce condiment has been successfully transplanted from his other burger stand, Love Shack-Stockyards, to his So7 digs. The pink stuff is as uniquely aromatic, smoky, and sweet as ever. (If I had to guess, Worcestershire figures in there somewhere.) That sauce, combined with the hearty flavor of the ground tenderloin and brisket in the beef patties, is the key to making his Love Burgers a sparkling, non-traditional junk-food experience.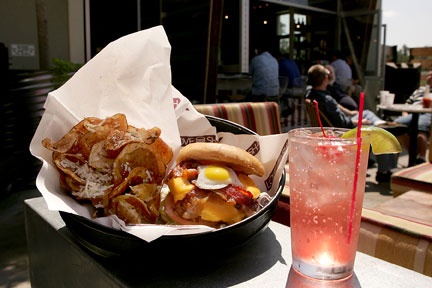 The condiment also works surprisingly well on the new Love Bird, a medium-thick, tender, grilled breast of chicken with perfectly melted American cheese and fresh tomato and onion slices in a plain bun. The New Texas Flying Dog — a short, plump, juicy frank that tasted all-beef, with grilled onions and chiles — also wore the frisky sauce. On the other hand, the hard-fried quail egg that came on top – something else brought over from the Stockyards Shack – didn't add much but protein.
Even tastier was the Boom Boom Burger: a thin, pale, juicy portobello mushroom disc lightly breaded, deep-fried, and swiped lightly with Love. Even with the hot oil treatment, no greasiness marred the bites. If you want to have an all-veggie experience at So7, order a side of smoked anasazi beans with green chiles. They're a kissing cousin to pinto beans but are smaller, rounder, and have a mellow starchy-sweet aftertaste
The other sides ranged from ordinary to spectacular, and, again, they seem designed to complement margaritas and other specialty libations as much as the burgers and sandwiches. The deviled eggs were reliably hearty, but their yolks didn't have any kick, which was odd, since they were lightly dusted with red chile powder. Little curls of crunchy, fatty bacon drizzled on top compensated nicely.
The chile parmesan chips, a mainstay at the Stockyards location, ruled as usual. These thin, curvy bad boys are freshly fried and come with tangy pepper flakes and a sprinkling of tiny parmesan bits.
The standout side on the menu — and the one that I intend to return and try with Love's signature drink, the cucumber-and-jalapeño martini — was the tempura port salut. Small chunks of the gorgeously creamy French cheese had been lightly battered and fried and were served with reddish brown romesco sauce, a kind of earthy pesto made with ground nuts, garlic, and red peppers. The port salut had a mouth-filling flavor that was somewhere between mellow and sharp but never mediocre.
With Love Shack So7, Tim Love appears to have achieved what he wanted: a chic, family-friendly joint where patrons can grab some gourmet-influenced snacks or linger over a signature cocktail on a breezy night.
Love Shack So7
817 Matisse St, Ste 445, FW. 817-348-9655. Sun 11am-11pm, Mon-Thu 11am-midnight, Fri-Sat 11am-2am. All major credit cards accepted.