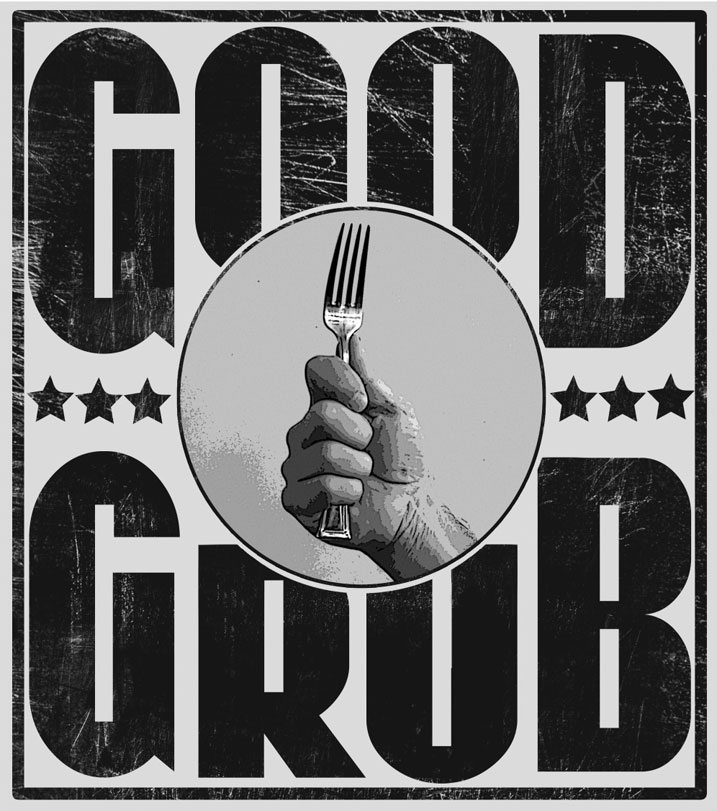 Click here to read more and see who won best Brunch, Late-Night Dining, Burger, and more.
All-Star Mexican
Tacos: This hospital district hot spot has a flavor profile somewhere between French and Mexican. The delish tacos come in beef fajita, pork carnitas, roasted chicken, red snapper, and vegetarian versions. Paco and John's, 1116 8th Av, FW.
Tamales: Made by hand in what looks like your granny's kitchen, in many flavors. Aguilera's Café, 2005 N Grove St, FW.
Enchiladas: The chicken mole enchiladas are the perfect combination of homey and comforting, spicy and flavorful. El Asadero, 1535 N Main St, FW.
Ceviche: Tangy and fresh at all of La Playa Maya's four locations in Fort Worth.
Chile relleno: Gigantic, superbly messy, and swimming in tortilla soup. Benito's, 1450 W Magnolia Av, FW.
Breakfast: A choice between burritos that you build in your own flavor combinations and the thick Mexican-style oatmeal accented with cinnamon. Fernandez Café, 4220 W Vickery Blvd, FW.
All-Star Barbecue
Sausage: A mouthful of peppery, juicy flavor. Smokey's Barbecue, 5300 E Lancaster Av, FW.
Brisket: The readers got this one right. Railhead Smokehouse, 2900 Montgomery St, FW.
Ribs: Fall-off-the-bone tender and juicy ribs, bursting with flavor from a secret rub that the Jones family has been using for 33 years. Hickory Stick Bar-B-Q, 900 E Enon St, Everman.
Chicken: Full of smoky flavor, but still tender and juicy. Smokey's BBQ.
Turkey: They say the food is "so good you'll moan," and when it comes to the smoked turkey, that's not far off.  Daddy Joe's Smokehouse Barbecue, 5220 State Hwy 121, Colleyville.
Salad: The tomato-onion salad, made with fresh, ripe produce from the surrounding Ridgmar Farmers Market, is tart and refreshing. 900 Alta Mere Dr, FW.
Sides: The skinny fries with "Riscky Dust," tossed with crisp-fried jalapeño wheels and near-caramelized onion strings. Multiple Riscky's locations.
All-Star Home Cooking
Soup: The rich chicken stock and cream in this wild rice soup will blow you away. Sandwich Shoppe, 3129 Handley Dr, FW.
Appetizer: Chicken livers are an acquired taste, but if you like 'em you're going to love 'em at Massey's Restaurant, 1805 8th Av, FW.
Entrées: A three-way tie: chicken-fried steak at Old Neighborhood Grill, 1633 Park Place Av, FW; pork chops with balsamic dressing and caramelized onions at the M&O Station Grill, 200 Carroll St, FW; and chicken and waffles, the signature dish at A.J.'s Chicken and Waffles, 6513 Brentwood Stair Rd, FW.
Sides: Ask them to bake the top on your rich, well-seasoned mac 'n' cheese at Hatch's Corner, 6950 Forest Hill Dr, Forest Hill.
Dessert: Chocolate mousse is just one of the heavenly pies that will make an all-star ending to your meal at the Paris Coffee Shop, 700 W Magnolia Av, FW.
All-Star International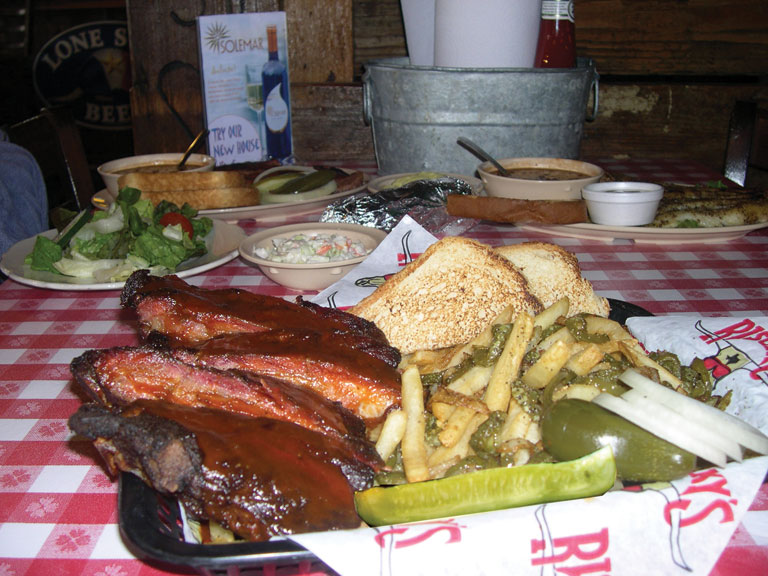 Drink (Alcoholic): Tuaca shots seem to be all the rage these days, but we sophisticates prefer this martini'd-up version with limoncello and a sugar rim. Ciao Baby at Sushi Axiom, 4625 Donnelly Av, FW.
Bread and Appetizer: It takes an entire loaf of butter-drenched garlic bread to scoop up every morsel of this decadent lobster/crab/cheese dip, extra-heavy on the lobster – ruining your appetite for the rest of the meal, but well worth it. Lobster dip at Margie's Original Italian Kitchen, 9805 Camp Bowie Blvd W, FW.
Appetizer: Bite on these bad boys, and they'll bite you right back. Rude Boy jerk chicken wings at Jamaica Gates Caribbean Cuisine, 1020 W Arkansas Ln, Arl.
Salad: Cucumbers, feta, green olives, and ripe tomatoes help, but it wouldn't be a Mediterranean salad without the finishing sprinkle of fresh-from-the-garden oregano. At Piola, 3700 Mattison Av, FW.
Sides: The lunch deal at this Korean spot is already one of the best deals in town, and then they start piling on the veggies: tempura-fried sweet potato, udon noodles, two kinds of kimchi, sautéed broccoli, and more. You'll find a lot to love. Samwong Garden, 5201 McCart Av, FW.
Entrée: A Salvadoran best-of: chicarrón (fried chunks of pork meat and fat) tossed with yuca frita (like steak fries) plus a juicy chicken tamal, grilled sweet plantains with crema, and a crisp queso-stuffed pupusa. Plato tipico at Market Latina, 3309 N Main St, FW.
Dessert: Flaky, nutty, melt-in-the-mouth baklava from Istanbul Grill, 6204 S Cooper St, Arl.
Coffee: Brewed-to-order qahwa (Lebanese coffee with a hint of cardamom) served on a pretty brass platter at Al Wadi, 2712 Brown Tr, Bedford.
All-Star Chain Dining
Seafood: Crab Alfredo: The alfredo sauce is rich, the crab meat plentiful, and the plate heaped high. Red Lobster.
Bread: Buttery rolls at Logan's Roadhouse, 948 NE Loop 820, Hurst.
Burger: The sirloin burger is big, juicy, and you can get it with grilled onions and actually melted Swiss cheese. Jack in the Box.
Fries: Seasoned fries at Denny's.
Entrée: It may not be authentic, but the Southwest Chicken Casserole is rich and tasty. Black-Eyed Pea.
Desserts: C'mon, can you really beat the selection of great pastries here, many of which you can't  get anywhere else in town? La Madeleine.
Steak: Signature smoked sirloin at Texas Land & Cattle.
Late-Night Dining
The late-night category used to mean choosing among slim pickings. These days, thank goodness, it's getting more crowded. Take Hemphill Street on the South Side: It's lined with taco trailers and stands catering to the after-bar crowd. Best bets on the street are El Mil, which stays open until 3:30 a.m. on weekdays and 4 a.m. on weekends, and, not far away, Ernesto's and Juanito's, both of which stay open until past 3 a.m. on weekends.
A little farther north, Benito's on Mad-nolia Avenue, serves until 2 a.m. on weekends. Perennial reader-favorite Fuzzy's Tacos on West Berry Street outdoes that in the how-late-can-you go competition, staying open until 3 a.m. on weekends. But La Playita, near the corner of Berry and 8th Street, outlasts them all. It's cookin' until 4 a.m. on weekends.
If you're going for a milder heat quotient, you don't get to stay out as late. Baker Street Pub and Grill serves traditional English pub food, and Snookies on South Hulen Street goes the Americana route until beer o'clock (that's 2 a.m. to you civilians), Piranha Killer Sushi keeps it raw until 1 a.m. on weekends. And Sammy's in Sundance Square wins the wee-hours pizza prize: They make pies until 3 a.m. on weekends.
Pioneer Parkway is Arlington's equivalent of Hemphill in Fort Worth, in terms of multiple places staying open late, but there's a lot more variety on the 303. In the Asian subcategory, King Chinese BBQ on Pioneer Parkway is king, serving fresh seafood and poultry dishes until 2 a.m. on weekends. Farther west on 303, Palms Café and Grill and Narah Café offer Mediterranean fare and hookah hits until 1 a.m. on weekdays and 3 a.m. on weekends, and Al Amir serves Lebanese until 2 a.m. every night.
---
Top Five Steaks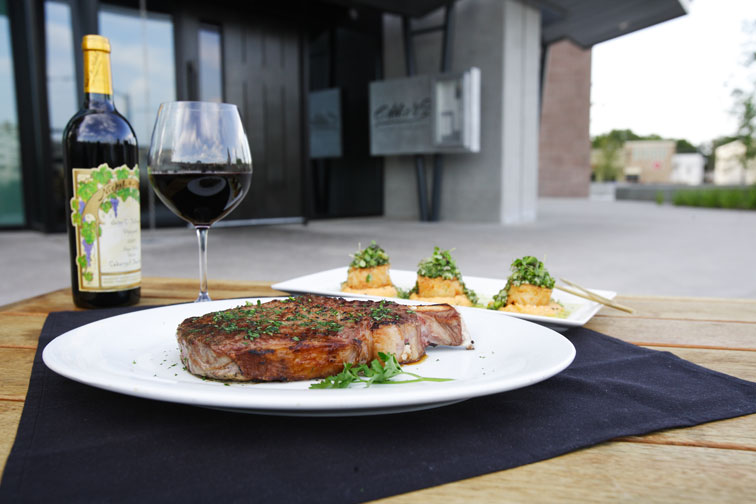 1. The steak by which all others are judged: gorgeously seared, simply seasoned, exquisite to the last bite. Del Frisco's 16-oz prime rib-eye. 817 Main St, FW.
2. Bonnell's melt-in-the-mouth 8-oz buffalo tenderloin with rye whiskey cream sauce. 4259 Bryant Irvin Rd, FW.
3. King of the ranch: Lambert's 12-oz New York strip with mushroom gravy. 2731 White Settlement Rd, FW.
4. Eddie V's impeccable 22-oz prime bone-in rib-eye. 3100 W 7th St, FW.
5. The lunch-salad umami fest: thick slices of New York strip layered with grilled tomatoes and Roquefort cheese. Dino's Steak & Claw House, 342 S Main St, Grapevine.
Top Five Taquerias
1. Ernesto's Taqueria is the joint to which all others must compare themselves. The fresh pastor and crispy chicharon are must-tries. The staff is gringo-friendly and always pleasant. 4050 Hemphill St, FW.
2. The food is always fresh at Juanito's Taqueria, and the place is seemingly always open. 4150 Hemphill St, FW.
3. Taqueria Melis is a walk-up, cash-only operation that looks like an out-of-control lemonade stand. There's no inside seating, but the food is worth standing and waiting for. 4304 W Vickery Blvd, FW.
4. Taqueria San Luis now has four locations, and it's easy to see why. The pastor tortas are Mexican-grandmother good.
5. Taqueria San Antonio serves up great tacos and some of the best tamales in town. 7299 Camp Bowie Blvd, FW.
Top Five Burgers
1. Is it the combo tenderloin-brisket patty that makes this burger the best of the best? The crunchy bacon, the crisp fixings, the tangy Love Sauce? The cute  fried quail egg capper? Yes to all. Dirty Love Burger at the Love Shack, 108 E Exchange Av and 817 Matisse Dr, FW.
2. Nationally famous and shooting for global stardom: Fred's Diablo Burger, whose fiery chipotles and cool Swiss cheese dance a hot and creamy tango until everyone's ready for a nap. 915 Currie St, FW.
3.  Lowering the heat a notch, but piling on the flavor: M&O Station Grill's Tijuana Burger needs two patties to support poblano chiles, cream cheese, freshmade guac, grilled onions, a swipe of chipotle mayo, and that magic "hamburger sauce." 200 Carroll St, FW.
4. Even the thick sweet bun, heap o' chewy bacon, and blanket of blue cheese can't overpower the flawlessly seasoned beefy center of Dutch's bacon-and-blue-cheese burger. 3009 S University Av, FW.
5. Sometimes you just want a plain ol' extra-thick, super-juicy, heart-of-America Snuffer's cheeseburger. Go for the half-pounder with American, Swiss, or aged cheddar at 431 Grand Av E, Southlake.
Breakfast
Readers' choice: Ol' South Pancake House, 1509 S University Dr, FW
Critic's choice: Mimi's Café, 5858 SW Loop 820, FW
You can stick with bacon and eggs if you like, but Mimi's opens up a world of freshly prepared breakfast choices, from omelets – try the crab and avocado special – to crepes stuffed with brie, quiche with fruit, croissants filled with ham and scrambled eggs, and eggs Florentine. There's also an array of griddle goodies, including pancakes, waffles, and  French toast stuffed with cream cheese and orange marmalade, as well as Mexican-inspired combos hot off the stove – all priced under $9.
Barbecue
Readers' choice: Railhead Smokehouse
Critic's choice: Smokey's BBQ
There's been a Smokey's BBQ off and on in East Fort Worth for decades. Now it's open again under new ownership but with many workers from the former regime, and if you haven't been back you need to go. Slow down when you get close, because the sign goes by in a flash. The place is plain-Jane in appearance, but that's practically a requirement in barbecue circles, and the food more than makes up for it: sweetly smoky chicken, peppery sausage, excellent sauce, great beans, and some of the best creamy potato salad this side of a church picnic.
Coffeehouse
Readers' choice: Starbucks, 2600 W 7th St, FW
Critic's choice: Gallery Art Café, 609 S Jennings Av, FW
First thing first: coffee. It's fair trade, locally roasted (by the Crabbs, see above), and  single origin. Choose from the Café Allegro (a breakfast blend with a touch of cinnamon), Nutty Blonde (light bean, medium roast), or Black Flag Pirate Blend – of course that's dark bean, dark roast. Food's fantastic too, and now they're open for breakfast. This comfy little place has been through five owners, and the current incarnation is almost two years old. Owner Doris Sawey thinks locally, not only with her coffee, but with art and music. Art exhibits change every six weeks, and local musicians play inside or on the patio.
Brunch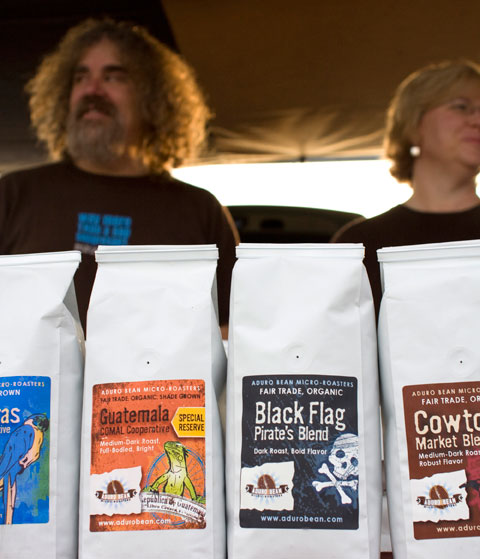 Readers' Choice: Blue Mesa, 1600 S University Dr,  Ste 609, FW
Critic's choice: Lambert's Steaks, Seafood & Whiskey, 2731 White Settlement Rd, FW
Lambert's Sunday brunch sets it apart from the herd. No limp salad or rubbery scrambled eggs behind sneeze guards here. Diners can sample items from the buffet line, including fruit salad, eggs, and homemade sausage, giant planks of salmon from the smoker, and prime rib. If that doesn't fill you up, you can order off the menu, which features eggs Benedict done three different ways, French toast, and any number of other cooked-to-order goodies. All for the same price! If you have room, select one (or all three) of Lambert's homemade desserts to finish the meal. For $4 more, add bottomless mimosas and plan on having someone else roll you out to the car and drive you home.
Coffee
Critic's choice: Aduro Bean, 6745 Camp Bowie Blvd, FW
Rupert and Nancy Crabb roast their own beans – single origin, fair trade, and organic – at their micro-roaster shop on Fort Worth's West Side, and they have the system down to perfection. This is not a sit-down coffee shop, just a place to pick up a pound or three of their expertly roasted beans and take 'em home for a luscious cup o' joe brewed to your own taste. The dark (really dark) roast is a favorite, but for those who didn't grow up on coffee boiled on the back of a wood cookstove, there are lighter blends, all equally rich, smooth, and caffeine-potent. On Wednesdays and Saturdays through the summer, you can find the Crabbs and their beans between the cantaloupes and tomatoes at the farmer's market on the Weatherford traffic circle.
Lunch Bargain
Critic's choice: Hysen's Nizza Pizza Pasta & Subs, 401 University Dr, FW; 7807 S Cooper St, Ste 123, Arl
Hysen Lushaj has been doing great pizza and pasta in Arlington for about a decade, but us Weeklyteers didn't know much about his fare until he opened a new restaurant in the Cultural District – and we were duly amazed: 20 different pasta dishes for $5.95, piled high in big bowls. Two slices of one-topping pizza plus a large drink for just $4.50. A huge salad, slice of pizza, and a drink for $5.25. And don't forget the stuffed pizzas: We loved the ones with spinach, mushrooms, and onions, just $4.25 each.
---
Cajun
Readers' choice: Razzoo's, 318 Main St, FW
Critic's choice: Pierre's Mardi Gras Café, 2816 S Cooper St, Arl
The service can be on the leisurely side, but that's partly the point at Roosevelt and Wendy Pierre's laid-back, generous mecca for rich jambalaya, étouffée, gumbo, silken red beans and rice, and oversized po' boys. The Pierres, Louisiana natives who moved to Texas after Hurricane Katrina, periodically add new menu items, and if you're lucky, you'll get to be the guinea pig – repeat customers often get samples of potential new dishes.
Romantic Atmosphere
Readers' Choice: Italian Inn Ridglea, 6324 Camp Bowie Blvd,  Ste 123, FW
Critic's choice: Ruffino's, 1501 W Magnolia Av, FW
Executive chef Asdren Albanese seems to specialize in creating rich, sensual foods that are perfect for spoon-feeding to your beloved. Nuggets of yielding russet potato gnocchi, morsels of flaky salmon, tingles of lemon tart – every bite bursts with enticing flavor and texture. The candlelit room is equally dreamy, with multiple dining levels that offer discreet coziness. Servers have a knack for knowing whether diners want attentive pampering or just to be left to their nuzzling selves. It's easy to feel loved at Ruffino's, even if you're all by yourself.
Tex-Mex (Over $10 Entrée)
Readers' choice: Uncle Julio's, 5301 Camp Bowie Blvd, FW
Critic's choice: Reata Restaurant, 310 Houston St, FW
The carne asada/cheese enchilada combo is a favorite of executive chef Juan Rodriguez. It reminds him, literally, of grandma's home cookin'. "Except she used a tomatillo sauce, not an ancho sauce," he said. Although much of Reata's menu is becoming more sophisticated under Rodriguez' guidance, the Tex-Mex standard comfort food category is still well-represented. The carne asada is coated with the secret Reata grill seasoning, and the gooey cheese enchilada comes with some fancy rice and beans.  It's a comparative steal at $12.95 on the lunch menu. In addition, Reata offers fairly classic takes on tortilla soup, stacked chicken enchiladas, chicken chile rellenos, and fish tacos. Of course, it being Reata, some of the Tex-Mex comes out fancier: The tamales and tacos are made with beef tenderloin.
Tex-Mex (Under $10 Entrée)
Readers' choice: Fuzzy's Taco Shop, 2917 W Berry St, FW
Critic's choice: Chalio Mexican Restaurant, 2020 N Main St, FW
Chalio is new to the North Side, an area that may boast more Mexican restaurants per capita than any place north of San Antonio. But the eatery has already developed a loyal following, due in large part to the wide selection of tasty entreés under $10, and lunch specials that cost half as much. The icing on the proverbial cake has to be the handmade tortillas – as big as cymbals – that come with each meal.
Italian
Readers' choice: Nonna Tata, 1400 W Magnolia Av, FW
Critic's choice: Aventino, 3206 Winthrop Av, FW
After training at the Culinary Institute of America and working in some of New York City's more avant-garde restaurants, Derrick Paez came home last year to deliver his family's venerable neighborhood-Italian gem into the 21st century. Except for the family warmth and grace, there's no trace left of the old Aventino's: In addition to losing the "s" off the name, the wagon-wheel décor is now sleek New York Mod, the soundtrack is tuned to Euro-lounge ambiance, and the hearty family-style Italian dishes have morphed into bold, sophisticated works of culinary art. It's a stunning transformation, and a chic, fun place to enjoy truly modern Italian cuisine.
Atmosphere
Critic's choice: Sardine's Ristorante Italiano, 509 University Dr, FW
Sardine's sits somewhere between a dimly lit jazz lounge and a romantic classical Italian restaurant. Candles flickering, the smooth sounds of jazz impresario Johnny Case tickling the ivory, the super-mellow staff, the reasonable but solid wine list, and garlicky Italian fare make it all easy to turn a meal into an all-night event.
Home Cooking
Critic's choice: Chef Point Café, 5901 Watauga Rd, Watauga
Chef/owner Franson Nwaeze and his Chef Point Café received a flood of local publicity when they opened for business five years ago. The gimmick was irresistible – culinary-quality food served in a Conoco station! (Even the Food Network filmed a segment there last spring.) Well, the following has outlasted the gimmick, and over the years, Chef Point Café's incomparable menu has loosened up somewhat to include home-cooking delights like cheese fries, Mediterranean chicken salad, jalapeño burgers, stuffed pork chops, catfish, and steak.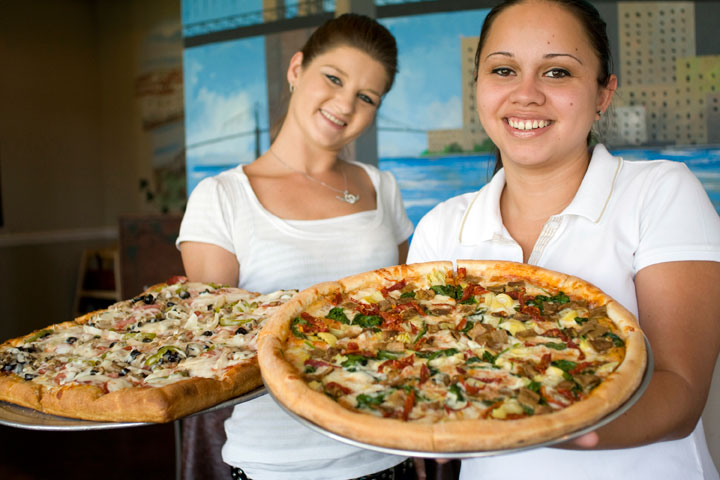 Pizza
Readers' choice: Nizza Pizza, 1430 S Cooper St, Arl
Critic's choice: Bardo's Pizza & Pasta, 2740 Western Center Blvd, FW
Good pizza, as our Italian friends are wont to remind us constantly, doesn't need no damn ranch dressin'. Plus, the crust should be thin but never crunchy, supple but never soggy, the cheese should adhere to the crust, and you must be able to taste the sauce, which should be zesty and semi-sweet. In other words, the pizza should be like that at Bardo's, a new joint in a new strip mall in north Fort Worth.
Kids' Dining Venue
Readers' choice: Purple Cow, 4601 W Fwy, FW
Critic's choice: La Gran Plaza, 4200 S Fwy, FW
Sure, you can drag your kids to the Stockyards for barbecue or over to Chuck E Cheese's, but for our buck we're going for the bang at La Gran Plaza, just off I-35 at Seminary Drive. You've got nearly 40 food venues, from a yogurt shop to really greasy Tex-Mex. After they've eaten, you can turn the little rugrats loose in the biggest plastic tube climb-around set you've ever seen, while you go get your passport updated or order those handmade cowboy boots you've been meaning to have done for ages. To the Latino community, this is an Eastside anchor. The rest of the world needs to find out that it's worth the trip.
Deli
Readers' choice: Carshon's Delicatessen, 3133 Cleburne Rd, FW
Critic's choice: Yogi's Bagel Café, 2710 S Hulen St, FW
Yogi's boasts a storefront full of bagel varieties and a chalkboard full of ways to eat them. This popular and often crowded deli can satisfy even the most finicky palates with an extensive breakfast and lunch menu, whether your tastes run to lox or chilaquiles. Try their brand of hot sauce with the breakfast potatoes, and remember to count on spending a few extra minutes on weekend visits – it's going to be busy.
---
Greasy Spoon
Readers' choice: Fred's Texas Café, 915 Currie St, FW
Critic's choice: Rise & Shine Café, 1815 W Pioneer Pkwy, Arl
The décor could be classified as frumpy or quaint, depending on your mood. But there's no arguing that you get a whopping amount of good food at ridiculously cheap prices at the Rise & Shine. There are 54 omelets listed on the menu, but if you can't find what you like, design your own. Try the giant griddle cakes or the Biscuit Debris – three kinds of meat, cheese, and good cream gravy atop delicious homemade biscuits. If you're trying to eat "healthier," there's the California Garbage plate – that's Biscuit Debris with some veggies. Breakfast sides include perfectly prepared hash browns and really tasty Texas toast. R&S is closed only on Thanksgiving and Christmas – two days of the year the average person would be too full to enjoy the bounty, anyway.
Indian Food
Readers' choice: India Star, 703 W Park Row Rd, Arl
Critic's choice: Tandoor Indian Restaurant, 532 Fielder North Plaza, Arl
Sensitive palates, beware. This   restaurant tucked into an Arlington shopping mall serves Indian food whose flavors are not watered down. The medium-sized dining room sports blue Hindu gods on the walls and bright place settings. The tasty and economical buffet is always a good choice at lunch, but try dinner at Tandoor for a romantic evening complete with wine list, dim lighting, and a window at the back that lets you watch the Sikh cook prepare the food. Entreés include all the classics, from tandoori chicken and chicken tikka masala to vegetarian dishes like chana masala, a spicy blend of chickpeas, potatoes, and onions. We recommend ordering a plate of flaky, buttered naan and dipping it in the chicken Madras, a spicy dish so rich in coriander, cumin, and chili flavor that it's easy to immediately eat another tender bite of curry-covered meat instead of reaching for the water glass.
Chinese
Readers' choice: Panda House, 1325 S Cooper St, Arl
Critic's choice: First Chinese B-B-Q, 5310 E Belknap St, FW
More bistro-y than its Arlington brethren, with arty black-and-white photos adorning mango-colored walls, this branch of First Chinese B-B-Q is also a bit more newbie-friendly: Many of their traditional Chinese dishes contain no bones, organs, or pig blood at all. Pick your own comfort level, from shrimp wonton soup and roast pork or duck (cut from the carcasses hanging in the widow) to sautéed fish maw or duck feet in black bean sauce. The friendly servers do not judge.
French Cuisine
Readers' choice: Saint-Emilion, 3617 W 7th St, FW
Critic's choice: Chicken cordon bleu, Sapristi!, 2418 Forest Park Blvd, FW
The menu at this lovely, friendly neighborhood bistro is continental, with as many Italian-influenced dishes as French, but the intimate atmo is all français. The brie- and prosciutto-stuffed chicken breast, breaded with panko crumbs, is tender and delish – but it's the rich sauce of lemon, butter, and artichokes that makes this cordon bleu magnifique.
Vietnamese
Readers' choice: Pho Pasteur, 100 W Pioneer Pkwy,  Ste 158, Arl
Critic's choice: Phuong, 4045 E Belknap St, Haltom City
It's hard to nail down which Vietnamese bistro is the best around here. Overall though, we've been a fan of Phuong for a while. Its bun dishes are perfectly cooked, its noodles are never soggy, its pho is giant and exotic, and its savory broth will keep you on your toes. The  No. 27 is so huge and crammed with seafood, it looks like a deleted scene from The Little Mermaid.
Middle Eastern
Readers' choice: Chadra Mezza & Grill, 1622 Park Place Av, FW
Critic's choice: King Tut, 1512 W Magnolia Ave, FW
Owner Amin Mahmoud has been serving up mouthwatering Egyptian, Lebanese, and Greek dishes for so long on West Magnolia, the neighborhood has caught up with him and had another resurgence. King Tut's combo of ultra-casual and Egyptian kitsch atmosphere (those shiny brass pharaoh statues!) make this an excellent place for a long dinner with friends. Offerings like the mezza platter (appetizers like hummus, dolmas, feta, and olives), and heaping gyro and chicken and lamb shawarma platters guarantee you'll be reaching for each other's plates.
Queso
Readers' choice: Fuzzy's Taco Shop
Critic's choice: Fuzzy's Taco Shop
Fuzzy's is a popular destination for people with drink-induced munchies, and nothing on the menu satisfies better than the queso. The salty bowl of melted cheese,  adored by gringos all over town, is topped with cilantro, onions, tomatoes, and more cheese. Accompanied by the heavily spiced corn chips or flour tortillas, Fuzzy's queso may be the ultimate late-night food.
Vegetarian Meal
Readers' choice: Spiral Diner & Bakery, 1314 W Magnolia Av, FW
Critic's choice: Lunch buffet, Bombay Grill, 4625 Donnelly Av, FW
You never have to worry (like you do at some restaurants) about whether your vegetarian meal is actually vegetarian at Bombay Grill, a South Hulen stalwart whose lunch buffet is killer and not just because of the myriad vegetarian offerings. The sag paneer is a creamy, zesty blend of greens and tofu cubes, the spiced raw veggies on the salad bar are unusually filling, and the naan couldn't be any fluffier or yummier.
Latin or Caribbean
Readers' choice: Gloria's, 2600 W 7th St,  Ste 175, FW
Critic's choice: Mi Tierra Latin Fusion, 603 W Abram St, Arl
The best of the Caribbean and more in one charming, comfortable house, all thanks to chef Damaris Torres and delightful hubby-host-manager Carlos. Everything on the menu is a must-have, starting with the tostones con pollo nachos, whose resemblance to chicken nachos ends with the base of deep-fried plantain slices rather than tortilla chips. And if there's any chocolate tres leches cake left in the house, don't pass up this rich, creamy delight. In between, try a homestyle mofongo, a bowl of mashed plantains and Afro-Carib seasonings filled with fried pork, shrimp, or beef and topped with a garlicky sauce. The predominantly Puerto Rican-Cuban menu also draws from Argentina, Peru, and other South American countries, for a whirlwind tour of Latin flavors and gracious hospitality.
Tamales
Readers' choice: Marquez Bakery & Tortilla Factory, 1730 E Division St, Arl
Critic's choice: "Tio" Carlos' Tamales To Go, 2405 E Belknap St, FW
Sure, the best tamales are the ones your abuela makes. However, if you don't have an abuela, you have a "Tio." This little shack near the border of Fort Worth and Haltom City serves up tons of succulent, hand-rolled tamales from mild to spicy in denominations of six or a dozen – and for cheap, too. It's perfect for last-minute parties, attacks of the munchies, and kids who are sick of leftovers.
---
Green Salsa
Readers' choice: Los Molcajetes, 4320 Western Center Blvd, FW
Critic's choice: La Nueva Riograndense Tortillas, 4241 McCart Av and 831 N Sylvania Av, FW
One could search the globe and never find anything quite as delicious as the light green jalapeño-avocado salsa they make at this humble tortilla factory. La Nueva also sells handmade tortillas and a small selection of to-go food (it's not a sit-down restaurant). Most dishes would be infinitely improved if smothered in this spicy nectar of the gods. One (translated) word to the wise: The sign on the refrigerator asks you to make your selection before opening the door. You can't go wrong with any of their fresh salsas, but the gold-medal winner is the color of an avocado slice. It may be criminally cheap, but please leave some for others to enjoy.
Red Salsa
Readers' choice: Dos Gringos, 1015 University Dr, FW
Critic's choice: Original Mexican Eats Café, 4713 Camp Bowie Blvd, FW
Possibly laced with crack, or some other highly addictive drug, the Original's salsa has been the standard-bearer for spicy, fresh brilliance for several decades. There is also a bottled version of the sauce sold at the restaurant, but for the full preservative-free experience, buy it by the pint or sit down and swill it by the gallon.
Wings
Readers' choice: Buffalo Wild Wings, 5601 S Hulen St, FW
Critic's choice: Buffalo Bros, 3015 S University Dr, FW
From the frozen North (well, Buffalo, N.Y., anyway) comes chef Ed McOwen, who has partnered with another classically trained chef to create Buffalo Bros. (McOwen works with Jon Bonnell at Bonnell's Fine Texas Cuisine as well as partnering with him at the TCU-area wing spot.) "The key to good wings," McOwen explained, "is fresh, never frozen" chicken. Buffalo Bros generously provides a large roll of paper towels at each table, and you'll use about half a roll per order. The hot wings are  spicy, with just enough burn. The wings also come in a sweet, slightly smoky barbecue version, as well as Cajun style and plain, all with homemade blue cheese or ranch dressing. Bonus: On "Wingin' Wednesday," 10 wings cost $5.
Bread
Readers' choice: (tie) Central Market, 4651 W Fwy, FW; Panera, 1700 S University Dr, FW
Critic's choice: Cheese biscuits, Red Lobster, multiple locations
No help for it. It may be a chain, but this place makes the best damned cheese-garlic biscuits you've ever put in your mouth. Fluffy, buttery, tender, piquant – and they just keep bringing them. Your granny didn't make bread this good.
Desserts
Readers' choice: (tie) Lili's Bistro, 1310 W Magnolia Av, FW; Reata
Critic's choice: Paris Coffee Shop, 704 W Magnolia Av, FW
When a Texan thinks of dessert, he or she thinks "pie." But sadly, there are only a few cafés left where pies are still made by hand in the kitchen early in the morning. Fortunately for Cowtonians, the best example in town, if not in Texas, is the Paris, where owner Mike Smith is in the kitchen before dawn, making pies to be ready just when he opens the doors at 7 a.m. Soon the display cases are filled with luscious chocolate, banana, and coconut creams finished off with mile-high meringues, fruit pies such as cherry and peach (described by one critic as the best this side of the Mississippi), and his very special pecan and pumpkin pies that show up on family tables during the holidays. Smith is following a family tradition that began in 1926 when the Paris first opened. While the breakfast and lunch offerings are always down-home good, it's the pies, the pies, that people remember – and what keeps folks coming back for more.
Sandwich
Readers' choice: The Great Outdoors, 3204 Camp Bowie Blvd, FW
Critic's choice: Chicken chipotle club, M&O Station Grill, 200 Carroll St, FW
Warning: This is not a sandwich to eat while you are driving. Hot, cheesy, incredibly flavorful, chef Danny Badillo's creation, with melted Swiss, bacon, and chipotle mayo, sends every other chicken sandwich you've ever had back to the coop.
Place to Dine Al Fresco
Readers' choice: Joe T. Garcia's, 2201 N Commerce St, FW
Critic's choice: Piola Restaurant and Garden, 3700 Mattison Av, FW
Piola's lovely, lush patio takes its mood from you – or, more precisely, from who you bring along. It can be casual and happy, like having a family meal in your own backyard, with plate after plate of lasagna and rigatoni delivered to umbrella'd tables next to climbing Boston ivy. It can be a romantic backdrop for a dinner à deux by the fireplace, where antipasto nibbles beg to be hand-fed to your sweetie. For after-work unwinding with friends, the rock waterfall kindly hushes the sound of tipsy giggles. Or go alone to lounge under the vine-covered pergola as if this were the garden of your own Italian villa – the Romanesque pottery, solicitous service, and fit-for-an-emperor risotto di mare will back you up there as well.
Appetizers
Readers' choice: Narah Café, 2896 W Pioneer Pkwy, Arl
Critic's choice: The Covey, 3010 S Hulen St, FW
You could make an entire meal just from the left side of The Covey's menu. Start off with the gator-stuffed jalapeños, then move to a "main" course like pheasant quesadillas or the Covey sliders with a garlicky mayo. In the mood for seafood? Choose blackened-lobster tacos, jumbo shrimp ceviche, or panko-crusted crab cakes. For veggies, add hot artichoke and spinach dip or the big trio of fire-roasted salsa, fresh guac, and poblano queso made with the Covey's own Texas Wheat brew. Share four or five of these full-flavor small plates with friends, and you'll have a deliciously diverse dinner – often for much less than the price of a pair of entrées.
Wine List
Readers' choice: Winslow's Wine Café, 4101 Camp Bowie Blvd, FW
Critic's choice: Lili's Bistro
Well-known as a great eatery for family lunches or intimate dinner dates, Lili's Bistro presents a smart selection of reds, whites, and a handful of rosés. The list crisscrosses the globe's vineyards, from California cabernets and Australian shirazes to Italian pinot grigios and four delicious and diverse chardonnays. The house wines, especially the pinot noir, make for a pleasant evening that's relatively easy on the pocketbook. We recommend the less traditional Luna Freakout White Blend from Napa Valley, an intoxicating blend of chardonnay, sauvignon blanc, and pinot grigio that's as graceful and dynamic as Lili's aged brick walls and sunlit rooms.
Place to Buy Ethnic Food
Readers' choice: Central Market
Critic's choice: Cho Saigon New Market, 2206 S Collins St, Arl
If you're used to  the squeaky-clean organics at Central Market, a place like Cho Saigon might really freak you out, but give it a chance. There are vegetables you've never imagined, a Vietnamese deli, and seafood so fresh it's still swimming in tanks in the back. They'll even fry it up for you.
---
Spicy Dish
Critic's choice: Bryan's Brutal Tacos, Spiral Diner
Vegans are not afraid to take chances, at least not at Spiral Diner. At first glance, the seitan mixture on corn tortillas and the side of guacamole may not appear so intimidating, but biter be careful! The infusion of chipotles, red peppers, and spicy onions gives these tacos a kick you won't be forgetting.
Fried Chicken
Readers' choice: Babe's Chicken Dinner House, 120 S Main St, Burleson
Critic's choice: Babe's
Picking the "best" fried chicken, around here anyway, is a loaded question. This particular comfort food is an integral part of Southern life, and no place does it better than Babe's. From the storybook architecture to the extra-friendly service, Babe's is the place to go for  old-fashioned fried chicken. They buy the best meat on the market and batter it in their version of secret spices. Then, in a bow to healthier eating, Babe's fries the goodies exclusively in canola oil.  The staff  makes the chicken in small batches to ensure that the first piece of the day and the last taste the same. The locally operated chain started in Roanoake and now has nine locations around North Texas.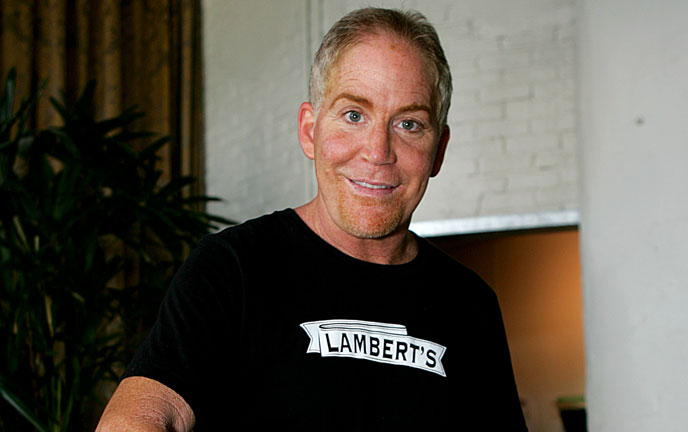 Wait Staff
Readers' choice: Scott Berkman, Lambert's Steaks, Seafood & Whiskey
Critic's choice: Scott Berkman
Scottie B, as he's affectionately known, has a following that would make most bands jealous. A veteran of the Fort Worth fine-dining scene, Berkman has been charming local foodies with effortless grace and boundless energy for well over a decade. He's one of a rare breed of servers who can read people – in other words, he's appropriately casual and funny or formal and efficient, as the guests dictate.
Car Food
Critic's choice: Taqueria Acapulco, 1515 N Main St, FW
Let's say you want lunch, but you're too lazy to get out of your pajamas, let alone the car. With those handicaps, you're pretty much limited to a fast-food chain, which will leave you with a huge bag of trash for your floorboards and the sheen of undercooked french-fry grease on your steering wheel. That's why you need to go to Taqueria Acapulco's drive-thru window. The tacos are delicious, filling, and cheap, and you can get a real Coke in a glass bottle – not to mention burritos and tortas, too. Better still, the tacos come in paper boats, which doesn't seem like a big deal until you realize you don't have lettuce and mustard all over your lap.
Place to Dine Alone
Readers' choice: Studio Movie Grill, 225 Merchants Row, Arl
Critic's choice: Zorro's Buffet, 4421 S Fwy, FW
Ever had one of those days, say, after a night of drinking, when you're so hungry you could eat an old work boot as long as it was fried and covered in gravy? On days like that, Zorro's is your place. Not because their food tastes like a work boot, but because there are tons of every kind of food imaginable. It ain't four-star, but it's quite good. But go alone if you're really planning to lower your head in the hog trough and gorge. It's less embarrassing.
Meat/Seafood Market
Readers' choice: Central Market
Critic's choice: Central Market
Yeah, we know. Too pat. Too expected. Ho-hum. Still, given that seafood in the Fort generally means tilapia, fried catfish, or popcorn shrimp, Central Market changes the game. You like mussels, oysters, clams, scungilli, calamari – and yup, we do – where else you gonna get them? Hankering for fresh lobster to kill or a nice slab of swordfish? How about Pacific halibut? Oh, partner doesn't like seafood? Cross the aisle and order up some black angus porterhouse, a rack of lamb, organic chickens, or homemade sausage. Get the picture? If you want a great selection of fresh meats and seafood, this is the joint.
Place to Buy Fresh Fruits and Vegetables
Readers' choice: Central Market
Critic's choice: Sprouts Farmers Market, 225 Randol Mill Rd, Southlake
Central Market and Whole Foods can't win this category every year, and this place up in the northeast has a good selection of organic produce in season. The vibe isn't as aggressively hip (the store pipes in oldies music), but the prices are competitive, all the products skew toward healthy living, and Sprouts also has a good selection of meats and cheeses to go with your greens.
Pan-Asian Restaurant
Readers' choice: (tie) Taste of Asia (multiple locations); Thai Tina's, 703 N Henderson St, FW
Critic's choice: Hot Bowl Café, 4021 Reggis Ct, FW
Appearances can be deceiving: Step inside this place located in a strip mall on the eastern edge of the city, and it looks just like an ordinary sports bar, with lots of TVs and a stripped-down chain-restaurant décor. Yet the restaurant offers both a delicious selection of pho and a menu of Chinese dishes that are served up in manageable portions and just enough sauce to flavor the entrée without drowning it. Green tea on ice and the Cowboys' game on TV are excellent accompaniments to your pot stickers and orange chicken.
Presentation
Critic's choice: Wasabi Sushi, 5443 S Hulen St, FW
Sure, presentation is an important part of the sushi experience – everything has to be aligned and paired up and sauce-squiggled just right – but it's not something most diners pay much attention to. Our eyes were opened during a visit to Wasabi Sushi: Apparently the sushi chef had set down one of our plates backward, so that the decorative snail, or possibly bunny, that had been fashioned from a lemon slice was facing (omigod) to the left. Luckily the hostess spotted the problem from across the room and swooped in to set things right. Believe it, after that we sure noticed how perfectly aligned and paired up and sauce-squiggled every Wasabi Sushi plate was. And yes, it actually did make the food taste even better.
Restaurant
Readers' choice: Mi Tierra Latin Fusion
Critic's choice: Lili's Bistro
Three years ago, only the pretentious (and the Weekly) were calling Magnolia Avenue and its handful of good eateries "Restaurant Row." That changed fast when longtime Fort Worth restaurateur Vance Martin opened Lili's Bistro in spring 2007. Lili's handsome, cozy room of original brick walls and half-tin, half-exposed ceilings, along with its creative menu of delicious twists on retro (wedge salad), modern (tenderloin with grilled pears), and global (wasabi scallops) dishes, quickly cemented Magnolia's place on the foodie map. Convival host Martin and exuberant chef Heather Hogan keep customer spirits high with good humor, a lovely wine list, and homey yet dazzling desserts. We're not waiting until the fall opening of his highly anticipated Cat City Grill, just a block east of Lili's, to dub Vance Martin the King of Magnolia Avenue.
---
Seafood
Readers' choice: Eddie V's Prime Seafood, 3120 W 7th St, FW
Critic's choice: La Tortilandia Mexican Restaurant, 1112 W Berry St, FW
La Tortilandia means "tortilla land," and true to its name, the restaurant's Mexican cuisine is second to none. But it's the recent addition of spicy, fried seafood dishes that makes this place a winner. If you get a hankering for something fishy and salty but don't want to pay $25 for a lobster tail, La Tortilandia offers cheap, delicious plates like the Torti Combo. This beautifully presented smorgasbord includes three fish tacos, two ceviche tostadas, three fried oysters, two shrimps, a salad, and a large dollop of creamy guacamole for $10.95. That's value. If that's not enough to tempt you, listen to the mariachis on Friday nights while drinking the $6 house margarita and throwing back a dozen oysters on the half-shell for $8.50.
New Restaurant
Readers' choice: Ellerbe Fine Foods, 1501 W Magnolia Av, FW
Critic's choice: Ellerbe Fine Foods
Judging by the wait for a table at this four-month-old restaurant, the people have spoken: Ellerbe is the new star attraction on a street full of dining stars. Restaurateur Richard King and chef Molly McCook fill their cheerful renovated 1920s gas station with stunning Californian-meets-Southern dishes born of the simplest of foodie fashions – farm-to-table dining, which uses seasonal, locally, or regionally grown ingredients for the best possible taste. McCook's understated preparation lets the foods' natural flavors shine, whether a simple salad of Brazos Valley blue cheese and perfectly ripe heirloom tomatoes or locally grown peppers and eggplant with fresh Louisiana shrimp. The wine list, too, is updated regularly to match the ever-changing menu. With its contemporary-casual setting, unpretentious service, and dazzling cuisine, Ellerbe is truly a breath of fresh air.
Chef
Readers' choice: (tie) Jon Bonnell, Bonnell's Fine Texas Cuisine; Keith Hicks, Buttons, both FW
Critic's choice: Lou Lambert, Dutch's Burgers and Beer, and Lambert's Steaks, Seafood & Whiskey
Growing up as part of a West Texas ranching family, chef/restaurateur Lou Lambert was connected to the concept of how animals and vegetables turn into dinner. But he became enthralled with the business of food during lunches with his grandfather at Odessa's white-tablecloth Lincoln Hotel. After stints in restaurant management, Lambert graduated from the University of North Texas' hotel and restaurant management program, then enrolled in the Culinary Institute of America in Hyde Park, N.Y. The rigor of the program helped bridge all the aspects of his informal training – sourcing the food, operating a kitchen, and blending the flavors of West Texas with traditional French cuisine. The menu at Dutch's is pretty much as advertised – burgers, sides, and beer. At his eponymously named White Settlement location, you'll find ceviche and house-cured meats, along with boar ribs, fried green tomatoes, and salmon smoked in his parking lot wood smoker. Save room for dessert: lemon pot de crème or comforting coconut cream pie.
French Fries
Critic's choice: Eddie V's Prime Seafood
Why would someone order fries at a fancy seafood place?  In this case, because someone has clued them in. The fries at Eddie V's are a spud above, but nobody quite knows why. Manager Rich Sabotowski says there's no real secret in the seasoning. Of course the fries, like everything else at this restaurant, are scrumptiously fresh. Perhaps it's the outside: The fries are crusty, almost breaded in texture. Perhaps it's the presentation: They come in a silver spiral cone lined with parchment paper that does double-duty, wicking off any excess oil.
Salad
Critic's choice: Iceberg wedge, Eddie V's Prime Seafood
When can a quarter of a head of iceberg lettuce be the best salad in Fort Worth? When it's served super-chilled on a practically frozen plate, accompanied by Maytag blue cheese, unbelievably fresh, beautiful tomatoes, a few chives, and possibly the best buttermilk blue cheese dressing on the planet. Get the dressing on the side, and you can assemble it yourself, with all its cheesy glory. It's not quite one of those meal-in-itself salads – not enough protein. However, it's reason enough to go to Eddie V's if you haven't already been.
Sausage
Critic's choice: Grilled Halloumi cheese, Lili's Bistro
The best sausage dish in the 817 doesn't even have that word in its name. The chefs grill chicken apple sausage with halloumi cheese (a mild, tasty white cheese that originated in Cyprus) that's been wrapped in roasted red bell pepper, then serve it all with herbed white beans and lemon garlic aioli. It's like beanie-weenies that have been to foodie heaven.
Host
Readers' choice: Vance Martin, Lili's Bistro
Critic's choice: Cef Zambrano, Zambrano Wine Cellar, 910 Houston St, FW
His reputation is expanding faster than a restaurant critic's waistline. The King of Spain wept upon tasting his tapas, gourmet pizzas, and seared salmon with lemon-dill sauce. His hands smell like spices from yet-to-be-discovered tropical islands. He won Sammy Davis Jr.'s smile in a kick-boxing match with one leg tied behind his back and Dean Martin's cool in a game of five-card draw while blindfolded. Archbishops call him "Your Grace." His carefully selected wine list includes bottles from alternate dimensions. His charm is insured by Lloyd's of London. Most important of all, my friends: Cef Zambrano, host of the ongoing cocktail party that bears his name, makes his guests feel like they're the most interesting people in the world.
Nontraditional Burger
Critic's Choice: Chicken and roasted green chile burger, Dutch's
The bun is sweet and soft, the Swiss cheese is tantalizingly gooey, the chicken breast is tender and juicy, and the mayo is herbal-icious. These are all great things when it comes to flavor, but what makes this nontraditional burger really reach out and tickle your taste buds is the large, roasted chile that screams, "Taste me! Love me! Devour me!"
Field of One
Critic's choice: Potager Café, 315 S Mesquite St, Arl
Potager's "pay what you think your meal was worth" policy certainly makes it unique, but that's not what makes it special. Thanks to owner Cynthia Chippindale, a Le Cordon Bleu-trained chef, this small, vibrant café is an Arlington pioneer in the use of locally grown, organic foods – many from her own garden, others obtained from local farmers and artisans. Always based on the best ingredients available, the no-set-price menu on one day might include a shallot-and-raspberry salad with tarragon chicken and goat-cheese quiche; on the next, caesar salad with black bean soup and fruit-glazed, hormone-free sirloin. In this relaxing atmosphere, the only challenge is calculating how much to pay for such a fabulous meal. We say, give it your all.
---
Soul Food
Critic's choice: Button's, 4701 W Fwy, FW
Traditionally, the "soul food" category is reserved for joints that aren't quite so upscale. But chef Keith Hicks and partners have worked dilligently to develop what Hicks calls his "house of love," where people come together to appreciate the universal beauty of soul music and soul food. While it may not include everything soul – no Kool-Aid here – the menu runs the geographical gamut of Southern eats. From the deep South, fried green tomatoes, fried chicken and watermelon salad, pork chops and ribs done several ways, collard greens, mac-and-cheese, corn cakes, and black-eyed peas. From coastal Mississippi and N'awlins, gumbo and shrimp-and-grits. Soul food and an environment that feeds the soul: Button's is replete with all that, along with a wicked Georgia peach cobbler.
Menudo
Critic's choice: Los Alamos Café, 1446 N Main St, FW
Restaurants tend to serve menudo only on weekends, because of the dish's well-known rep as a hangover cure. Well, that sucks. Sober folks like to eat menudo during the week for breakfast, lunch, or dinner. Los Alamos understands this and usually keeps its menudo available all week (and if they're out, they usually have posole, which is similar to menudo except with pork instead of tripe). Both are excellent at this little hole in the wall that's been owned and operated by the same family for more than 50 years.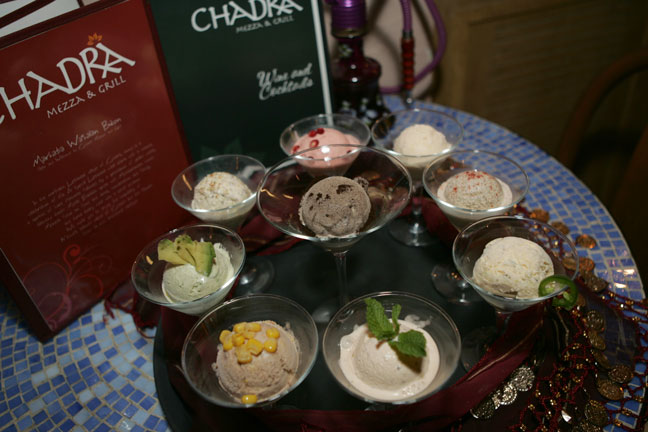 Ice Cream
Reader's choice: Marble Slab Creamery, 3000 S Hulen St,  Ste 151, FW
Critic's choice: Chadra Mezza
Chef/owner Nehme Elbitar is Fort Worth's own molecular gastronomist, working in the medium of ice cream. His rotating menu of essence-infused scoops includes a rosewater ice cream that smells like perfume and tastes like Valentine's Day; a comforting sweet corn and cinnamon flavor that recalls Grandma's Sunday casserole; a marvelously nuanced spice cream with top notes of cayenne and clove plus a dozen other zingers; and whatever else he might have dreamed up that day. Nehme cheerfully – he does everything cheerfully – takes suggestions for new flavors, though apparently he's still working on our request for lamb chop and hummus.
Buffet
Readers' choice: Zorro's Buffet
Critic's choice: Chadra Mezza
For our money, the best buffet deal in town – and by far the tastiest – is to be found on Friday nights at lovely, convivial Chadra Mezza. Start with garlicky hummus, smoky baba ghannouj, minty tabouli, and the wonderful house feta salad. Then it's on to Italian- and Lebanese-inspired entrées – the line-up varies, but favorites like penne alla vodka, grilled salmon, sirloin-stuffed eggplant, and the aptly named Heavenly Chicken make regular appearances. Save plate room for the glorious lamb chops, edge-charred for flavor, pink and juicy inside. If you've ever suffered the anxiety of choosing just one dish from Chadra Mezza's enticing menu, Friday night will set you free.
View
Readers' choice: Reata
Critic's choice: Magnolia Avenue restaurants
Magnolia Avenue continues to expand its stable of independent, non-chain eateries, and many are now offering sidewalk service, taking  advantage of the vibe of the area, where cyclists, roller skaters, and the trendy meander. So sit in front of any one of them – Nonna Tata, Lili's Bistro, Scampi's Café, the Spiral Diner – and sip some wine and watch the hipper-than-thou roll on by.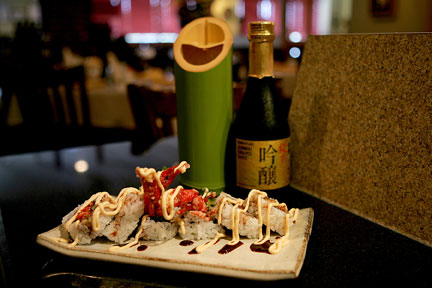 Sushi
Readers' choice: Sushi Axiom, 4625 Donnelly Av, FW
Critic's choice: Sushi Zone, 915 Road to Six Flags St E, Arl
In a field like sushi, where sleek and stunt-oriented are the norm, qualities like "comfortable" and "dependable" are sometimes the most important. Sushi Zone has fantastic lunch specials that combine rolls, tempura, and teriyaki or a variety of sashimi into one reasonable price. Their signature rolls don't come across as flashy experiments; items like the Wild Ginger and the I Love Sushi make yummy sense in terms of flavor combinations. Above all, everything is fresh. Sushi Zone feels like the place where you first fell in love with raw Japanese fish, the one you keep returning
Off-Campus Lunch Spot
Critic's choice: Joe's Pizza and Pasta, 3000 S Hulen St, FW
For students in Fort Worth, finding the perfect lunch spot can be as difficult as avoiding people in brightly colored Nike shorts. Lots of places qualify as decent student hangouts, but Joe's Pizza and Pasta on Hulen is one of the very few that caters to students from more than one school. Joe's provides a lunchtime haven to students from Arlington Heights and Paschal high schools  as well as TCU. A chill, no-frills atmosphere, good conversation, great pizza, and no fuss over parking, long lines, or elusive seating – what more could you ask? Even paying at Joe's is almost fun: For $5 you get two big pieces of freshly made pizza and a drink, and the prices are even lower for Horned Frogs. Joe's offers an escape not only from the cafeteria but also from the stress that the whole school day piles on. This is chillin', chilluns.
Quesadillas
Readers' choice: Dos Gringos
Critic's choice: Benito's, 1450 W Magnolia Av, FW
The quesadillas at Benito's aren't some mild appetizer or light dish for a quick lunch. They are knee-deep in melted cheese, stuffed with nuggets of crispy chicken, anointed with a spicy sauce. Forget dinner. You can die happy after a plate of these.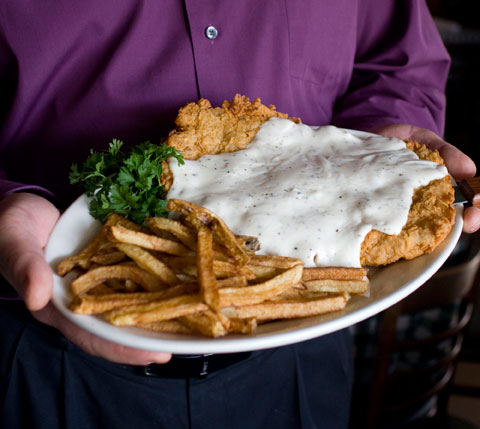 Chicken-Fried Steak
Readers' choice: Babe's
Critic's choice: Lucile's Stateside Bistro, 4700 Camp Bowie Blvd, FW
This platter-sized portion is not for the weak. The cube steak gets cozy with garlic before rolling in the spiced-up batter. The crisp outer shell makes up half the meal. Saturated with black pepper and paprika, it's downright delectable. The entire mess of bread and meat is topped with big, bold gravy; if you manage to eat even part of it, you won't be hungry again any time soon.
Best-Kept Secret
Critic's choice: LightCatcher Winery, 6925 Confederate Park Rd, FW
You'll have one of those "It doesn't get any better than this" moments sitting on LightCatcher's lovely, breezy patio overlooking lush gardens, listening to live jazz (if it's the first or third Sunday of the month), sipping a glass of one of LightCatcher's award-winning wines, and dining on sublime bistro dishes. The small menu changes frequently to take advantage of the best fresh, local produce, but in owner-winemaker-chef Caris Turpen's hand you'll never go wrong, whether she's dreamed up an asparagus-ricotta tart, smoked duck with fig jam and pearl couscous, or an orange panna cotta with dark-chocolate sauce. How have you never heard of this marvelous place? Well, mostly because you actually have to drive through two other towns to get there. But for lovely scenery, amazing food and wine, and sometimes even legendary jazzbo Johnny Case on the ivories, LightCatcher is well worth the trip.
Mariscos
Critic's choice: La Playita, 3025 Cleburne Rd, and 4200 S Fwy, Ste 1630, both FW
Not only does La Playita offer an ocean of preparations in Mexican style, it does so until 4 a.m. on weekends. Ka-ching for Southside late-nighters! One can choose anything from vuelve a la vida (shrimp, oyster, octopus, and ceviche) to filete a la diabla (white fish in a fiery chipotle sauce). All the mariscos are as fresh as possible and prepared authentically. If the abundant menu and a glass of fresh horchata aren't enough to satisfy, the restaurant also offers karaoke on Fridays and Saturdays.
Cheap Groceries
Critic's choice: Town Talk Foods, 121 N Beach St, FW
You know those pints of gourmet ice cream that go for $3 or $4 at Central Market? You can get them here for $2 or less. This unassuming venue on the North Side has its drawbacks (chief among them being closed nights and Sundays), but the goodies   are at cut-rate prices, and they range from Indian food to chocolate Skittles. If you want Dean & DeLuca fare at Costco prices, this is the place.
Carb-loading
Critic's choice: Ginger Brown's Old Tyme Restaurant, 6312 Lake Worth Blvd, Lake Worth
Carb lovers find happiness from the moment they place an order at Ginger Brown's, because the first thing that arrives at the table is a delicious basket of hot, buttery, soft rolls. Then, after a meal of homestyle cooking (think plenty of deep-fried goodness and butter-soaked veggies) each diner receives, free, a decadent, gooey, tasty cinnamon roll for dessert.
Fast Food
Critic's choice: Pollo Campero, 2830 SH 121, Euless
Pollo Campero looks like any monster-chain fast-food outlet – fluorescent lights, bright orange and yellow plastic booths, and cartoon renditions of the animal you're about to enjoy. The similarities end when your order is delivered: lightly spiced, crispy-outside, juicy-inside fried chicken with sides like sweet plantains, yuca fries, and black beans. All taste freshly made and are astonishingly good. Fast food from heaven? Actually, from Guatemala – now in 12 countries and spreading fast all over the world. Look out, KFC.