Fort Worth Symphony Orchestra's commitment to new music continues this weekend. Oh, Dvorák's "From the New World" Symphony will be played as a sop to the traditionalists in the crowd, but the rest of the program will feature the music of a composer who's not only very much alive but also a woman.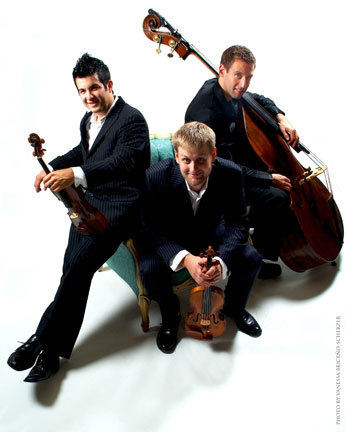 Jennifer Higdon is a 46-year-old Brooklyn native who grew up in Tennessee and initially studied to be a flutist. Though she's been composing since the 1980s, she found widespread recognition only recently, with a series of large-scale works that showcase her talent for creative orchestration. Her music isn't always deep (actually, some of her critics would say that it's never deep), but she draws jewel-like colors from the orchestra's various instruments. Her music also usually offers pleasure without grandstanding.
In addition to her Machine, FWSO will also play her Concerto 4-3, named after Time for Three, the string ensemble for which the piece was written. The trio (violinists Zach De Pue and Nick Kendall, plus double bassist Ranaan Meyer) will join FWSO to perform the piece, a little more than a year after the Three premiered 4-3 in their adopted hometown of Philadelphia. These vigorous young musicians like to mix bluegrass stylings with classical interpretations, and their energy should open a few ears to the possibilities of contemporary music. The tickets are at bargain rates, too, so you can hear this new music for the price of watching a movie.
Fort Worth Symphony Orchestra performs Fri-Sun at Bass Performance Hall, 555 Commerce St, FW. Tickets are $9-78. Call 817-665-6000.