A major element of Fort Worth Symphony Orchestra's renaissance in this decade has been the willingness of conductor Miguel Harth-Bedoya to program and promote esoteric contemporary fare, giving Fort Worth audiences a periodic taste of the latest developments in the world of orchestral music. A couple of months ago, FWSO put out two CDs' worth of its efforts in this area.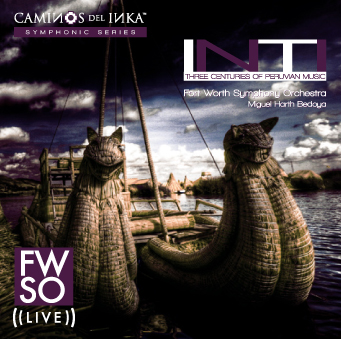 The Composer's Voice came out in July, spotlighting two contemporary composers who've worked with the orchestra. Three Centuries of Peruvian Music was released later, and it's part of the Caminos del Inka concert series that features music from Latin America. Both discs are worth listening to, but one of them comes off better than the other.
One work is on both discs, Gabriela Lena Frank's Elegía Andina, a simmering 12-minute piece written in 2000. In her maiden attempt at composing for a full orchestra, Frank uses the orchestra's full sonic resources to evoke the majesty and grandeur of the Andes mountains, but she also makes innovative use of wood blocks to provide some Peruvian character in the percussion section. Her striking writing for the flutes is meant to mimic the distinctive sound of Peruvian panpipes. On The Composer's Voice, this work is paired with Frank's Leyendas, an orchestral suite that's built on a miniaturist scale. The contrast is instructive, though Leyendas isn't nearly as interesting on its own.
One thing The Composer's Voice sorely lacks is a set of liner notes. We'd like to know more of the story behind Kevin Puts' "Vespertine" Symphony No. 3, which was inspired by the Björk album of the same name. That and his Violin Concerto are Puts' contributions to the disc, and they're both pleasant, if not overly memorable. "Vespertine" tags its movements with snatches from Björk's lyrics, though the piece doesn't actually quote her music beyond that. Puts does a fair job imitating the airy textures of Björk's orchestral music, but his music misses her rapture and angst. The Violin Concerto owes a heavy debt to Samuel Barber's similarly titled work, and though it's played impeccably and sensitively by FWSO concertmaster Michael Shih (for whom it was written in 2006), it's not overwhelming either as an emotional experience or a virtuoso exercise.
If you're going to buy only one of these CDs, it should be Three Centuries of Peruvian Music. That's not to say the disc doesn't have some dead weight: The opening selection, Enrique Iturriaga's Sinfonia "Junín y Ayacucho: 1824," is a 1974 piece written for the official Peruvian government celebrations commemorating the battles for that country's independence, and it's dull and dutiful in the way that patriotic music tends to be. But the disc is also loaded with fascinating stuff like Baltasar Martínez y Compañón's Colección de Música Virreinal, an 18th-century orchestral suite written by a bishop who heard the indigenous music of northern Peru and turned it into a set of dances that his contemporaries like Mozart would have recognized. Harth-Bedoya and FWSO do full justice to both Armando Guevara Ochoa's silky Vilcanota and Jimmy López' Fiesta!, which (cheesy title aside) nevertheless recalls Leonard Bernstein's Latin-inflected compositions in its rioting, eruptive colors. Iturriaga's Obertura para una comedia, which shows off the composer to much better effect, brings the disc to a fizzy end. — Kristian Lin
TART
Riding The T throughout November will give riders discounts at the local big three art museums in the Cultural District: the Amon Carter, Kimbell, and the Modern. Since admission to the Amon Carter and Kimbell is free, riders will get 10 percent off gift-store purchases. The Modern will knock $2 off regular admission prices for bus riders.
"The Cultural District is one of [the city's] most popular destinations," said T president Dick Ruddell. "Nearly half a million people visit each year. We wanted to remind the public that riding The T is an easy and affordable option for visiting the museums."
The partnership might not seem like much, until you realize that there's a huge disconnect between the museums and the average T passenger, who, at least according to persistent anecdotal evidence, probably lives in an impoverished neighborhood. As Fort Worth City Council member Kathleen Hicks told the Weekly in 2008 ("Arting Up," April 23), "I'm proud of the Cultural District," she said, though many Fort Worthians in poor neighborhoods "don't have access to it, and they don't feel comfortable there."
What the museums stand to gain is not only a greater sense of engaging the entire city — and not just the upper-crust — but also increased foot traffic and potential new members.
To promote the partnership, images of three iconic pieces of art from the museums' permanent collections will be displayed on the sides of three buses.
— Anthony Mariani
Contact Kultur at kultur@fwweekly.com.