It's no secret that The Nutcracker's great box-office appeal is a fabulous boon for dance companies. In a recent newspaper interview, New York City Ballet director Peter Martins said that his company's month-long series of performances accounts for about 40 percent of NYCB's annual budget. Margo McCann, managing director of Texas Ballet Theater, puts the income from her company's Dallas and Fort Worth performances at just over a third of the budget.


Arlington's Metropolitan Classical Ballet, which canceled everything planned this season except for the Tchaikovsky classic, derived all of its performing income this year from two weekends of performances in San Antonio, four public performances in Arlington, and a marathon of student matinees performed in front of more than 10,000 young people bused in from school districts in Plano, Garland, Arlington, and other North Texas areas.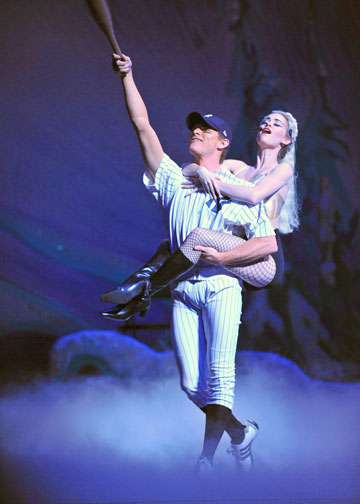 The Christmas staple also gives many young dancers a first chance onstage. (The late choreographer George Balanchine made his stage debut as a student in a Nutcracker presented by the old St. Petersburg Imperial Ballet.) And youngsters in the audience get their first taste of ballet in a fun-filled package. They're tomorrow's adult ballet-lovers in the making.
Ballet Frontier, the performing wing of Ballet Center of Fort Worth, offered the first Nutcracker out of the chute this year. In Frontier's modest, professional-looking production staged by company director Chung-Lin Tseng in Will Rogers Memorial Auditorium, young dancers Lainey Logan and Paul Adams, on loan from TBT, were engaging in the grand pas de deux, and the whole corps was dressed in dazzling costumes.
MCB also managed a captivating Nutcracker, despite reduced forces this year. Male relatives of the cast were pressed into service as non-dancing guests in the party scene, and company co-director Alexander Vetrov came out of retirement to act as host, performing some pretty energetic movements. Company regular Oleksandr Kryvonis was the magician Drosselmeyer in the first act and returned in the second for some fast costume changes to dance the Spanish and Russian numbers. Kudos to Maiko Abe for her striking performance of the Mouse Queen Mother and for her exuberant solo dancing in the Waltz of the Flowers. The husband-and-wife team of Andrey Prikhodko and Marina Goshko added luster to the final pas de deux.
The event was an encouraging come-as-you-are family affair, with what looked like hundreds of youngsters and toddlers in attendance, all on their best behavior. Everyone was probably enticed by the low admission prices — $30 was the highest ticket — as well as the show's fine reputation.
The granddaddy of all area Nutcrackers each year is TBT's luxurious $1 million production that rivals any in the country. Choreographed by artistic director Ben Stevenson and featuring his stable of first-class dancers, the show is an annual must. The 2009 version celebrated the company's debut in the new Winspear Opera House in Dallas. Unfortunately no Dallas donor came forward to finance a live orchestra for the occasion. (Last year in Fort Worth for the local premiere of Stevenson's setting of the Mozart Requiem, the Garvey Foundation underwrote the hiring of the Fort Worth Symphony Orchestra, Schola Cantorum, and four vocal soloists.)
No underwriter and the number of empty seats suggested that more outreach needs to be done in Dallas. Regardless, opening night was a success, earning a rousing ovation. Leticia Oliveira was a brilliant Sugar Plum Fairy and continues to amaze with her fluid technique and musicality. Triple turns in fouetté sequences were tossed off with ease, and her balance en pointe is becoming legendary. She was ably partnered by Eddy Tovar, a company newcomer who is still feeling his way in the company but has energized his solo work dramatically since his first appearance earlier in the season.
In Fort Worth at Bass Performance Hall, where attendance was strong, Carolyn Judson danced the Sugar Plum Fairy and proved that she's growing into the role nicely. She was partnered by Lucas Priolo, a strong dancer who has blossomed into a fine stylist over his years with the company.
Special this year was a one-night-only spoof of the ballet called The Nutty Nutcracker, a novelty created by Stevenson that had everyone at Bass Hall howling by the final curtain last week. After a recorded jazz version of the overture, the curtain went up on a darkened parlor with a blackened Christmas tree and, dead center, the Addams family. Their arriving guests included everyone from a Texas farm couple to Madonna, a Dallas Cowboys cheerleader, Michael Phelps in bathing cap and tights, Tiger Woods, Alex Rodriguez, Lady Gaga, President Obama as Drosselmeyer — complete with black-suited security detail — and, among others, infamous party crashers Michaela and Tareq Salahi, who were promptly escorted offstage by security.
Then the boxes with toy dancers arrived. Out from the first exploded Michael Jackson (guest Mauricio Canete), who went into a blistering, crotch-grabbing routine. From the other came Tina Turner (guest Lauren Anderson from the Houston Ballet, Stevenson's former company), who had the whole house rocking with a supercharged version of "Proud Mary."
Later, when screens parted to reveal the Sugar Plum Fairy, she was busy sitting in Santa's lap. At one point, she became startled. She hopped up and tripped, falling face down on the floor in a pratfall worthy of Carol Burnett. Stevenson himself appeared briefly in a farmer's outfit with a watering can to anoint the flowers in the Waltz of the Flowers sequence. In between and after was one delicious gag after another that made for a joyous evening that I hope will be repeated and updated every year. Be there if it is.