Every year for, like, the past 30, the country's oldest alt-weekly, the Village Voice, has polled more than 1,000 music critics across the country on their choices for the top 10 albums and top 10 singles of the year. And every year since lordy knows when, both Ken Shimamoto and yours truly have been voting members of the far-from-elite club.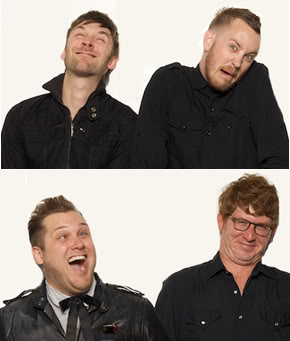 In the singles category, nine out of my 10 choices are non-local, which might surprise you, considering that I write about local music for a living and that, well, I don't normally care about national bands. I listen to them only to be able to detect their presences in local bands' music. But voting for songs that no one outside of North Texas has probably heard would seem to miss the point of the poll. If every critic voted only locally, then no album or song would win; or, rather, every album and song would win with only one or two votes apiece. The lone local entry in my singles list, The Burning Hotels' "Austin's Birthday," is there because it's awesome. But more than that, I also listed the blistering, hyper-melodic track because it has received some airplay outside of North Texas and also because the band made a cameo in a major motion picture last year — my thinking is that perhaps some young, wide-eyed Yankee perusing my list over some coffee and a piping-hot-fresh Absolute Bagels cream-cheese-and-tomato-on-poppy-seed will recall the cameo and think to look up the Hotels online. Were I simply to list my favorite songs of the past year, I no doubt would have included three locals: Fate Lions' "The Girls Are Alright," Rivercrest Yacht Club's "The Tuck," and James Hinkle's "Ball and Chain." (For a look at some of my favorite local songs of the past year and then some, check out my column entitled "The Decade's Best," Dec. 30, 2009.) So. Here are just 10 of my favorite singles that came out over the past year or so: In addition to "Austin's Birthday," there's Peter, Bjorn, and John's "Nothing to Worry About," Heartless Bastards' "The Mountain," The Great Northern's "Houses," Jack Peñate's "Pull My Heart Away," MGMT's "Kids," Röyksopp's "Happy Up Here," Spinnerette's "Ghetto Love," The Decemberists' "The Rake's Song," and Yeah Yeah Yeahs' "Zero." The top 10 albums category was a little different. I couldn't not vote in the category — the electronic ballot wouldn't let me. Otherwise, I would not have voted at all. I can't remember the last truly great album I heard, the last album that not only spit out solid song after solid good song but that also flowed from beginning to end. A Love Supreme maybe. Or The Queen is Dead. Or Caress of Steel. Alas, I was forced to make at least two choices. My picks, perhaps not surprisingly, were local: Telegraph Canyon's The Tide and The Current and Eaton Lake Tonics' Rancho Folly IV, two albums that come about as close to "great" as possible to my super-critical ears. For the results of the entire Pazz & Jop 2009 critics' poll, visit www.villagevoice.com.
Contact HearSay at hearsay@fwweekly.com.