Fort Worth movie fans may well remember The Scenesters as the opening selection of the Lone Star Film Festival last November. Now the movie's enjoying a new wave of interest, having been screened at the Slamdance Film Festival in Park City, Utah, this past weekend. If gaining entry into that prestigious festival isn't enough, Slamdance is also making the film available for download through its Xbox and Zune platforms for one week only, starting on Wed., Jan. 27.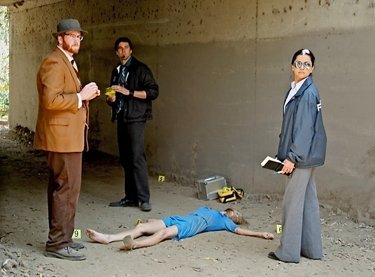 It's heady territory for Keller product Kevin Brennan, one of the film's stars. Speaking from the filmmakers' lounge at Slamdance, he was clearly pumped, having just come from the screening of his movie to a packed house. "There were people sitting in the aisles," he reported.
It's not his first time at the famed Utah ski resort because he has relatives living there, but it is his first brush with the crowds brought by Slamdance and the parallel Sundance Film Festival. "The difference is just crazy," he said. "I think the population has increased by about 500 percent."
Born in Chicago, Brennan moved to North Texas when he was a boy and acted in shows at Keller High School. After graduation, he majored in radio, TV, and film at the University of Texas at Austin, where he met writer/director/actor Todd Berger. Brennan then went back to Chicago to learn his stagecraft at Second City, where he joined an improv troupe with Jeff Grace and Blaise Miller. ("In Chicago, you can't spit without hitting an improv comic," said Brennan.) It wasn't until the four of them had all moved independently to Los Angeles that they got back together and formed the comedy troupe The Vacationeers.
They had already made a few short films together before they decided to leap into features with The Scenesters, a black comedy about a serial killer knocking off smug L.A. hipsters. Berger is the credited writer and director, but the film is the product of all four members of the troupe. "It was a much bigger circus," Brennan remembered. "We would hold the boom mic on our [short films], but on a feature we had dedicated DPs and sound guys. It was a huge help that [the four of us] had worked together on our [short films]. We had a shorthand with each other. It was a shockingly smooth shoot."
The Vacationeers look to be stepping up, not just with the film but also with their two most recent shorts. Both feature Hollywood star Julia Stiles. "She was dating a friend of mine, and she happened to see our stuff online and wanted to do something with us," said Brennan, who calls her "amazingly cool."
She can be seen in The Vacationeers' Excuse Me, which screened at LSIFF before The Scenesters, and also parodying clueless celebrity activism in their short Julia Stiles Helps the Environment More Than You.
The troupe is now busy working on a DVD compilation of their shorts and pitching a TV show to various networks. In the meantime, Brennan is grateful for having had the chance to bring his film back to the place where he grew up. "It was so awesome coming back," he said. "I got to talk to the drama class at Keller High School, and [LSIFF] treated us like kings. I'd go back in a heartbeat."
One Square Mile Goes On
New York City joins Smith Center, Kan., and Como as the third location of Brazos Films' documentary TV series One Square Mile (see: "Local Films Shine," Nov. 4, 2009). On tap are segments on Kennard, Texas; Barrow, Alaska; Stockton, Calif.; Miami, Fla.; Gloucester, Mass.; and Nogales, Ariz. Each segment concentrates on an area roughly one square mile in size. A 10-minute trailer for New York is up now at www.onesquaremile.tv.
"We do feel that One Square Mile provides a unique perspective of what it means to be an American," said Carl Crum, who owns Brazos Films with wife Betsy Crum. "It strips away a lot of the preconceived notions that people seem to have about how others think and view the world around them. Collectively, the square miles create a patchwork of contemporary American culture."
Brazos Films focuses mainly on commercial work. But the Crums have always been inspired by documentarians such as Errol Morris and the Maysles brothers and have always dreamed of producing socially conscious films. A little more than a year ago, the Crums began work on their first documentary, on Como. They have been using their own money but hope to land a grant. They ultimately would like a reputable broadcast venue such as PBS to pick up the series.
The Como doc is the only one that's been completed, and it's about 40 minutes long. The documentarians expect each film to be about an hour in length. They will be content to produce only 10-minute trailers for the docs on Smith Center and New York until additional funding is secured. "We only have the budget to shoot for a few days and edit a short version of these films," Carl said. "We hope that the trailers at least showcase what we are trying to do."
Until additional funding comes in, the forthcoming Kennard trailer will likely be the last in the series for now. "We have to work on paying film jobs at the same time we are doing these documentaries," Carl said. "While One Square Mile is on the forefront of our minds, we also have bills to pay." – Anthony Mariani