Family-owned, off-the-beaten-path Mexican food restaurants have certain admirable traditions to uphold. The food should conjure images of a Mexican grandmother starting from scratch and toiling for hours over a hot stove. The décor should include pictures of grandchildren and at least one porcelain statue of the Virgin Mary. Picosos Mexican Restaurant, tucked away off Jacksboro Highway, satisfies all of those criteria and then some.
The orange-red building sits high on a hill, and, despite being visible from Jacksboro, is still a little tricky to find. The place casts its modest shadow over a strip mall that includes a bingo parlor and church.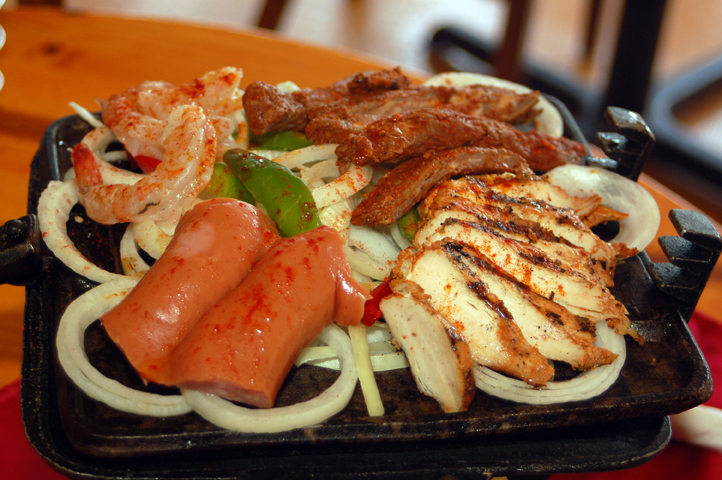 The décor is as quirky as it is charming, as if the owners picked a page out of a Mexican restaurant décor catalogue and decided to add rustic flourishes. The stone walls in the spacious, multi-roomed building are decorated with Old West bric-a-brac. The patio, by contrast, looks as if it had been ripped from a Garden Ridge showroom and set in a Pueblo Indian reservation, replete with a stone waterfall, an immaculately landscaped lawn, and dozens of flower pots. Imagine what the food court at a Mexican-restaurant theme park might look like.
Picosos is every bit a family affair. The only server on one mid-afternoon weekday visit was the owner's daughter. Kids, who may or may not have been customers, ran amok, racing up and down between tables, but the overall effect was more homey than annoying.
The service was prompt and friendly, and the server gave good suggestions and descriptions. The menu is nothing fancy but offers a pretty wide range of hearty comfort food, from traditional Mexican standards to Tex-Mex favorites plus chicken wings and kabobs.
The guacamole appetizer was generous but could have used more seasoning. The accompanying chips were a bit stale, and the salsa was very soupy and relied heavily on black pepper for kick. The course was saved by the house-made tortillas. Both the corn and flour varieties, made fresh daily, were warm, flavorful, and filling.
The sour cream chicken enchiladas (the server's suggestion) were nothing short of luxurious: shredded chicken wrapped in the house-made corn tortillas, topped with a rich sauce, still bubbling with heat. The accompanying beans were liquid-y but nice and fatty, and the rice featured little bits of veggies and tasted of chicken broth. The beef relleno, in a fresh-tasting poblano pepper, was also generously portioned. The beef lacked spice, but the deficiency was overcome by a red sauce that was subtle and tangy and proved to be a nice complement.
Clearly, the owners of the two-year-old restaurant care about quality ingredients and genuinely want guests to feel comfortable and have an enjoyable gustatory experience. Though there are still some kinks that need to be worked out –– namely the overall lack of spice –– Picosos offers up an honest-to-goodness meal at a decent price. And in the end, isn't that what every Mexican grandmother would want?
Picosos Mexican Restaurant
1950 Menefee Ave, FW. 817-420-9300.
10:30am-9pm Sun-Thu, 10:30am-10pm Fri-Sat.
All major credit cards accepted.
__
Beef rellenos $7.95
Guacamole appetizer $5.95
Sour cream chicken enchiladas $7.95