In what could be termed a bit of an overreaction to the subpar sub it had last week, over the weekend Chow, Baby was driven to have itself some real sandwiches — 550 miles from here. Domilise's is an old-school corner bar and po-boy-erie in Uptown New Orleans, not far from Chow, Mama's house; the gourmet-dive Crabby Jack's is located — as they say on the new HBO series Tremé but as nobody in the real New Orleans would say, at least not quite this way — "just across the parish line on Jeff Highway."

But Tremé got everything else right, as opposed to the last New Orleans-set series, Fox's K-Ville, with its invented "gumbo parties." Do you go to "stew parties"? Puh-leez.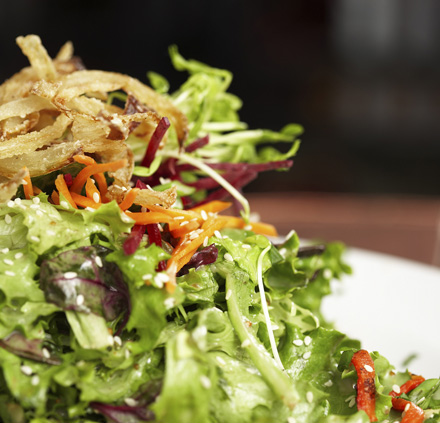 As cool as it was to watch Tremé with family members drowning out the dialogue with shouts of "Ooh! I know him!," the other main reason for the weekend run was the annual French Quarter Fest, which used to be the Jazz Fest alternative for locals. By now all our wonderful and welcome tourists have discovered it too, so it's just as jam-packed as its older brother, but the great music stages and local-restaurant food booths are worth fighting the crowds for. Point finally being, Chow, Baby is still massively overstuffed from real sandwiches like oyster po-boys, duck po-boys, smoked-sausage po-boys, and fried green tomato with shrimp remoulade po-boys, not to mention shrimp-stuffed mirliton, alligator-sausage cheesecake (you heard me), shrimp and grits, oysters bonne femme, and so much more. No room at the tummy inn for Chow, Baby's usual back-in-Texas celebratory meal of barbecue and chicken-fried —what else we got?
Salads? Rarely Chow, Baby's first choice for a meal, especially in Cowtown, but it turns out they can be pretty satisfying. At the Vault (525 Taylor St.), Chow, Baby and its equally greens-wary companion first attacked the seafood Cobb salad ($11.95), starring a handful of Dungeness crab, very nice. After a seafood-based road trip, Chow, Baby always has a tough time getting re-used to once-frozen teeny shrimp, but man, Texas wins the bacon wars every time, here with a generous sprinkling of the savory apple-smoked variety. The best part of the ahi tuna salad ($12.95), with shiitake mushrooms and mixed greens, was the sparkly cilantro/garlic/soy dressing; the tuna could have been more prettily seared, but was nonetheless tasty. Turns out salads can be filling too, so we just picked the pina colada-crusted pecans from the pretty Tropical Breeze salad ($10.95) and saved the dried cranberries, julienned veggies, and smoked provolone shreds for a midnight snack.
Over at Piola (3700 Mattison Av.), whose soothing, hushed patio is one of Chow, Baby's favorite spots in the spring and most other seasons, the gotta-get salad is the lobster avocado ($9.95). No girlie greens here, just a dice of the headlining ingredients with tomatoes and red onions in a creamy tarragon dressing. Chow, Baby dares to say it might even be as yummy as Piola's popular Mediterranean salad ($7.95), and a tie with, if you must have mixed greens, the warm goat cheese salad ($8.95) with pecans and jalapeño dressing. All these are deliciously pushing the limits of Chow, Baby's leftovers fridge, currently stocked with the proceeds of its customary last stop on the trip back, chicken and andouille gumbo from the Boudin Shop in Breaux Bridge, La. Gumbo-and-salad party, anyone?
Contact Chow, Baby at chowbaby@fwweekly.com.