One of the things I love about going to North East Mall is driving around for hours trying to find the freaking exit to the place. The strip malls all around are just so scenic! Ugh. Someone needs to tell whichever conglomeration owns the mall to put up some damn exit signage somewhere on 820. I mean. Seriously.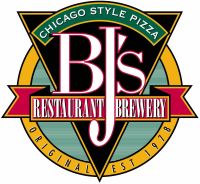 Once you get in the general vicinity of the mall, you have your choice of mainly chain establishments. Now, I'm a yokel just like you, and I prefer independently owned business. But after driving around for hours in a Chain Wasteland trying to find freaking Shambalah, you've gotta stop somewhere to fuel up. My advice: Pick the least of all evils.
In that neck of the woods, you could do a helluva lot worse than BJ's Restaurant & Brewhouse, one of three BJ's in Tarrant County –– the others are in the Arlington Highlands Lifestyle Center and at Alliance –– and one of, like, a zillion nationwide. The one by North East Mall is kind of like a bigger, more sports-bar-ish Covey. Just about every piece of furniture inside is made of sturdy reddish-brown wood, which nicely frames the glow of both your beer and the rows upon rows of tapheads behind the bar. Along one long horizontal ribbon of silver metal glimmer the heads of more than 50 brands, including Blue Moon, Fat Tire, Paulaner, Newcastle, and Shiner.
True to BJ's name, the place also brews its own beer –– though not on the premises. BJ's-Hurst is located in a dry part of the county, which means the beer has to be brewed at another BJ's location. No biggie. The BJ brews that the wife and I sampled were pretty dern good and definitely made the three hours that we had spent driving in circles seem, well, not all that hellish.
The Brewhouse Blonde, modeled after a German Kolsch and 4.7-percent alcohol by volume, was slightly malty, and, like all blonde ales, a little metallic but really refreshing. The Piranha, an India Pale Ale, was hoppy but not overbearing. An equally nice balance was found in the Jeremiah Red: not too sweet and totally poundable.
BJ's food is also pretty good. It's not Covey-caliber but close enough and probably better than anything else in the immediate vicinity (including Master Wok, one of my favorite greasy-Asian fast-food joints, located in the mall's food court). The bruschetta came out as one long thin-but-fluffy-crust pizza loaded with fresh tomatoes, perfectly melted mozzarella, basil, and oregano. The blue cheese salad was a marvel of fresh romaine, bits of tomato and carrots, and chunks of cheese in a slightly sweet raspberry vinaigrette.
As satisfying as the beer and food were, you could say the service was even better. Our waitress Jillian was patient — at one point, as she stood over us as we were frantically deciding which BJ beer to order next, she made a novel suggestion. "How about some water?" she asked. Water, eh? The pressure –– of trying to order on the spot, of being tense from driving all around Hurst –– suddenly dissipated. Thank you, BJ's. –– Anthony Mariani
Bike Night: It's What's for Dinner
Are the same bikers going to all of the bike nights in town, or does every club have a different crew? I'm hoping it's a different crew, because there's no shortage of official and de facto bike nights in town –– you'd have to really like riding your motorcycle or be a clinical alcoholic to go to all of them.
One new bike night is at a brand-new place. When? Every night. Fat Boys Tavern on East Belknap Avenue also has darts, TVs, karaoke, Fat-a-ritas (frozen margaritas), and –– what? –– Wii bowling. –– A.M.
Contact Last Call at lastcall@fwweekly.com.
BJ's Restaurant & Brewhouse
950 Northeast Loop 820, Hurst. 817-284-2890.
Fat Boys Tavern
2805 E Belknap St, FW. 817-834-7974.