Whenever something challenging happens to poet and spoken word artist Tammy Gomez, she immediately asks herself one question: How can I turn this into art?


"That's how I perceive adversity," said the fortysomething performer. "I tell myself, 'If I survive this, it's going to make an awesome poem or a book.' "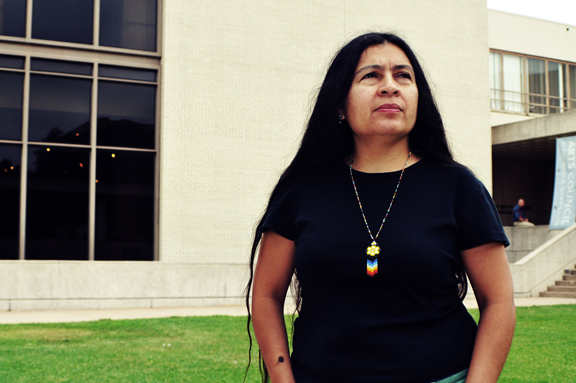 On Mother's Day 2008, Gomez got a big, nasty dose of creative inspiration when she accidentally locked herself in the small bedroom closet of her Fort Worth home. That may sound fairly mundane (not to mention hard to do), except Gomez lives alone. And she was preparing to go on a trip –– her packed bags were sitting by the front door –– so family and friends didn't expect to hear from her for days. The closet had no light bulb, and, when she tried to sit down, it wasn't large enough for her to stretch her legs all the way out. She spent more than two days in that narrow pitch-black space and was able to emerge only after gradually wearing a hole through the solid wood door with improvised tools. "It was instantly terrifying," she said. "I panicked and cried. But after I did that, I did other things. I conserved my mental and physical energy and searched for the right tools. The panic came back, but I tried to focus on the problem at hand."
And of course she started imagining what kind of artistic form the experience might take. Those 52 hours trapped in darkness have been transformed into Gomez's newest multimedia performance. Saliendo Abierta (Emerging Open) is being staged with the help of her artistic ensemble, Sound Culture, which includes live original music by Ramsey Sprague, digital images by Layne Calabro, lighting design by Cesar Hernandez, and set design by Christian Alvarez. Gomez performs a funny and frightened monologue that examines childhood fears, other people's survival stories, the awful reality of dissident writers wasting away in solitary confinement cells around the world, and the metaphorical potency that confinement carries.
Saliendo Abierta premiered last year in Austin and was also performed at WaterTower Theatre's Out of the Loop Festival in March. Her first full-length show, She:Bike/Spoke/Love –– about a woman rediscovering personal freedom as an urban cyclist –– debuted in 2007. Before that, Gomez had been writing mostly 10- and 15-minute solo pieces that she performed at festivals and events throughout Texas and in Guanajuato, Mexico and Kathmandu, Nepal. She lived in both cities –– and several others –– before returning to Fort Worth in 1998.
Born in West Texas, Gomez graduated from Paschal High School in the 1980s and studied psychology and pre-law at Goucher College in Maryland. She was already nurturing a fierce admiration for punk legend and poet Patti Smith by the time she started graduate work at Naropa University in Colorado. The small liberal arts school founded by Buddhist teachers included an intense interdisciplinary program created by the likes of Allen Ginsberg and John Cage. The endless possibilities of combining movement, music, visual art, and words really opened to her there. "I've always had this instinct to make spoken word performances more compelling, because just standing there and speaking into a mic was never very interesting to me," said Gomez. "I believe in accenting and embellishing poetry so people can take in more ideas from different channels."
She is also an independent publisher who's released two poetry anthologies under her own Tejana Tongue imprint as well as an activist who specializes in issues of feminism, class, and the environment. She's currently preparing short spoken word pieces to perform at rallies and demonstrations related to the anti-immigrant legislation in Arizona. Locally, she's seeking fiction and non-fiction submissions for an anthology that she will publish on CD, exploring the crossroads at which she believes Fort Worth stands: With so much commercial and high-end residential development happening, she sees little attention being paid to the cultural voices of the city's minority and marginalized communities.
Gomez also hopes to perform Saliendo Abierta later this year in San Antonio, Houston, and at next year's FronteraFest in Austin. At every show –– including her current run at Rose Marine Theater –– she displays the actual closet door with the hole in it and a glass container full of the wooden shards that she had to scratch away to gain freedom. People have an instinctual love for relics, she said, citing the mummified body parts of saints kept at some churches in Europe and Mexico. Even two years later, the experience of those 52 hours alone in the dark still haunts her. "I have a new, inordinate fear of anything that sounds like it's trapped, especially animals and children," she said. "I heard a comedian doing an impression of that scene in [the original 1958 movie] The Fly where the man is trapped in the spider web pleading 'Help me, help me' in that tiny voice. It still bothers me."
McCammon Awards and Rewards
Last weekend, a kaleidoscope of singers showed up for the Marguerite McCammon Biennial Voice Competition sponsored by the Fort Worth Opera Guild, from polished young professionals to beginners trying their wings. The finals of this 25th anniversary competition, in Bass Performance Hall, overflowed with riches. All 12 finalists this time had exceptional voices, and, more importantly, most had something to say.
The $10,000 first prize went to baritone Jonathan Beyer, already enjoying some success, singing Captain Gardiner in the Dallas Opera's recent world premiere of Jake Heggie's Moby Dick. In a sea of baritones, (there were five in the finals, plus one bass), Beyer stood out with a purity of sound and dramatic conviction that made Eugene Onegin's lament for a lost love, in particular, a standout. He also tackled the Minimalist, repetitive style of John Adams' Nixon in China, easily shifting through the rhythmic layers of the president's aria "News Has a Kind of Mystery."
Such was the level of talent that two other finalists, by rights, could have tied with Beyer. The $5,000 second-place winner, Kathryn Lemmhuis, was certainly first-class material. The mezzo-soprano's instrument is solid and compelling, and in arias from Bellini's version of Romeo and Juliet and Strauss' Der Rosenkavalier, her musicality and dramatic instincts were right on. And bass Nathan Stark, who took the $3,000 third-place prize, was in the same league. His singing of Sarastro's invocation to Isis and Osiris from Mozart's Magic Flute was nobility itself, with the clarity and power of his profundo low notes bordering on the awesome.
–– Leonard Eureka
Saliendo Abierta (Emerging Open)
7:30pm Fri and Sat at
Rose Marine Theater,
1440 N Main St, FW.
$10-15. 817-624-8333.