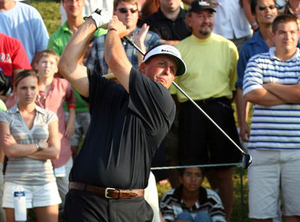 WED ? 26
The end of May means the Crowne Plaza Invitational, and with Tiger Woods nursing a sore neck and bruised public image (not that he ever played our city's tournament anyway), Masters champion and new favorite PGA golfer Phil Mickelson will be the headlining attraction for the 64th edition of Fort Worth's golf tournament. The tourney runs Wed-Sun at Colonial Country Club, 3735 Country Club Cir, FW. Tickets are $15-225. Call 817-927-4200.
THU ▪ 27
Texas Family Musicals puts on The Night the Music Died, a re-creation of the last concert played by Buddy Holly, Ritchie Valens, and the Big Bopper. We're still waiting for one of these nostalgia venues to re-create Kurt Cobain's last show with Nirvana. Or would that be too depressing? The show runs Wed-Thu at Palace Theater, 300 S Main St, Grapevine. Tickets are $25-29. Call 817-573-9191.
FRI ▪ 28
Based on its setting, in 1904, Gem of the Ocean is the first chronologically of the legendary August Wilson's 10-play The Pittsburgh Cycle. Gem, however, was the ninth play written and is generally considered less dramatically satisfying than his other works. But this story about a mystical journey toward a city in the middle of the ocean is still essential viewing for theatergoers who want the complete experience of Wilson's monumental cycle. The play runs thru Jun 20 at Jubilee Theatre, 506 Main St, FW. Tickets are $10-25. Call 817-338-4411.
SAT ▪ 29
Ten years after peaking, the Pokémon craze is still going strong, as evidenced by today's Pokémon Video Game Championship in Arlington. (Meanwhile, nobody holds conventions about Furbies.) The contest offers competitors in two age divisions the chance to go to the World Championships later this summer in Hawaii. Registration starts at 8am at Arlington Convention Center, 1200 Ballpark Way, Arlington. Admission is free. Call 817-459-5000.
SUN ▪ 30
Night & Day loves the taste of succulent duck, so we're particularly interested in the Ducks Unlimited convention taking place in Grapevine this weekend. The event features live music, an archery range, decoys, seminars, and a contest for calling ducks and geese. Which makes us ask the question, "Why doesn't anybody eat goose anymore?" The convention runs Fri-Sun at Grapevine Convention Center, 1209 S Main St, Grapevine. Tickets are $10-15. Call 901-758-3851.
MON ▪ 31
The end of May also means the start of Concerts in the Garden, and this long weekend features four different nights of shows. Mingo Fishtrap kicks things off on Thursday, Asleep at the Wheel follows on Friday, and Saturday features a salute to Glenn Miller and the big-band era. Tonight's concert strikes a more serious note, with Vocal Majority recognizing Memorial Day by paying tribute to fallen soldiers. The concert is at 8pm at Fort Worth Botanic Garden, 3220 Botanic Garden Blvd, FW. Tickets are $16-46. Call 817-665-6000.
TUE ▪ 1
Best known for his high-contrast black-and-white landscape photographs, Ansel Adams nevertheless went through an early period when he dabbled in non-landscape photographs and subscribed to Pictorialism, a movement stating that photography should imitate older forms of visual art such as painting and etching. The Amon Carter's new show, Ansel Adams: Eloquent Light explores this early part of Adams' storied career. The show runs May 29-Nov 7 at 3501 Camp Bowie Blvd, FW. Admission is free. Call 817-738-1933.