If people are still feeling the pinch of a troubled economy, you wouldn't know it by a visit last Saturday night to the recently opened Terra Mediterranean Grill in the West 7th Street development. A small line formed at the entrance waiting for an open booth or table as a packed house of diners happily splurged on traditional Greek-Lebanese-Syrian favorites like hummus, baba ghannouj, falafels, gyros, and kabobs.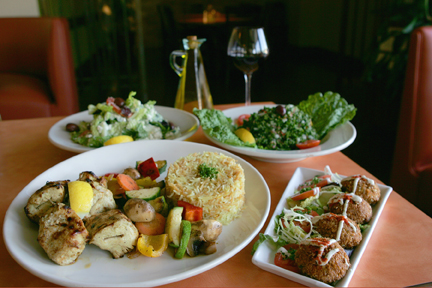 The pale brick, silver trim, and tan- and citrus-colored walls inside lent a bright ambiance to the noshing, but the Terra chefs could've served their fare inside a dark cave on an isolated Mediterranean island, and it would've tasted just as fantastic.
Poring over the small-ish and fairly predictable menu, we decided to try a couple of relatively unusual appetizers. Our risk-taking was rewarded. Rather than a plate of feta and olives, we went for the pan-seared haloumi cheese with tomato slices and green and black olives. Haloumi is a popular Middle Eastern white cheese made from a blend of goat's and cow's milk. It doesn't melt easily, retaining a pleasantly chewy texture. The pan-searing singed the edges of the triangular pieces to a light crispness. The flavor was salty, smooth, a little smoky, and totally addictive.
The lamb moussaka arrived looking like a flat rectangle of lasagna. The top was liberally sprinkled with juicy, tangy bits of ground lamb. Underneath were steaming layers of eggplant and sliced tomatoes studded with pine nuts. This scrumptious dish seemed to disappear in three or four quick bites and wasn't too filling.
Rather than sample the falafels, we went the carnivore route and ordered two pieces of fried kibbie. These were fat, teardrop-shaped cones made of cracked wheat, pine nuts, bits of white onion, and a generous core of medium rare-ish shredded prime rib beef. Deep-fried but not overly greasy, they were like hearty hush puppies for steak lovers.
The New Zealand lamb kabobs were spectacular. I'm always wary of ordering the cute little herd animal because it often appears on my plate as tough, dry, stringy pieces of mutton. At Terra, a pair of wooden skewers each boasted three large plugs of tender, juicy, silky lamb flesh that you could cut with a fork. A small dome of golden, long-grain saffron rice was mixed with just enough olive oil to give it a gorgeously sticky pilaf quality. A generous stack of roasted vegetables –– crisp zucchini, fresh mushroom caps, carrot and squash slices, and white onion –– made a simple but tasty sidekick.
Terra also hosts a weekday lunch buffet whose reputation is fast becoming legendary. With locations already open in Austin and Allen, a new and very delicious Mediterranean empire is conquering Texas one city at a time.
Terra Mediterranean Grill
2973 Crockett St, FW. 817-744-7485.
11am-2:30pm & 5-10pm Mon-Fri, 11am-11pm Sat. Noon-8pm Sun.
All major credit cards accepted.