Nearly 300 people –– all nominees in our 13th Annual Music Awards and their plus ones –– packed the Fort Worth Community Arts Center for our version of the Grammys, the Panthys, named after the panther-head trophy that winners receive. Highlights: the heartfelt acceptance speeches, especially by our hall of famers and especially by the hall-of-fame team of Wesley Hathaway and Richard Van Zandt, whose beloved Ridglea Theater will be closing after more than a dozen years to make room for a bank. Lowlights: We killed two kegs of beer — and several bottles of wine and sweet tea-flavored vodka — in under two hours.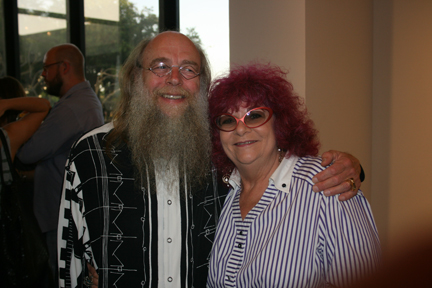 As I said at the event, everyone's pretty much a winner. Even bands that finished last in their respective categories still received hundreds of votes. Some winners had thousands. The increase in numbers of ballots cast is no doubt attributable to the snazzy online voting system that we installed last year. Now fans from all over the globe can vote — and do. According to Google Analytics, a software program that allows you to track the geographic location of your readers, we received votes from places as far afield as Russia (!) and India (?). How do you say, "Cowtown" in Hindi?
Now on to the winners. Telegraph Canyon and The Burning Hotels had the biggest night, winning three awards apiece. Telegraph won Artist of the Year, Album of the Year (The Tide and The Current), and Song of the Year ("Safe on the Outside"). The Hotels took home top honors in the categories of Rock, Rock Album of the Year (Novels), and Rock Song of the Year ("Austin's Birthday").
Rock – The Burning Hotels
Hard Rock – Stella Rose
Heavy Metal – Sweetooth
New Artist – Rabbit's Got the Gun
Live Performance –Pablo and the Hemphill 7
Avant-Garde/Experimental – Fungi Girls
Americana/Roots-Rock –Whiskey Folk Ramblers
Texas Music – Casey Donahew
C&W – Scott Copeland
Acoustic/Folk – Blackland River Devils
Jazz/World – Johnny Case
Blues/Funk – Josh Weathers and the True+Endeavors
R&B/Rap – Rivercrest Yacht Club
Cover/Tribute Artist – Poo Live Crew
Vocalist (Female) – Maren Morris
Vocalist (Male) – Peter Black(The Orbans)
Artist of the Year – Telegraph Canyon
Album of the Year –The Tide and The Current, Telegraph Canyon
Song of the Year –"Safe on the Outside," Telegraph Canyon
Rock Album of the Year – Novels, The Burning Hotels
Rock Song of the Year  –"Austin's Birthday," The Burning Hotels
Songwriter(s) – Tim Locke, Jordan Roberts (Calhoun)
MVP – Fort Worth Sings for Haiti
Venue – Lola's Saloon